Conference
Primary care conference 2022
From the future of primary care to the reputation and perception of primary care, this year's event cements the significance of collaborative working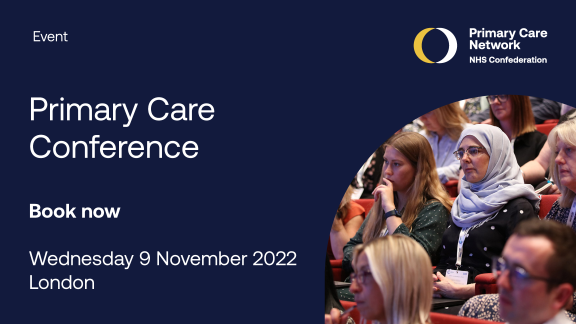 09:00 - 09:45 Exhibition opens, coffee and registration
09:45 - 09:50 Welcome
Ruth Rankine, director primary care network
09:50 - 10:30 The Future of Primary Care
Matthew Taylor in conversation with Dr Amanda Doyle and Dr Claire Fuller
10:30 - 11:15 Keynote
Kriss Akabusi: media personality, motivational speaker and businessman
11:15 - 11:45 Exhibition and coffee break
Healthier Fleetwood is now a nationally recognised model of an integrated neighbourhood.

The original idea of Healthier Fleetwood came about when Dr Mark Spencer, wanted to better understand why health in the town wasn't improving despite advances in medical treatments.

The journey that followed is one of experimenting, failure, success, and bags of joy. This session brings the spirit of Fleetwood to London to illustrate 'how' this model of excellence has been achieved..

With Olivia Butterworth, Mark Spencer and Charley Wilkinson

With Dr Rupa Joshi, Vischal Maschru and Dr Shahed Ahmad

In partnership with Daiichi Sankyo

Place is a level where primary care and system leaders are trying to connect and build common agenda. The experiences of leaders working at place level need to be shared, in order to develop better understanding of what it really means to work effectively in this context. 

Using different case studies in a panel-based discussion, delegates will hear about the conditions and behaviours that support place-based leadership in two specific places.

The panel discussion will be followed by opportunity for delegates to network in small groups, share their personal experiences to explore lessons being leaned.

With Michael Smith and Matthew Taylor. Other speakers to be confirmed
12:45 - 14:00 Networking lunch and exhibition
The session will explore tips, tools and examples of how you can use data and insights at neighbourhood, place and system to optimise your current & future

With Rakesh Marwaha and other speakers to be confirmed

In partnership with South West Central CSU

This session will explore how innovation – and having the mindset to pursue it – can reap rewards for both patients and clinicians by creating additional capacity. We will hear from two projects that have embedded innovation and how this has relieved capacity issues. We will explore how leadership catalysed the change.

With Dr Andy Hilton and Dr Bola Owolabi. Other speakers to be confirmed

In partnership with Novartis
15:00 - 15:20 Afternoon break and exhibition
15:20 - 16:05 Keynote
Richard McCann: Ensuring your organisation has the mindset, culture and communication skills to grow and succeed, whatever its size
16:05 - 1700 Close 
Professor Aruna Garcea
Pricing
Primary care network members
Premium members receive two complimentary tickets for their organisation's leaders. Please send the names of your nominated representatives to primarycare@nhsconfed.org  by Friday 30 September to secure these places. Additional places are available at £155+ VAT per person

Core members. Please book now at the highly competitive rate of £155+ VAT per person 
Non-primary care network members
Healthcare professionals - £395+ VAT per person 

Commercial businesses- £695+ VAT per person 
What's included with your conference pass?
Main stage conference sessions live 
Q&As  
Access to breakout sessions 
Exhibition  
Networking  
Delegate guide  
Drinks, lunch and treats throughout the day 
Our commitment to accessibility and inclusion
We are committed to hosting an inclusive and accessible event that enables everyone to attend and engage fully.  
ETC Bishopsgate has induction loops installed, accessible toilet facilities, and assistance dogs are welcome. The venue will also offer a prayer room if you wish to use this space. 
Whatever your requirements may be, please email primarycare@nhsconfed.org in advance of the event to tell us how we can support you to take part on the day.