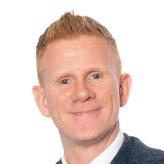 Richard McCann
Richard knows a thing or two about resilience: being brought up on the 'At Risk' register, in children's homes, foster families and then by his often violent and alcoholic father, any self-esteem that he had was taken away. He lost his mother in tragic circumstances and then left school with no qualifications.  After a number of dead- end jobs, he turned to drugs and was sent to prison where he reached rock-bottom before finally deciding to find the 'gut wrenching' determination to turn his life around.  
He wrote a book about his journey, a Times No1 Bestseller selling almost 1/2 million copies, which has now been translated into 11 languages. He's inspired audiences across the globe as far and wide as Iran, Malaysia, Italy, Germany, Canada and many more.
He will share not just his story, but the strategies that helped him to not just survive but thrive, because of his adversity.