Blog post
Resetting human and financial resource in general practice
As general practice is flooded by demand, how do we resource effectively to overcome health inequalities?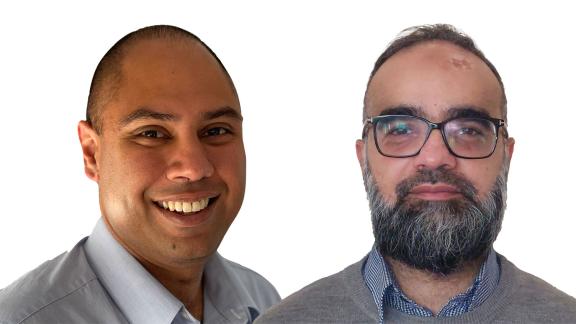 Dr Neil Modha and Hashum Mahmood report on how Cambridgeshire and Peterborough CCG is aligning resource with need, not headcount.
General practice is often seen as the front door to curative and preventative health services. With over 300 million appointments made each year, combined with its nuanced knowledge of its communities and neighbourhoods, it is ideally placed as a local population health improvement hub. However, inequalities predating the COVID-19 pandemic have been exacerbated, with general practice now facing a tsunami of demand and unmet need.
How then, do we ensure that these front doors are not flooded but fortified with the relevant resources to achieve equitable outcomes? This blog outlines the work undertaken by Dr Neil Modha within the Cambridgeshire and Peterborough system, tackling the inverse care law and aligning resource with need.
Realities of inequality
I have been in Cambridgeshire and Peterborough's system for the last 14 years having returned to the area where I was raised. As a doctor I have always gravitated towards helping groups and communities with the most challenge, with my training in West London revealing to me the inequalities of abundance and absence of resource, education, suitable employment and the effects of this on people's wellbeing both physically and psychologically.
How do you move resource around a primary care network or system?
On my return to Cambridgeshire and Peterborough, distinct inequality existed with marked affluence around south Cambridgeshire and saddening deprivation around many inner-city areas and within rural communities around Peterborough, Wisbech and the fens. To put this into reality, an example of the marked deprivation faced is a patient of mine who was evicted due to missing his rent and began to live in a shipping container and developed a nasty diabetic ulcer. My team went out beyond our walls to engage with him and when trust was gained, we managed to convince him to be cared for in our practice. General practice is built upon relationships and continuity of care and a personalised approach is our best asset.
During my time as Cambridgeshire and Peterborough CCG accountable officer, it was clear that sadly a lot of the resource was in the wrong location for our population. When we compare the workforce in terms of number of doctors and nurses in the areas of need, there is nearly 50 per cent less than in the areas of affluence. But the challenge being – how do you move resource around a primary care network or system? Resource is utilised to support the staffing, running costs and infrastructure of organisations and thus moving money around a care system is difficult.
Resourcing in the right places
Within Cambridgeshire and Peterborough, the system agreed to invest in diabetes and weighted payments based on the average deprivation scores of the practices rather than headcount. This targeted approach provided more resource to those practices looking after more deprived and challenged populations. The additional resource was used for both extra clinics and personnel, such that healthcare assistants were trained to perform foot checks and conduct analysis for protein in urine samples. This workforce would visit the housebound or populations that struggle with access. They also liaised with inner city practices, giving them much needed capacity and support to pressurised staff. Moving forward we are looking to also centralise some of the team in facilities that allow those more able to travel to come to a centre for their checks and to expand this across other long-term conditions.
It is our job to ensure health and care resource is distributed to those that benefit the most
Recently – we had a similar debate regarding 'ageing well'. Where is the money most needed – those who already age fairly well or those who age worst? These additional streams of revenue are debated by our health inequalities board which gives its rationale on the best way for distributing resource and focuses on this where resource is most needed. As health and care leaders, it is our job to ensure health and care resource is distributed to those that benefit the most.
What's the role for general practice?
General practice cannot be an 'all you can eat buffet'. It is commissioned to provide patients care and has incentive schemes relating to long-term condition management. In reality, this funding provides a limited number of doctors, nurses and other health professionals.
We need to think long and hard about the role of general practice. The easy concept is that its role is to keep people away from specialist organisations, but for me, it's really about the balance of reactive care and proactive care. Too much of either will lead to failings for our patients and populations.
Going forward
Reinforcing general practice from the tsunami of demand during and post COVID-19 requires shifts in resource allocation and resilient workforce planning. COVID-19 required rapid reorganisation of general practice. The relaxing of centralised bureaucratic shackles during the pandemic permitted innovative localised models to deliver the vaccination and booster programme and allowed redistribution of resources through primary care networks.
Increased funding and expansion of community services (left-shift) from the government is welcome to tackle and reset the systemic underfunding/under-doctoring within areas of socioeconomic deprivation. But unless this resource funding is distributed to tackle the inverse care law and based proportionally on need rather than headcount, health inequalities will continue to widen.
Dr Neil Modha is managing partner at Thistlemoor Medical Centre in Peterborough, a GP trainer, and co-clinical director of his primary care network.
Hashum Mahmood is senior policy adviser (population health) at the NHS Confederation.