Briefing
Next steps for integrating primary care: what you need to know
A summary of Dr Claire Fuller's report on the next steps for integrating primary care.
Key points
The Fuller stocktake report, Next Steps for Integrating Primary Care, outlines a new vision for primary care that reorientates the health and care system to a local population health approach through building neighbourhood teams, streamlining access and helping people to stay healthy.
The report provides practical steps that integrated care system (ICS) and national leaders should take to create this shift through locally driven change; a system-wide approach to workforce, estates and data; and building more resilience within general practice.
The NHS Confederation has been actively involved throughout the stocktake's engagement and development process, with members and leadership from across all of our networks taking part in workstreams, steering groups and acting as a 'critical friend'. The report includes many of the key principles and priorities for better integrating primary care that our members shared with us.
The report is watershed moment for establishing all of primary care as an integral part of local systems and to create genuine co-operation and collaboration to meet local population health need.
Implementation of the vision will require a focus on building 'the environment for change' through investment, time, capacity and support.
This briefing summarises the main points of the report and offers initial views from across the NHS Confederation's networks. We will publish a more in-depth analysis of the report and next steps in the coming weeks.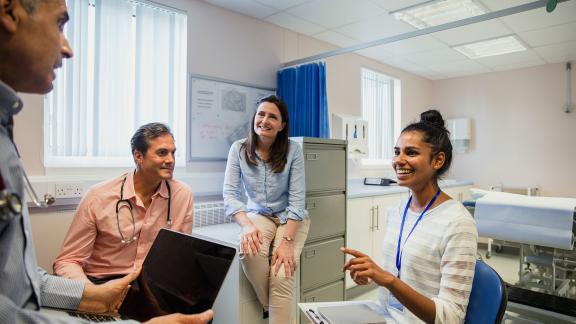 Key points and views from the NHS Confederation on Dr Claire Fuller's report on how integrated care system leaders can support primary care to work with other system partners to improve population health and reduce health inequalities.
Overview
The report, commissioned by NHS chief executive Amanda Pritchard, provides recommendations for how newly formed ICSs can support integrating primary care with a focus on local population-based care.
Dr Fuller has set out a vision for the future of primary care, with practical actions that ICS and national leaders can take to work with primary care to make the changes needed to deliver this vision. The vision focuses on four main areas: neighbourhood teams aligned to local communities; streamlined and flexible access for people who require same-day urgent access; proactive, personalised care with support from a multi-disciplinary team in neighbourhoods for people with more complex needs, and more ambitious and joined-up approach to prevention at all levels.
Informed by wide-reaching engagement, the vision builds on what is already working in primary care, while recognising work is needed to create stability within general practice to deliver change. It outlines the need for a system-wide approach to workforce, data and estates to make more effective use of capacity and capability and, while contracting and funding were out of scope, the report suggests some of these policies hinder integration and should be reviewed.
The report was accompanied by a King's Fund literature review on levers for change in primary care and a letter from all 42 ICS chief executive designates endorsing the report and committing to delivering its recommendations.
Report summary



The vision for the future of primary care



Integrated neighbourhood teams
Systems should support primary care to build on the primary care network (PCN) structure by coming together with other health and care providers within a local community to develop integrated neighbourhood teams at the 30,000-50,000 population level. This will help to realign services and workforce to communities and drive a shift to a more holistic approach to care.
This means putting in place the appropriate infrastructure and support needed to build these multi-disciplinary teams, so they can proactively tailor care to meet the needs of particular communities and individuals in their local population, with a particular focus on the most deprived 20 per cent of their population (Core20PLUS5).
Streamlined access
To improve access, primary care should be supported to offer streamlined access to urgent, same-day care and advice from an expanded multi-disciplinary team and given the flexibility to adapt their service to local need. Data and digital technology should be optimised by systems to connect existing fragmented and siloed urgent same-day services, empowering primary care to build an access model for their community that gives patients with different needs access to the service that is right for them. This will also create resilience around GP practices by connecting patients to the practitioner who meets their need, rather than increasing GP referrals to additional services, increasing practices' capacity to deliver continuity of care.
Personalised care for those who need it
People should be able to access more proactive, personalised support from a named clinician working as part of a multi-professional team. To achieve this, development of neighbourhood teams providing joined-up holistic care to people who would most benefit from continuity of care in general practice (such as those with long-term conditions) should be supported and delivered in partnership with system partners and primary care. 
This model of care should offer greater shared decision-making with patients and carers and maximise the role of non-medical care staff, such as social prescribers, so people get the care they need as close to home as possible.
Helping people to stay well for longer
There should be a more ambitious and joined-up approach to prevention for the whole of health and care with a focus on the communities that need it most. System partners should work collectively across neighbourhood and place to share expertise to understand what factors lead to poor health and wellbeing and agree how to work together proactively to tackle these.
This means building on what primary care is already doing well to improve local community health: working with communities, effective use of data, and relationships with local authorities while harnessing the wider primary care team including community pharmacy, dentistry, optometry and audiology, as well as non-clinical roles.
Creating the environment for change
The report also includes steps that can be taken to create the right environment for change:
Locally driven change
Local decision-making should be maximised to enable the delivery of improved support at a local level. NHS England and NHS Improvement (NHSEI) should consider what investment could be devolved to ICSs as part of the implementation of the wider recommendations.

NHSEI should also consider combining and simplifying central programme and transformation budgets for primary care.
Creating the capacity
Workforce
Workforce capacity remains a huge pressure on primary care. There must be a continued focus on recruiting and retaining GPs and the wider primary care workforce, alongside optimising current capacity with a long-term, system-wide workforce strategy that includes primary care.

The report welcomed progress made in recruitment through the Additional Roles Reimbursement Scheme (ARRS). However, it recognised there needs to be improvements in supervision, development and career progression. Systems and national leaders also need to support PCNs to deliver the ARRS offer post-2024.

More work is also required to make primary care more attractive to staff by addressing work-life balance, parity with other NHS career paths, and making a portfolio career more accessible. Training and education to encourage career development should be rolled out across primary care, from clinical to managerial and reception roles.
Estates
Estates that are not fit for purpose can impact how well providers can collaborate. Therefore, there needs to be greater weighting of capital investment to primary care estates, informed by a detailed review of physical space within systems to build a one public estate approach.

NHSEI and the Department of Health and Social Care should consider what flexibilities and permissions should be afforded to systems to build estates capability.
Data and digital
Shared data and digital capabilities can play a big part in joining up services and help the whole health and care system to deliver care informed by local knowledge.

A shared patient record, interoperability and system-level data analysis capabilities are essential to planning and delivering service in a coherent way.

ICSs should develop coherent plans to data sharing and cross-system IT infrastructure, supported by NHSEI.
Building sustainability

Infrastructure
To ensure the right environment for improvement, there needs to be stability in general practice across all parts of the country. This can be achieved by:

utilising at-scale providers, such as GP federations, to enable general practice to work with other providers

providing support where there are gaps in provision or services which are deemed inadequate by the Care Quality Commission.

back-office support such as HR, finance and organisation development to be delivered by at-scale providers such as GP federations or NHS trusts.

At a national level, there should be consideration of the contractual and funding levers needed to create the right environment for integration and improving local health outcomes.

At a system level, there needs to be accountability for delivery of integrated primary care reflected in the ICS accountability framework. This should include tailored support to practices to improve and, where appropriate, actively commission new providers of integrated list-based primary care that includes a focus on quality improvement.
Leadership and representation
The report outlines the importance of primary care leadership and representation across the whole system. It states that investing in leadership at PCN, place and system level will be the difference between success and failure in integrating primary care.
ICSs will want to ensure that primary care leadership across all four pillars is embedded across systems – this might be through the creation of, and continued engagement with, a primary care forum or network.

ICSs will also want to ensure integrated neighbourhood teams are linked to – and represented on – all place-based boards.
Views from the NHS Confederation 
Many of the key priorities our members shared with us are reflected in the final report and members from across all networks have welcomed the report's direction of travel. In a show of unity and support, ICS leaders have signed a joint letter endorsing it. This shared commitment to the philosophy of integration and the vision set out in the report will be key to implementation.
...this must be a watershed moment for establishing primary care as an integral part of local systems
As mentioned in the response from our chief executive, Matthew Taylor, this must be a watershed moment for establishing primary care as an integral part of local systems, working across boundaries to deliver population-based care, and a demonstration of the benefits of the integration agenda.
Establishment of ICSs provides primary care with the launchpad to drive change within communities and neighbourhoods, through the new vision for integrating primary care that will provide personalised, preventative and proportionate care and support to people when required.
The reorientation of the workforce and financial investment proposed to support the most vulnerable and complex patients through insights drawn from integrated data, will empower local neighbourhood teams to increase uptake of preventative interventions and improve access for those who need it most.
A view from our primary care members
The recommendations provide an opportunity for ICS leaders to work with primary care so that health and care services work for local communities, building on the knowledge and expertise that exists within primary care already and working together across the whole system for communities and particularly for people who need it most.
Integrated neighbourhood teams will be able to help improve integration and reorientate the system (through workforce, funding and infrastructure) to a population health approach. This will need to be driven by primary care leaders and therefore systems to provide the support to allow the time and capacity to drive this change.
GP federation members are already delivering significant support to general practice and PCNs in many areas of the country, so they welcome the focus on at-scale provision of both services and back-office support.
While the report recognises the pressure facing primary care and the need for more to be done to improve workforce capacity and the working environment, sustainability of general practice will be core to making this change. The recommendation to build system-wide strategies for workforce, data and estate will help improve this across the country, however there are still contractual and funding barriers that will need to be addressed to enable this.
A view from our ICS members
While primary care is mostly delivered through the NHS, local government and wider partners will play a fundamental role in ensuring genuine co-production of services with people and communities. This will happen at both neighbourhood and place levels, but also at ICS level, with integrated care partnerships playing an important role in ensuring broader objectives are met, for example on health inequalities.
The importance of workforce, estates and data at the national level is right – this is partly about funding but also about enabling local change
The report's focus on tackling health inequalities, prevention, the 'de-medicalisation' of care, and the use of methods such as social prescription, will help to tackle some of the deepest health challenges in our communities while also reducing the burden on the workforce.
The importance of workforce, estates and data at the national level is right – this is partly about funding but also about enabling local change. If done successfully, this will provide the bedrock for successful care transformation that can have real benefits for people and patients. Those changes need to start now.
A view from our acute and ambulance members
The report details well the need for deeper and more authentic collaboration between trusts and primary care at neighbourhood and place level.
At a time when activity across emergency departments, ambulances and elective care are critical issues for leaders, the benefits to genuine partnership working across sectors are clear. 
Members also welcome the focus on prevention and avoidance and recognise that changes to the existing models of care are essential to tackle the workforce crisis that both primary and secondary care face in the next five years.
A view from our mental health members
Neighbourhood teams can build on PCNs as the vehicle for improving mental health support by driving integration with community mental health teams and forging better links to secondary care, as they are best placed to connect the patient directly to the wider system. By expanding the use of the mental health practitioner roles, and highlighting existing examples of best practice, as this report has, ICSs can support primary care to continue driving improvement in the treatment of mental health.
The community mental health framework recognises the benefits of integration between primary and secondary care and outlines the ambition for 'a significant proportion of community mental health staff become integrated within primary care,' so it is positive to see this replicated in some form in the Fuller recommendations. Success in this area relies on us making the most of the staff that we have, and upskilling existing staff within primary care as we know there is a limited pool of staff to work with. There is also still variability in the level of maturity of relationships between primary care providers and mental health trusts, and these will need to be given time and headspace to be developed.
How we will be supporting members
The NHS Confederation worked closely with Dr Fuller throughout the stocktake process. By representing all parts of the NHS, we have been uniquely placed to inform the final report. Over recent months we have hosted events, workshops and roundtables, acted as a critical friend to the stocktake and hosted the report launch event with Dr Fuller and her workstream leads chaired by NHS Confederation chief executive, Matthew Taylor.
We will continue to support our members to prioritise those recommendations which can have the greatest and most immediate impact, in order to meet the timescales set out by Dr Fuller and will publish a more in-depth analysis of the report and next steps in the coming weeks. If you would like to share your views on the report, please email these to primarycare@nhsconfed.org.
Dr Claire Fuller will be joining us at NHS Confed Expo with a dedicated session on the report on Wednesday 15 June 2022.