Conference
Primary Care Conference
From the future of primary care to the reputation and perception of primary care, this year's event cements the significance of collaborative working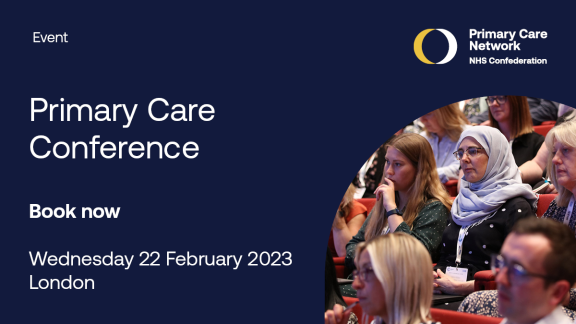 08:45 - 09:30 Registration, breakfast and exhibition
09:30 - 09:45 Welcome
Ruth Rankine, Director, Primary Care Network
Professor Aruna Garcea, Leicester City and Universities PCN and chair of NHS Confederation Primary Care Network Advisory Group
09:45 - 10:30 The Future of Primary Care
Matthew Taylor in conversation with Dr Amanda Doyle OBE, Philip Johns and Dr Claire Fuller
10:30 - 11:15 Keynote
Kriss Akabusi MBE: media personality, motivational speaker and businessman
11:15 - 11:45 Exhibition and coffee break
Healthier Fleetwood is now a nationally recognised model of an integrated neighbourhood.

The original idea of Healthier Fleetwood came about when Dr Mark Spencer, wanted to better understand why health in the town wasn't improving despite advances in medical treatments.

The journey that followed is one of experimenting, failure, success, and bags of joy. This session brings the spirit of Fleetwood to London to illustrate 'how' this model of excellence has been achieved..

With Olivia Butterworth, Dr Mark Spencer, Carley Bramley, Emma Witty Haddock, Mark Gilbert, Nathalie Skinner and Dave McPartlin.

The Fuller Stocktake report highlighted key visions for integrating primary care, including providing more proactive, personalised care with support from a multidisciplinary team and a joined-up approach to prevention. The NHS Long Term Plan aims to prevent 150,000 heart attacks, strokes, and dementia cases over the next 10 years and to increase out-of-hospital care.

During the session, delegates will hear about the national ambitions on cardiovascular disease (CVD) prevention followed by a case study on how these ambitions are being brought together in Leicestershire through the delivery of CVD primary care hubs and collaborative work from a multidisciplinary team.

With Dr Rupa Joshi, Dr Shahed Ahmad, and Vishal Mashru

The presentations will be followed by a panel discussion and a Q&A.

Daiichi Sankyo UK has sponsored and co-created the breakout session with NHS Confederation. Daiichi Sankyo UK has had no involvement in the organisation of the wider conference. The breakout session is non-promotional.

CVD/22/0514

Date of preparation December 2022

Place is a level where primary care and system leaders are trying to connect and build common agenda. The experiences of leaders working at place level need to be shared, in order to develop better understanding of what it really means to work effectively in this context. 

Using different case studies in a panel-based discussion, delegates will hear about the conditions and behaviours that support place-based leadership in two specific places.

The panel discussion will be followed by opportunity for delegates to network in small groups, share their personal experiences to explore lessons being learned.

With Michael Smith, Matthew Taylor, Dr Sayanthan Ganesaratnam and Dr Mando Watson. 
12:45 - 14:00 Exhibition and networking lunch
The session will explore tips, tools and examples of how you can use data and insights at neighbourhood, place and system to optimise your current and future.

The session will be broken into three parts: understanding the personal journey of a PCN utilising data and insights to create an optimised workforce environment, then helping you to understand demand and capacity by exploring how PCNs can gain real time visibility of their operational data, followed by a Q&A.

With Rakesh Marwaha, Sam Stone, Dr Vipan Bhardwaj FRCHP and Dr Mayur Vibhuti

In partnership with 

This session will place in focus the importance of access to innovation strategies as an integral part of effective PHM approaches that are fundamentally sustainable and capacity alleviating to the healthcare system. PHM needs little introduction as a key enabler to more proactive, preventative and integrated care overall, however, here we reflect together and take a practical look into innovation and new approaches under PHM being applied to drive equitable access through the likes of Core20Plus5 in action.

With Dr Simone Yule, Prof Bola Owolabi, Dr Nicole Atkinson and Dr Thomas Wyatt.

In partnership with Novartis

More than just a press release!

An organisation's reputation is increasingly seen as one of its most important assets and a strong reputation is as important for the NHS as for any company in the commercial sector.  It helps to:

support recruitment and morale amongst the people who work in it

bolster its credibility amongst the people who pay for it

boost its resilience in the face of crisis

In this session, you will hear from a range of broadcast and print journalists across national, local and trade press who will discuss the healthcare stories they want to write and what their editors will publish.

You'll hear from them about what makes a local health story, how local and national news is produced for different audiences, and most of all how you can foster great working relationships with the media to highlight the work you do for your patients each and every day.

With Dr Sian Stanley, Denis Campbell, Annabelle Collins and Sam Volpe
15:00 - 15:20 Exhibition and afternoon break
15:20 - 16:05 Keynote
Richard McCann: Ensuring your organisation has the mindset, culture and communication skills to grow and succeed, whatever its size
16:05 - 16:15 Closing remarks 
Ruth Rankine, Director, Primary Care Network
16:15 - 17:15 Drinks reception for all delegates 
In partnership with Optum
Over 400 primary care leaders booked to attend so far, with booking extended until midday on Monday 20 February
Primary care network members
The deadline for premium members to request their complimentary tickets has passed, but members can still book at the highly competitive rate of £155+ VAT per person. 

Core members. Please book now at the highly competitive rate of £155+ VAT per person 
Non-primary care network members
Healthcare professionals - £395+ VAT per person 

Commercial businesses- £695+ VAT per person 
What's included with your conference pass?
Main stage conference sessions live 
Q&As  
Access to breakout sessions 
Exhibition  
Networking  
Drinks, lunch and treats throughout the day 
Post conference drinks reception in partnership with Optum
Our commitment to accessibility and inclusion
We are committed to hosting an inclusive and accessible event that enables everyone to attend and engage fully.  
ETC Bishopsgate has induction loops installed, accessible toilet facilities, and assistance dogs are welcome. 
Whatever your requirements may be, please email primarycare@nhsconfed.org in advance of the event to tell us how we can support you to take part on the day.