Report
A new relationship between the NHS, people and communities: learning from COVID-19
How the NHS can cultivate a new relationship with people, patients and communities following the COVID-19 pandemic.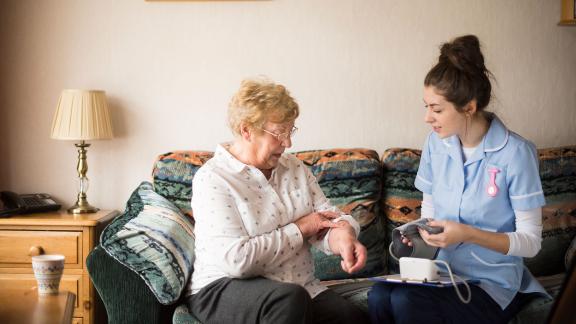 At the peak of the COVID-19 crisis, many of the traditional ways in which the NHS engages with people and communities were paused out of necessity. Normal methods of engagement and open governance were neither safe nor practical at a time of national lockdown. At the same time, the NHS established a model for the idea of shared responsibility and a new 'social contract' with local communities.
With the emergency response to the pandemic now over, health and care leaders are keen to explore this new relationship and the opportunities to create a new 'deal', whereby people are active and engaged partners in the development of healthy places, not merely consumers of NHS services. A new relationship based on meaningful patient and citizen engagement, informed by community insights and underpinned by trust. This report considers how the NHS can cultivate a new relationship with people, patients and communities following the pandemic.
To inform our work, we worked with Healthwatch England and the Patients Association to understand and promote the perspectives of patient leaders across England at the peak of the crisis, through a series of blogs and roundtables. We worked in partnership with Healthwatch England, the Patients Association and NHS England and NHS Improvement to understand how the pandemic has impacted the voluntary and community sector, identifying a set of 'asks' of NHS England and NHS Improvement, integrated care system and sustainability and transformation partnership leaders. And we worked with Professor Donna Hall, one of the pioneers of the Wigan Deal, to explore how the NHS might build on the partnership developed with communities at the height of lockdown.
Download the report. We have also published an accompanying briefing on how health and care systems can work better with the voluntary, community and social enterprise partners.
About NHS Reset
NHS Reset is an NHS Confederation campaign to shape what the health and care system should look like in the aftermath of the COVID-19 pandemic. Recognising the sacrifices and achievements of the COVID-19 period, it brings together NHS Confederation members and partners to look at how we rebuild local systems and reset the way we plan, commission and deliver health and care.

Find out more about the campaign.

NHS Reset is part funded through sponsorship by Novartis Pharmaceuticals UK Limited.