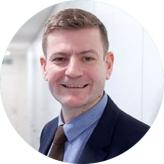 Rory Deighton
Rory is director of our Acute Network, and leads a programme that ensures that acute members' concerns are effectively represented across media outlets and to government.​
​The ccute team works closely with other parts of the NHS Confederation to bring members together around place-based working and provider collaboration, with a strong focus on learning and improvement.​
​He has a keen interest in the patient agenda, and has strong relationships with National Voices, Healthwatch and the Patients' Association. Before joining the NHS Confederation, Rory worked as part of the West Yorkshire Health and Care Partnership.
Follow on Twitter @rory_deighton