Conference
Watch: NICON22: Recognition | Ambition | Mobilisation
Thanks to all our speakers, delegates, sponsors & partners who joined us for NICON22. Select session recordings are now available to view below.
The Northern Ireland Annual Conference and Exhibition 2022 provided a unique opportunity for colleagues and partners from across the health and care system, as well as the voluntary and community sector to come together, share ideas, reflect, network and learn.

At this year's conference, entitled 'Recognition | Ambition | Mobilisation', delegates heard from a wide range of local leaders, international speakers and frontline staff across some 50 sessions. Over the two days, we sought to inspire and connect you as we recognised the contribution of our workforce, explored our shared ambition for our health and social care services and agreed how to mobilise to tackle waiting lists and deliver a world-class service for our citizens.
NICON22 Livestream
Recordings of all livestreamed sessions outlined in the livestream programme can now be viewed below.  Where permission has been granted to share speaker presentations, they will be posted on this page in due course.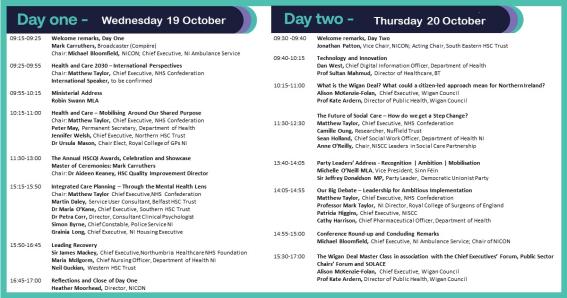 Speaker presentations
Copies of speaker presentations are available and can be requested from NICON Member Support. 
 

With thanks to our event partners: