News
HSC Chairs' Forum announces new Chair
Jonathan Patton has been appointed as the new Chair of the HSC Chairs' Forum and Vice Chair of the Northern Ireland Confederation.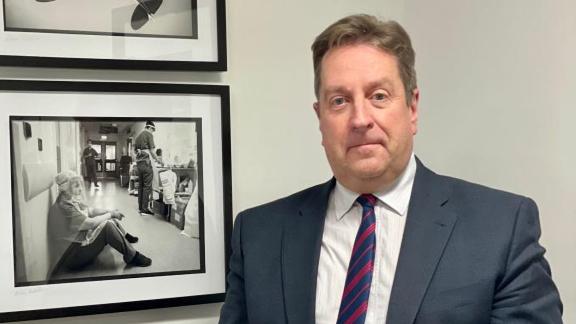 Mr Jonathan Patton, Acting Chair of the South Eastern HSC Trust has been appointed as the new Chair of the HSC Chairs' Forum. 
Jonathan succeeds Mr Peter McNaney, Chair of the Belfast HSC Trust, in this role, and will also assume the role of Vice Chair of the Northern Ireland Confederation on 1 April. 
The Forum comprises the Chairs of all of Northern Ireland's 18 Health and Social Care organisations, offering mutual support and strengthening collective leadership across the system. Over the past two years, Chairs have met with Northern Ireland's Minister of Health Robin Swann on a six-weekly basis to ensure that the Minister has a full picture of the position across HSC organisations, and that emerging strategy is well-informed and understood.
Jonathan has been on the Board of the South Eastern Trust for over five years and has extensive experience across the private, public and charity sectors, with a career spanning various industries at both Senior Management and Director level.
Setting out his ambition for this new role, Jonathan firmly believes that Chairs and Non-Executives have a crucial role to play at this exceptionally challenging time for our Health and Social Care services. Working in conjunction with colleagues, and in anticipation of supporting a newly appointed Minister following the upcoming Northern Ireland Assembly election, Jonathan's key priorities for his incoming term include:
Balanced thinking   We need to keep a strong focus on recovery, but at the same time make time and space for transformation. The role of Chairs and NEDs must be to ensure we strike the right balance here - If we focus solely on daily pressures, we will miss significant opportunities to deliver much better outcomes for citizens. Drawing on thinking and practice in other areas of life, this must come to the fore, especially as we focus more robustly on engagement, prevention and technology.

Driving change – Building on international best practice   We are not alone in Northern Ireland in addressing health need which outpaces our capacity to deliver.  Being part of the NHS Confederation allows us to readily access international best practice. My focus will be to draw on this help and support as we seek to drive change. The HSC has a strongly agreed vision; we now need a relentless focus on engagement and delivery. We must invite politicians, communities and staff to help us deliver. In order to facilitate change, we must be more inclusive and deepen our approach to system leadership.

Looking after and valuing our people   The HSC is all about people – At this crucial time, we must sincerely thank and value our people, empowering them with the tools and support needed to deliver better outcomes for our citizens, while also investing in our future workforce.

Ambitious "Can do" attitude   While we face significant challenges in terms of staffing, funding and ongoing pressures, I am heartened by the collective sense of ambition across the system. Many of our services are already world-class and as we emerge from the pandemic, we must use this moment as a springboard for change. I believe we have both the will and all the right strategies in place to do this.
It will be our ambition to ensure our Boards play a key role in shaping and driving recovery and reset in our services. 
Speaking at final meeting of the current mandate with Minister Swann, Jonathan said:
"I am truly honoured to have been appointed to serve as Chair of the HSC Chairs' Forum and I know I speak on behalf of my colleagues in saying it will be our ambition to ensure our Boards play a key role in shaping and driving recovery and reset in our services. My thanks to Peter McNaney, our outgoing Chair, for his leadership and support over the last four years. His deep public service values are always apparent."
At the meeting, colleagues also paid tribute to Minister Swann for his outstanding leadership and compassion throughout the pandemic.