News
NHS Confed Conference - a round up of day three
Read the main-stage highlights from our third and final day at conference.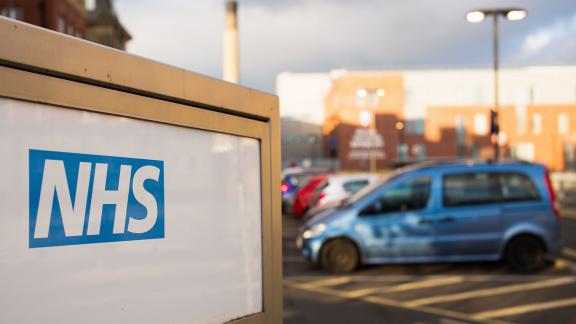 Day three of NHS Confed Conference saw speeches from Brigadier Nicky Moffatt CBE, health and care secretary Matt Hancock, and chief medical officer Prof Chris Whitty. Read the summaries of these three sessions and the two panel discussion that took place on the final day. 
'Mission success is dependent on teams that are built, sustained, supported informed and empowered'
As the former highest ranking female officer in the British Army, Brigadier Nicky Moffatt CBE had some truly insightful experiences to share on successful leadership.
Speaking in the first main-stage session of the day, Nicky highlighted the many parallels between the NHS and the Armed Forces: both protect and serve the public, have complex operating systems, with lives at stake and inherent risk in all aspects of operations.
Nicky's key focus was the importance of looking after 'her people,' as 'mission success is dependent on teams that are built, sustained, supported informed and empowered.'  
Rest, recouperation and decompression are vital for military personnel returning from a tour, in order to sustain the effectiveness of the whole operation. This point raised great interest from the conference delegates in the context of the pandemic.
Whether the pandemic and a tour in Afghanistan or Iraq are comparable, said Nicky, 'in the inevitable consequence of flagging morale after experiencing trauma, the priority response is always good leadership.'
The power of data
Dr Habib Naqvi, director of the NHS Race and Health Observatory, led a wide-ranging discussion on how the NHS has harnessed the power of data to deliver the most successful vaccination programme in the western world.
Featuring a stellar cast, the discussion unpacked how data and insights have informed decisions and enabled local organistions to hone in on how best to serve local communities and underserved groups.
Dr Naqvi was joined by Dr Emily Lawson, chief commercial officer and senior responsible officer for vaccine rollout; Emmi Poteliakhoff, director of information for vaccine rollout; Joanna Peller, software engineering lead; and Ming Tang, chief data and analytics officer at NHS England and NHS Improvement. The panelists provided a detailed look at issues of data security and governance, tackling inequalities and Palantir's work with the NHS over the crisis period.
Matt Hancock takes to our main stage
The health and social care secretary has committed to ensuring the NHS gets the funding it needs to deal with the backlog created by the pandemic. The commitment followed a request for reassurance from the NHS Confederation's chair, Lord Victor Adebowale, that funding will be available over the next six, 12 and 24 months. Probed on whether members can expect quick access to capital, the Secretary of State suggested that they can, adding that his goal is for systems to 'hold the ring.'
Lord Adebowale also sought clarification on changes to accountability and powers of direction detailed in the NHS reforms white paper. Matt Hancock responded that they were absolutely critical to bringing together all parts of the NHS family and that he did not see the power being exercised very often.
The questions followed a keynote address which outlined that demand, resources and innovation will form the central plank of his focus. A population health approach will be important to reduce the scale of demand, to focus on preventative activity and to 'allow the spirit of innovation to fly.'
Discussing the forthcoming health and care bill and NHS reforms, he stated that the proposals will remove barriers and help to further strengthen the culture of collaboration that has been a hallmark of the COVID-19 response.
He touched on two further reforms underway, to public health and mental health, and stated that the government will bring forward much-needed reforms to social care later this year.
On data, which he noted was being used much more fluently, he announced that a new data strategy will be published next week.
Rounding off the session, he shared three takeaways for healthcare leaders:
Don't let silos rebuild

Stay flexible and innovate

Let's look after our people
'Covid has not thrown its last surprise at us'
After expressing his pride at being part of the NHS, Professor Chris Whitty, England's chief medical officer, gave conference delegates his forward view on what the health service could expect from COVID-19 in the short, medium and long term.
Prof Whitty confirmed that we are in the middle of a further surge, the height of which is currently uncertain. While the vaccination programme has been incredibly successful in reducing hospitalisations, deaths and transmission, the Delta variant is significantly more transmissible so infection rates will rise.
He anticipated a surge in the autumn and winter and warned that 'Covid has not thrown its last surprise at us,' as the emergence of any further variants is still unknown.
Five years from now, Prof Whitty expects we'll have polyvalent vaccines that can respond to new variants, but until then the population will likely need several boosters each year to fight variants.
In combatting COVID-19, Prof Whitty highlighted the importance of looking at those hardest hit: people living in areas of deprivation and those living with co-morbidities. He called on the NHS to understand this and take action, while encouraging more generalists in nursing and medicine.
Finally, Prof Whitty praised the research carried out in the UK and the NHS to understand the virus and its impact. The volunteer spirit of UK citizens and NHS patients has meant UK research has led the science effort globally in identifying drugs and treatments, he said, and 'this would not have been possible without the integrated nature of our care.'
Delivering the recovery
In the final session of the day and of NHS Confed Conference, Matthew Taylor led a panel sharing their views on what needs to be done to deliver the NHS's recovery in the aftermath of the pandemic.
Joining Matthew were Dame Gill Morgan, chair of the NHS Confederation's ICS Network Advisorate; Dr Jo Sauvage, clinical chair at North Central London CCG; Joe Harrison, chief executive of Milton Keynes University Hospital NHS Foundation Trust; and Lena Samuels, chair of South Central Ambulance Service NHS Foundation Trust.
All panel members agreed that staff and wellbeing were fundamental to the recovery. There must be a 'whole menu' of support options available for staff at all levels, from tea and coffee, to training and education, to health and wellbeing guardians. It's also important to look at what other organisations are doing to support and retain their staff, and copy it.
The creative and agile thinking that have characterised the pandemic response must also be channelled into how we deal with the backlog, including technical and digital approaches, as well as the system working and data collection that has helped deliver the vaccination programme so successfully.
There is more agreement now than ever about the direction of the health system in terms of population health and system working, the panel concurred, and ICSs will set the cultural tone for success.
Matthew Taylor closes NHS Confed Conference
In closing the final day of conference, our chief executive Matthew Taylor thanked all delegates for embracing the virtual format, and shared his belief that the three days of conference have started the conversation on how to deliver the recovery.
He thanked members and partners for delivering under the most extreme of circumstances, and shared his excitement at the prospect of working alongside members as we build a path to recovery.
In closing, Matthew said: "The path needs to become a route that takes us to becoming the fairest, most comprehensive and effective health service in the world."
Thank you for joining us
We hope you've enjoyed your time at the NHS Confed Virtual Conference.
Thank you, too, to our main sponsors, Palantir Technologies UK, as well as all our commercial partners.
You can catch up on previous days' main-stage sessions in our round up of day one and day two, as well as links to the products and resources launched and the speeches by Matthew Taylor and Lord Victor Adebowale.
We hope to see you next year in Liverpool on 15 and 16 June for NHS ConfedExpo 2022.