Webinar
Watch: Virtual wards – realising the potential
Catch up on this launch event on our virtual wards report where we discussed the findings and recommendations.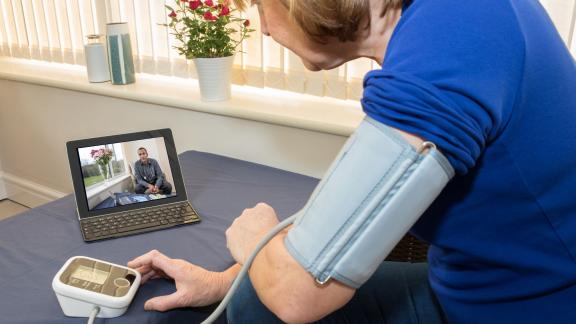 Virtual wards are increasingly being used in the NHS to support increased capacity, reduce length of hospital stay and provide flexibility of care for patients in their own homes.
Virtual wards are also a crucial part of the recent urgent and emergency care delivery plan and the 2022/23 NHS England operational plan, which set a target of 40-50 beds per 100,000 population (equivalent to the delivery of up to 24,000 virtual ward beds in total) by the end of this year.
To understand how integrated care systems are developing and delivering their virtual wards against increased demand, the NHS Confederation in partnership with Acacium Group, undertook a series of interviews and deep dive sessions with senior system leaders to find out what the true potential – and current pitfalls – are of virtual wards.
Hear from Matthew Taylor, NHS Confederation chief executive and Acacium Group chief executive, Mike Barnard, and senior system leaders on the findings and recommendations of the report.