Case Study
Improving population health outcomes with integrated data sets
Developing a population health and care platform helped identify and target underserved populations using an integrated data set.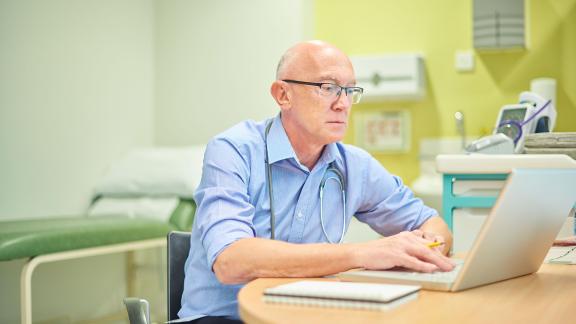 Using a population health and care management programme and an integrated data set has enabled Lewisham and Greenwich NHS Trust to strengthen its focus on health inequalities through identifying and targeting patient cohorts by geography, demographic variables and health indicators.
Key benefits and outcomes
Early identification of pre-diabetes patients.

Identification of areas of poor COVID-19 vaccination uptake.

Earlier interventions are leading to reduced risk of patient deterioration and decreased unnecessary use of healthcare services.
What the system faced
System-wide health and care data integration is crucial to allow systems to identify the best way to improve the health and wellbeing of their population and reduce health inequalities. A key function of the integrated care system will be to use joined-up data and digital capabilities to understand local priorities, track delivery of plans, monitor and address variation and drive continuous improvement in performance and outcomes.
What the system did
Within Lewisham and Greenwich NHS Trust, investment in a population health and care management programme (PHCP) was agreed by the board in 2017, using a Cerner provided platform and integrated data set called HealthIntent. From the outset, the programme was a partnership with other health and care providers in Lewisham.  The decision to use a population health management tools was based on the expectation of a number of benefits:
Strengthen focus on health inequalities by allowing identification and targeting particular patient cohorts by geography, demographic variables and health indicators

Increase quality of care by identifying gaps in care

Diagnostic improvements for those who may be at risk of serious illness, allowing earlier preventative interventions that can reduce unnecessary demand across the system

Support relationships with partner organisations and facilitate greater integration by pulling different data sources and increase collaboration that rely on multidisciplinary working between primary, secondary and community care

Help provide the right services in the right place by enhancing understanding of the needs of communities
The HealthIntent tool is a near real-time integrated dataset that allows end users to deep dive into patient population insights derived from data sourced from primary care, secondary care, community care and mental health. The tool has functionality that allows it to build queries to interrogate the data and measure impact of interventions. So far, PHCP projects are created in response to local queries from clinical directors and PCN leads to create products such as dashboards, registries and business object reports.
There are several live PHCP projects that are using HealthIntent. The purpose of these projects is to better manage and identify people with long-term conditions, to intervene early, reduce the risk of deterioration and decrease unnecessary use of healthcare services.
Type 2 diabetes
Type 2 diabetes is largely preventable. Behavioural interventions to support individuals to a healthy weight and being physically active can reduce the risk of developing the condition and consequently lessen the chance of requiring healthcare interventions, given that one in six of all people in hospital have diabetes. Several PCN leads had reported that they would value proactive identification of individuals at risk of developing diabetes, those with undiagnosed diabetes and women who developed gestational diabetes
A diabetes dashboard was developed to compile data from multiple health records, test results and other factors to give a much more accurate and rich overview of risk and need than from just one data source.
COVID-19
December 2020 witnessed the opening of hundreds of local COVID-19 vaccination services run by primary and secondary care. Within general practice, teams had to mobilise rapidly to redesign their sites to meet the logistical challenges of offering the vaccination. The public were required to wait and would be invited for vaccination according to their priority group. The COVID-19 dashboard was developed as a risk stratification tool to identify and prioritise areas and populations of focus for the COVID-19 vaccine programme, and to identify trends on uptake by demographics and inequalities among the residents of Lewisham.
A number of other PHCP projects are also in development:
Adult social care (ASC) data - Incorporating adult social care data into HealthIntent and combining and with healthcare data. Using the data to predict future demand of ASC clients and facilitate workforce planning. Also, improving the coordination and planning of health care services for ASC client's post-discharge.

Severe mental health illness (SMI) and physical health checks - Potential includes tracking health check completion on patients with severe mental illness and prioritising high-risk patients. It should enable primary care to update EMIS with health checks completed in other settings and maintain up-to-date patient records.
Results and benefits
Through the diabetes dashboard, 4,387 pre-diabetes patients were identified by practices in July 2021. Between July and September 2021, 143 went on to receive a diabetes test, of which 13 were diagnosed with diabetes.
82 undiagnosed diabetes patients were identified by practices in July 2021. Between July and September 2021, just over a quarter (22) had a recent diagnosis of diabetes.
The dataset was able to inform practices that in July 2021, 1,070 women were identified as having had gestational diabetes mellitus and had not had a follow-up screen for diabetes.
The COVID-19 dashboard has provided data on vaccination uptake rates in different cohorts of Lewisham residents, and provided data from which bespoke interventions could be developed. Without alerts on low uptakes rates among certain cohorts, GPs and other system leaders would have less clarity over where to direct efforts to encourage vaccine take up. This data has also proven effective for planning other vaccination programmes, such as flu or booster programmes.
Overcoming obstacles
The uptake and usage of the various tools using the integrated datasets has varied. The number of users should not be an indicator of the success of this programme but rather how HealthIntent is used to improve population health outcomes is key. Although the Lewisham system prioritised a population health platform in 2017, several challenges have remained over the years in initiating and propagating:
Required significant level of investment at the outset, and ongoing resource to get programme operational

Long lead in time to set up technical solution before tangible clinical benefits can be delivered

Difficulties in agreeing financial risk share with partners, particularly as budgets have become more constrained

Engagement and buy in from partners and staff because of capacity constraints, conflicting priorities and difficulties in interpreting data and converting into interventions

Perceived for too long as a technical project, and then difficult to move away from data analysis to action
The COVID-19 dashboard was useful to a wider group of users through a PCN lead super-user (co-ordinates for a number of PCNs) who was released from clinical practice to focus on operational delivery. This was reflective of a system imperative to encourage take up of the vaccination and identify communities where uptake was low.
A theme arising from interviews with local stakeholders regarding HealthIntent emerged on the need for further support and coordination given the pressures and other clinical staff within practices and PCNs, a framework of action;
For the integrated dataset to be effective in creating health for its communities, there needs to be energy and appetite amongst local stakeholders within the local health and care system to enable joint working amongst multidisciplinary teams. Identification of health need, interventions targeted to individuals and improving health outcomes at scale can be provided through insights from the integrated dataset within Lewisham.  
Takeaway tips
Place citizens and communities at the centre of their care.

The integrated dataset can only demonstrate its worth when system partners staff respond to the insights it provides and have the capacity and resource to take action.

A flexible local approach is essential for building on common digital capabilities that will allow interoperability and flow of data across the local system.
Further information
For more information on the work in this case study, please contact Sandra Iskander, deputy director of strategy at Lewisham and Greenwich NHS Trust: siskander@nhs.net