NHS Voices blogs
Why should you attend the Wellbeing for Wales Lecture Series?
The Welsh NHS Confederation invites you to join our virtual Wellbeing for Wales Lecture Series, featuring eight inspiring lectures over four days.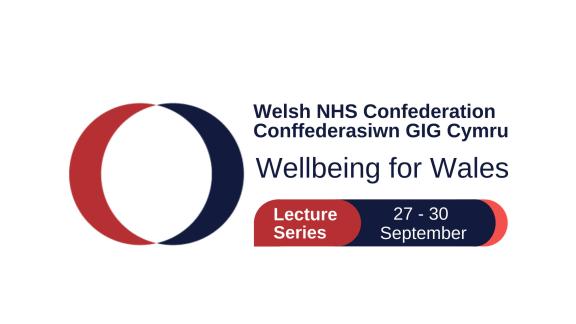 Over the past eighteen months, Covid-19 has posed huge challenges for the population and Wales' health and social care system, requiring innovative whole-system responses and new ways of working. Although the vaccination programme continues to reach new heights, providing the people of Wales with hope for the future and a pathway out of the pandemic, the NHS in Wales is experiencing demand across the system like never before. 
The Welsh NHS Confederation invites you to join our virtual Wellbeing for Wales Lecture Series, where we will discuss the ongoing challenges faced by the system, highlight examples of best practice, share ideas, opportunities and future plans. Whether you're a manager, clinician, service user, or partner in health and social care, we would be delighted to welcome you to the lecture series.  
The Lecture Series will take place on a virtual platform, enabling members, speakers, panellists and delegates from across the UK and beyond to come together to inform, debate and discuss the latest opportunities across health and care. 
If you're unable to attend the full live event, don't forget all sessions will be recorded and available to delegates after the event - so if your diary won't allow you to take time away, we have you covered. You can attend one session or all, and anything in between. The choice is yours!
What you'll get from attending
During the four-day event, the eight sessions will focus on a range of topics considering different aspects of health and wellbeing.

From Professor Sir Michael Marmot to the First Minister of Wales, you'll hear from experts in their fields on the topics that really matter.

Dedicated sessions held on specialist subjects will allow delegates to have in-depth discussions on some of the most important and relevant topics to their work.

We hope to inspire, connect and reflect as we explore what needs to be done to enable us to collectively rebuild and transform health and care services for the people of Wales now and in the future.  
The programme is shaping up to be unmissable. We look forward to welcoming colleagues from across the digital health space to discuss how digital is transforming patient care. We can't wait to hear from experts on sustainable healthcare and the thought-provoking topic of anchor institutions' role in economic and social recovery; both important topics as we look towards the future. Through NHS Wales Employers, we'll hear about psychological safety at work, one not to be missed by our workforce colleagues or by any manager, for that matter. There's the Q&A session with Dr Andrew Goodall CBE on his vision and priorities for the NHS in Wales and the examination of population health and health equity where we'll be joined by the esteemed Professor Sir Michael Marmot and other key stakeholders from sectors contributing to the wider determinants of health. With Life Sciences Hub Wales, we'll look at some of the innovations forming 'tomorrow's health and care' and we will of course be hearing from Rt Hon Mark Drakeford and Eluned Morgan less than 6 months after the Senedd election.
If that isn't enough to entice you, the sessions will be interspersed with storytelling videos from patients and staff provided by Swansea Bay University Health Board, and music, linking to the arts and health programme of work and our MoU with the Arts Council of Wales.
Huge thanks to our overall series supporters: ABPI Cymru Wales, Novartis and the Arts Council of Wales and to Life Sciences Hub Wales as an individual session sponsor.