Briefing
UK COVID-19 vaccines delivery plan
A summary of the key points in the government's COVID-19 delivery plan for the UK.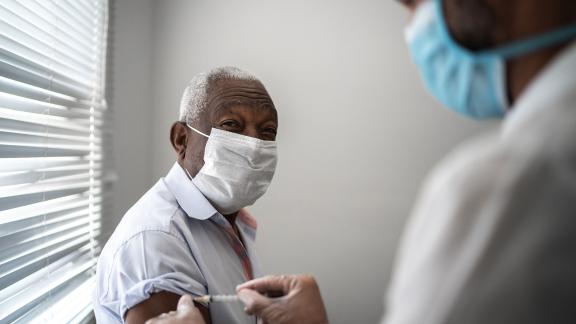 The Department of Health and Social Care published its COVID-19 vaccinations delivery plan on 11 January 2021. This briefing summarises the key points for our members to be aware of.
The full deliver plan is available on the gov.uk website.
The plan outlines how the UK government has been able to build up a supply of vaccines and how it is planning to deploy them over the coming months.
The plan has four key parts:
Supply
Prioritisation
Places
People
The four UK Chief Medical Officers have taken a joint approach in their advice regarding the vaccine and securing supply of vaccines is a UK-wide effort.
Vaccinations started on 13 December and, so far, 2 million people have already been vaccinated.
By 15 February, the government aims to have offered a first vaccine dose to everyone in the top four priority groups identified by the Joint Committee on Vaccination and Immunisation (JCVI):
All residents in a care home for older adults and their carers.
All those 80 years of age and over and frontline health and social care workers.
All those 75 years of age and over.
All those 70 years of age and over and clinically extremely vulnerable individuals.
The UK has so far secured access to 367 million doses from seven vaccine developers, with an expected cost of £2.9 billion across the five final contracts signed to date. As announced in the Spending Review, the government has now made available more than £6 billion in total to develop and procure COVID-19 vaccines.
A COVID-19 vaccine will only be authorised for use once it has met strict standards of safety, effectiveness and quality through clinical trials and data assessments. In addition to securing the appropriate regulatory approvals, all vaccines must undergo rigorous batch testing by the manufacturer and independent batch testing by the MHRA before deployment.
In response to the new variant of COVID-19, the government is building upon existing studies to understand any effect the variant B1.1.7 may have on the vaccine's effectiveness.
The government's top priority is to ensure that everyone in cohorts one to four is offered the opportunity to receive their first dose of vaccination against COVID-19 by 15 February. It will likely take until spring to offer the first dose of vaccination to the JCVI priority groups one to nine, with estimated cover of around 27 million people in England and 32 million people across the UK.
It is estimated that taken together, cohorts 1 to 4 account for 88 per cent of all deaths from COVID-19 to date, with cohorts one to nine accounting for 99 per cent.
The JCVI announced on 30 December 2020 that the first dose of either Pfizer/BioNTech or Oxford/AstraZeneca vaccine provides substantial protection within two to three weeks of vaccination for clinical disease. In

their letter to the profession

, the four UK Chief Medical Officers therefore agreed with JCVI that at this stage of the pandemic, prioritising the first doses of vaccine for as many people as possible on the priority list will protect the greatest number of at-risk people overall in the shortest possible time.
Each of the UK nations has plans to scale up vaccine delivery and the plan sets out the deployment plans of the NHS in England.
Vaccinations will be offered at three types of location:

Larger vaccination centres

– A new approach in the NHS, these are large-scale venues with higher throughput, using re-purposed venues, including sports stadiums, theatres, and hotels, located within communities to vaccinate large numbers of people. People will be offered an invitation and can book a slot that suits them using the national booking service.

In total, 50 larger vaccination centres will have been established by the end of January. The first seven sites are: Ashton Gate in Bristol (South West); Epsom racecourse in Surrey (South East); Excel Centre in London (London); The Centre for Life (North East and Yorkshire); Etihad Tennis Club in Manchester (North West); Robertson House in Stevenage (East of England); and Millennium Point in Birmingham (Midlands).
Hospital hubs – These are based at NHS trusts, including acute, community mental health and ambulance trusts. They are targeting our health and care workers and will work closely with local authorities, local resilience forums and providers to coordinate rapid vaccination of the workforce.
In total, 206 hospital hubs will have been established by the end of January.
Local vaccination services – These mobilise general practice, working together in groups of primary care networks plus large and small community pharmacy sites. These services provide the largest number of locations and are well placed to support our highest-risk individuals, many of whom already have a trusted relationship with their local health services.
In total, around 1,200 local vaccination service sites will have been established by the end of January.

Currently, 96 per cent of the population in England is within 10 miles of a vaccine service. By the end of January, everyone will live within 10 miles of a vaccination centre. In a small number of highly rural areas, the vaccination centre will be a mobile unit.
Since December, staff have been taking the vaccine directly to care homes. This is a joint effort between the care homes and the primary care network vaccinating teams. It is the government's ambition to offer the vaccine to all care home residents and staff in the more than 10,000 care homes in England for older people by the end of January.
There is an 80,000-strong vaccination workforce. Staff have been identified to meet supply in all three delivery models.
New workforce legislation means a wider group of healthcare professionals are able to safely administer the COVID-19 vaccine, which the government says will improve access to vaccines while minimising any impact on existing services.
This has involved using the skills of a wide range of professionals such as registered dentists, midwives, occupational therapists, paramedics, physiotherapists and radiographers, trainee doctors and nurses, as well as those currently working outside of the NHS such as St John's Ambulance, independent nurses and occupational health service providers.
Volunteers, including NHS responders, coordinated by the Royal Voluntary Service, will play a crucial role as stewards helping people throughout their visits to vaccination centres.
At a national level, an equalities board has been established to ensure the approach to vaccines has health inclusion at its heart. This reflects that black and minority ethnic (BME) communities have been disproportionately impacted by COVID-19, and this extends to the NHS health and care workforce.