Briefing
Supporting people through cancer
Briefing highlighting examples from NHS organisations across Wales of improving diagnosis, treatment and support for patients with cancer.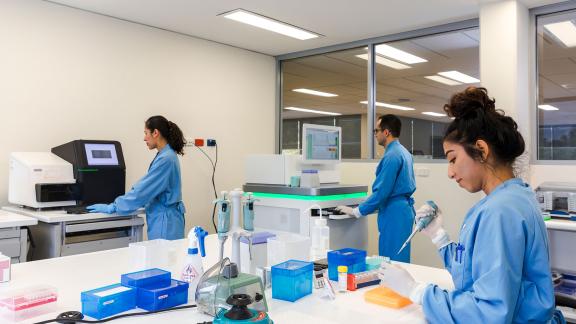 This briefing highlights examples from NHS organisations across Wales to improve both cancer treatment and support to people affected by cancer.
Like many other services, cancer services remain under great pressure with continued high demand. Currently, around 20,000 people are diagnosed with cancer in Wales every year and it is estimated this number will rise to almost 25,000 by 2040 (Cancer Research UK: Wales Overview 2023).
Across Wales, the NHS is working to transform the way in which cancer services are delivered and improve waiting times. Services and staff aim to care for those affected through an innovative and empathetic approach, which involves cross-organisation and partnership working.

Prevention and early intervention are crucial in reducing the exposure to risk factors for many types of cancer, and in addressing the barriers to screening and diagnosis. Due to the importance of early intervention in the identification and treatment of cancer, Health Education and Improvement Wales (HEIW) have launched platform GatewayC, giving primary care clinicians access to free cancer diagnosis education.

Clinical trials are crucial for advances in care and treatment, with Velindre University NHS Trust progressing the co-sponsored PATHOS trial. PATHOS is looking at the role of less intensive treatment after minimally invasive surgery for people whose cancers have tested positive for Human Papilloma Virus. NHS organisations are also developing new roles, with a focus on providing seamless and personalised care. Betsi Cadwaladr University Health Board has
recruited metastatic clinical nurse specialists who offer physical and emotional support.

Digital has also been an important tool in improving services. The use of the My Clinical Outcomes platform at Cardiff and Vale University Health Board aims to place the patient at the centre of treatment improvements by personalising clinical care. This approach has already been successful at avoiding hospital admissions and reducing hospital stays at the Sussex Cancer Centre.