Press release
NHS in Wales doing more to support people through cancer
Welsh NHS Confederation publish best practice case studies on transformation and improvement of cancer services.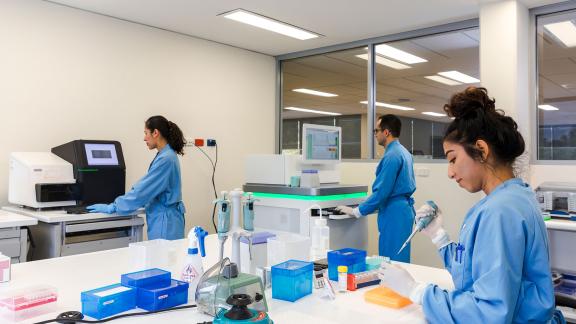 Across Wales, the NHS is working to transform the way in which cancer services are delivered and improve waiting times.  
Like most health and care services, cancer services remain under great pressure with continued high levels of demand. By 2040, it's estimated almost 25,000 people will be diagnosed with cancer in Wales every year. The figure is currently 20,000. 
The latest Welsh NHS Confederation briefing highlights examples from NHS organisations across Wales of improving diagnosis, treatment and support for patients with cancer. Services and staff aim to care for those affected through both an innovative and empathetic approach, which involves cross-organisation working with NHS and external partners. 
Prevention and early intervention are fundamental in reducing the exposure to risk factors for many types of cancer, and in addressing the barriers to screening and diagnosis. Due to the importance of early intervention in the identification and treatment of cancer, Health Education and Improvement Wales have launched platform GatewayC, giving primary care clinicians access to free cancer diagnosis education. 
Clinical trials are crucial for advances in care and treatment, with Velindre University NHS Trust progressing the co-sponsored PATHOS trial. The trial looks at the role of less intensive treatment after minimally invasive surgery for people whose cancers have tested positive for Human Papilloma Virus, with the aim of reducing treatment side effects. 
NHS organisations are also developing new roles, with a focus on providing seamless and personalised care, as well as reducing waiting times and improving overall cancer pathways. Digital innovations have also been an important tool in improving services and speeding up processes, freeing up resource.  
Darren Hughes, director of the Welsh NHS Confederation, said: "Sadly more and more people are being affected by and living with cancer. That's why it's vital we do what we can to find innovative ways to improve services for patients now and in the future, rather than simply doing things the same way and watching waiting lists grow.  
"Focusing on prevention and early intervention is key, but we must not forget the importance of clinical advancements, personalised care and digital innovations to improve processes, treatment, care for people at their time of need. The public must be engaged in their own health and wellbeing, which is why we must have a cross-government and cross-sector public conversation on the future of health and care services and the population's health and wellbeing." 
About us
We are the membership organisation that brings together, supports and speaks for the whole healthcare system in England, Wales and Northern Ireland. The members we represent employ 1.5 million staff, care for more than 1 million patients a day and control £150 billion of public expenditure. We promote collaboration and partnership working as the key to improving population health, delivering high-quality care and reducing health inequalities.