Briefing
Secretary of State's plan for patients: what you need to know
Analysis of what Our Plan for Patients means for the NHS ahead of winter.
Key points
Our Plan for Patients sets out a number of measures relating to ABCD – the priority areas of focus for Rt Hon Thérèse Coffey that she outlined in her first interviews as Secretary of State for Health and Social Care.
Dr Coffey set out that patients are her top priority and that she will be their champion.
Dr Coffey intends this national endeavour to be proactive but not prescriptive, saying it's right for clinicians to make decisions about the best ways to deliver care.
On ambulances, Dr Coffey set out measures intended to reduce waiting times including increasing the number of call handlers for 999 and 111 calls.
On the backlog, the Secretary of State said her department is accelerating plans to roll out community diagnostic centres and maximise use of the independent sector.
Pension rules that are disincentivising senior doctors from undertaking additional shifts will be corrected in an effort to further drive down the backlog. The emergency register for health professionals will also be extended by two years to the same end.
A £500 million adult social care discharge fund was announced to aid NHS services and local councils to work together to secure specific care packages to support people being cared for in the community where appropriate. This is seen as a replacement for the discharge to assess programme, which the government ended last April.
A national recruitment campaign to drive up the number of social care workers will continue and international recruitment will also carry on.
On doctors and dentists, the Secretary of State set out the expectation that everyone who needs a GP appointment should be able to access one within two weeks. 31,000 more phone lines and opening up 1 million more appointments through using community pharmacists to prescribe some drugs, would help ensure this.
The Department of Health and Social Care (DHSC) will continue to change the dental contract to incentivise surgeries to take on more complex work and more NHS patients, in addition to streamlining routes into NHS dentistry for those trained overseas to address the issue of dental deserts.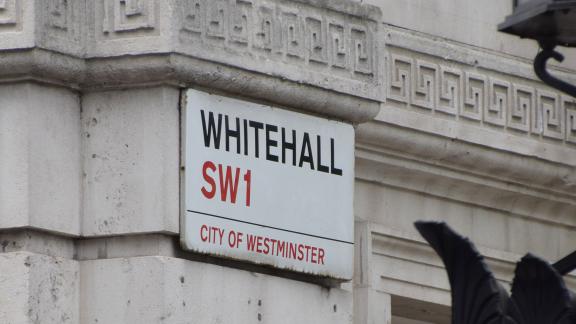 Background
When she became Secretary of State for Health and Social Care, Rt Hon Thérèse Coffey MP said she would bring an emergency plan before parliament as a matter of urgency, to support the NHS and social care this winter .
This briefing highlights the key points from the statement made to the House of Commons on Thursday 22 September 2022, reflections on the measures announced and analysis of what more will be needed.
The full Hansard report is also available of the Secretary of State's statement and the questions MPs posed to her afterwards. You will see the Shadow Secretary of State for Health and Social Care, Wes Streeting MP, referenced our response to the trailing of the plan in his speech. 
Ambulances
The Secretary of State set out her intention to apply a 'laser-like' focus to handover delays and shared analysis showing 45 per cent of delays are occurring in 15 hospital trusts.
She committed to freeing up beds with a focus on discharge, and to rolling out more technology so people can be monitored digitally at home. The number of call handlers for 999 and 111 will be increased, as NHS England stated in its NHS winter plan in August.
She also said the department is exploring the possibility of a new auxiliary ambulance service.
Backlog
Dr Coffey committed to reducing elective waiting times further, eliminating waits of over 18 months by April 2023, over 15 months by March 2024, and over a year by March 2025, repeating the expectations set out in the NHS Elective Recovery Plan from February. She emphasised the importance of diagnostic hubs in achieving this, saying they would be accelerating their roll out as well as maximising use of the private sector.
Disappointingly, there was no mention of the backlogs seen in other parts of the NHS, including across mental health and community care services.
Dr Coffey also announced that the government will correct the pension rules that are disincentivising senior doctors from working additional hours, to help tackle the backlog. The government will expect trusts to offer pension recycling, and measures that allow people to stay in or return to the NHS after retirement will be extended for two more years – as will the emergency registers. The NHS Confederation welcomed this, having called for urgent interventions in our recent letter to the Chancellor. 
Care
The key announcement relating to social care was the £500 million adult social care discharge fund for this winter, which is seen as an evolution of the previous discharge to assess funding. Dr Coffey said this funding acts as a down payment in the rebalancing of funding across health and social care.
It is not yet clear if this funding will come from Treasury or if DHSC will be expected to find it from existing budgets. The expectation is that it will be funded, at least in part, by recycling some of the funding that was originally intended to cover higher National Insurance contributions to the health and social care levy, by NHS employers. This follows the Chancellor also confirming today that the 1.25 per cent rise in National Insurance will be reversed from 6 November and that the levy planned to fund health and care from April 2023 will be scrapped, with the funding instead coming from general taxation. We are seeking urgent clarification on this.
The national recruitment campaign for social care workers run by the Department for Work and Pensions will continue in light of the 165,000 vacancies in the sector. £15 million will help employ more care workers from abroad to be employed here, but this money was already announced earlier in the summer.
The government is also accelerating the roll out of technologies such as digitised social care records to save time for carers on their shifts, enabling them to deliver more care.
Doctors and dentists
As trailed, the Secretary of State used her statement to set out the government's expectation that those needing a GP appointment can get one within two weeks, and the next day for patients with urgent care needs. In our reaction, we have explained that this is happening with the majority of appointments already but that further support is needed to make this a consistent reality for all.
Dr Coffey set out five steps the government will be taking to drive this:
Enabling 1 million more appointments to take place by making funding rules more flexible for roles in the Additional Roles Reimbursement Scheme. This is something which we have been calling for on behalf of our primary care members for some time.

Freeing up a further 2 million appointments by allowing community pharmacists to prescribe some common drugs rather than GPs.

Making it easier to secure an appointment by making an additional 31,000 phone lines available this winter and accelerating the delivery of 'cloud-based' telephone solutions from January 2023.

Publishing performance by practice to inform patient choice.

Requiring integrated care boards to hold local practices to account and provide support to practices that need to be improved.  
On dentists, Dr Coffey set out that DHSC has already started changing the dental contract to incentivise dentists to do more NHS work and take on more difficult cases. From November 2022, dental practices will be required to publish on their website if they are taking on new NHS patients or not.
Integrated care boards will be held to account for the provision of dentistry in their local areas.
The General Dental Council will simplify registration for those who have trained in dentistry abroad so they can start practising in the NHS more quickly.
What's missing?
We were disappointed not to see our calls for more focus on the mental health and community backlogs in the statement, with 1.6 and 1 million people waiting for care in these services respectively.
While the Secretary of State referenced the forthcoming workforce plan in her statement, she didn't say when it would be published and if it would be funded as it must be.
There was nothing on addressing the maintenance backlog and capital investment despite nine in ten NHS leaders recently telling us that a lack of capital investment is reducing their ability to drive down waiting lists. We have asked MPs to raise this with the Chancellor at the mini budget on 23 September.
There was no mention of wages for social care workers – a point that was raised by several MPs in response to the statement after nearly all respondents to a recent survey said raising pay for care workers was the most impactful solution to addressing the crisis in the social care workforce.
The Secretary of State failed to address the need for urgent national action on NHS staff mileage rates in light of inflation and the cost of living crisis, which our Community Network members have told us are leading staff who rely on their cars to see patients at home, to leave their jobs.
Despite being speculated by some parts of the media before the Secretary of State's official statement, there was no announcement that the four-hour A&E target will be scrapped by the government, with Dr Coffey confirming in questions afterwards that 'there will be no changes.'
What's next?
The NHS Confederation sent a

parliamentary briefing

to MPs ahead of the statement and will now follow up to share our assessment, encouraging parliamentarians to pursue the detail of the announcements.

The NHS Confederation will continue to pursue clarity from HM Treasury and DHSC on whether the £500 million adult social care discharge fund will be new investment, or if it will come from existing budgets.

The NHS Confederation will continue to seek clarity on the increased flexibilities that will support primary care to recruit more professionals to their teams.

More detail on changes to NHS pensions are expected to follow at the fiscal event on 23 September.

The NHS Confederation will continue to work closely with partners in the social care sector to reflect their concerns, align our messaging where possible, and advocate for a

national minimum care worker wage

to boost retention in the social care sector.