Briefing
Post-Brexit issues for the NHS
There are a number of measures that the UK Government must take in order to address the challenges of leaving the EU's single market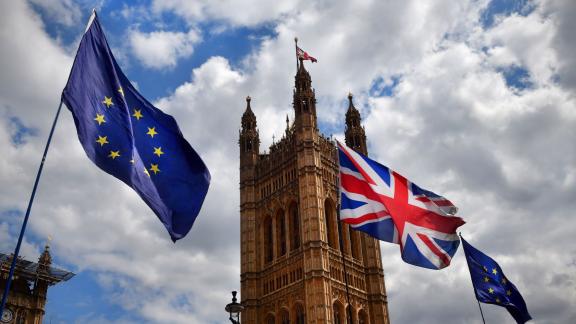 The UK currently enjoys a global reputation for excellence in delivery of clinical services, ground-breaking medical research and development of new treatments, and world class education and training. We have an enviable track record of innovation in life sciences, including artificial intelligence, health data, gene editing and personalised genomics. We are accelerating access to new therapies by advancing the timeframe for clinical development and commercialisation.
Leaving the European Union's single market and customs union has changed the legal and regulatory landscape around science and technology,and presents challenges as well as opportunities for the NHS and wider healthcare sector. There are a number of measures that the UK Government must take in order to address these challenges and ensure our worldwide reputation is upheld. We would appreciate the Science and Technology Select Committee's support in urging the Government to take action on the following points.
What's required from UK Government
1) Formal association with Horizon Europe – the UK needs to keep its formal association with Horizon Europe to maintain its position as a leading scientific nation in both Europe and the world. This programme will be worth €95.5 billion (£84.1 billion) of research funding between 2021 and 2027. The UK and EU have yet to formally agree UK association to Horizon Europe, which needs to happen urgently to finalise the details of participation in collaborative projects which are about to start. In the event of nonassociation, a UK-led substitute scheme, whilst welcome, could not initially hope to rival the size and scope of the pan-EU programme.
2) Maintain and build upon the UK-EU data sharing agreement – the UK-EU agreement is instrumental to addressing cross-border health threats such as COVID-19, enabling the movement of professionals and facilitating crucial research, development, and cooperation. The EU requires countries with data sharing agreements to maintain equivalent, not identical, data protection regimes, so data reforms within the red lines of EU regulatory equivalence could be positive. UK ambitions to diverge from the EU data protection regime outlined in the consultation Data: a new direction need to be conducted in such a way as to reap the benefits without imperilling the EU's recognition of UK data adequacy. If the EU revokes the UK data sharing agreement, costly and burdensome alternative transfer mechanisms will need to be put in place for personal data to continue to flow.
3) Long-term mutual recognition agreement for UK and EU medical research – including mutual recognition of clinical trial sponsors, batch testing, and Qualified Person certification, which reduce barriers to collaborative research and innovation. The UK has unilaterally agreed to recognise EU/EEA Sponsors, meaning UK researchers will face minimal legal and administrative barriers when participating in EU-led clinical trials. However, the EU has not reciprocated this measure, meaning UK Sponsors of clinical trials operating in the EU/EEA now need EU-based legal representation. Evidence from the UK's research community shows that this could be prohibitively expensive for many non-commercial sponsors such as universities, and in the long run could make it harder for UK-based researchers to lead pan-European clinical trials.
4) Maintain compatibility with EU research and medicines regulation – (including the upcoming Clinical Trial Regulation) to reduce bureaucracy faced by researchers and industry, whilst simultaneously exploring opportunities for UK regulatory innovation. Ideally this would include mutual recognition of batch testing and Qualified Person certification, to reduce unnecessary duplication (the Medicinal Products Working Group set up under the auspices of the TCA Partnership Council may provide a vehicle for achieving this.) This would support UK traders in exporting into the EU with minimal paperwork and delays.
5) Agree mutual recognition of medical devices authorised in their respective jurisdictions to reduce unnecessary regulatory and customs barriers. Experience in 2021 has shown the volume and complexity of requirements facing importers and exporters, and both the UK and EU's reliance on sometimes fragile global supply chains. Whilst health sector businesses have worked tirelessly with Government to support their members and keep supplying the NHS with vital resources such as medicines, PPE and medical technology, there are steps the UK and EU could take to reduce trade barriers further.
6) Agree shared MHRA-EMA access to common repositories of information from manufacturers seeking product authorisation to avoid duplication and accelerate patient access to new and better treatments. Reducing unnecessary regulatory and customs barriers would also help to resolve the problems associated with practical implementation of the Northern Ireland Protocol, in particular supplies of medicinal products into NI from GB. At the same time, the UK can independently influence the global pharmaceutical regulatory environment and encourage convergence of regulatory standards outside the EU.
7) A memorandum of understanding (MoU) on health security – between the UK's Health Security Agency and European Centre for Disease Prevention and Control, to support future resilience. This would strengthen information-sharing and co-operation and enable mutual access to the best available tools to plan for, prevent and respond to cross-border health threats. The TCA obliges the EU and the UK to inform each other of potential threats. It also provides for the UK to request access to the EU's Early Warning Response system (EWRS) database for exchanging intelligence and to participate in EU coordination for serious specific health threats – access that was readily granted during the Covid-19 pandemic. The UK can strengthen mutually beneficial ties with the EU whilst simultaneously pursuing an ambitious strategy of wider global partnerships on health security, for example through the WHO.
8) A UK/EU review of barriers to researcher mobility – to support our world-leading research collaborations. Confederation has welcomed many aspects of the UK's new points-based immigration system, such as the removal of the "cap" on visas, abolition of the resident labour market test and introduction of the health and care and global talent visas. However, the costs to medical and scientific researchers and their families coming to the UK are significant in comparison with other major research hub nations – for example, payment of the health and care surcharge for all family members – and could deter the talent we wish to attract. UK researchers and research students wishing to work in the EU are also facing difficulties: dialogue between the blocs could help to resolve some of these problems without undermining UK and EU sovereignty over their respective borders.