Report
The NHS Wales COVID-19 Innovation and Transformation Study Report
Recommendations for how decision-makers and practitioners can sustain the innovative and transformative ways of working that have emerged.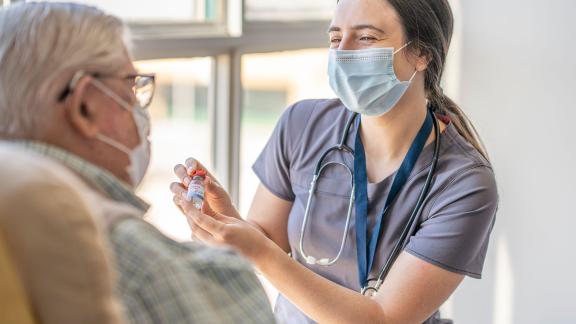 The NHS Wales COVID-19 Innovation and Transformation Study has been produced through the efforts of a range of partners. We have worked collaboratively to deliver a report based on a breadth of local, regional and national evidence gathered from across the health and care system in Wales. 
This independent study report is designed to be accessible,  informative and a tool for learning and change. In its preparation, the project team has aimed to:
develop a greater understanding of why staff across the system implemented new practices and innovations during the COVID-19 pandemic;
demonstrate an inherent 'permission' to apply innovation  and transformative change;
evidence practical, real world examples of innovation that support the application of good practices to other areas;
showcase NHS Wales as a leader in implementing innovation and new ways of working throughout the COVID-19 pandemic.
A broad range of qualitative and quantitative evidence has been gathered from practitioners at all levels of the healthcare system, who have worked tirelessly to adapt to an unprecedented set of circumstances while still caring for and protecting Welsh citizens.
With this in mind, this report provides recommendations for how decision-makers and practitioners across NHS Wales can sustain the innovative and transformative ways of working that  have emerged.
This study report has been delivered through a Team Wales approach, by a dedicated project commissioning group.  Leadership and resources have been provided by the group's members, each of whom have brought specific expertise and a bespoke organisational offer. This collaboration demonstrates what is achievable in Wales as a small but highly networked nation with an integrated policy environment for health and social  care. This report and its underpinning research was prepared for  the project commissioning group by an independent team led by Swansea University's School of Management.
We hope this study report is useful at all levels to effect positive  and meaningful change in practice.
Case studies
Thirty-seven case studies from all Welsh health boards have been developed during our research study as a follow-up to the analysis of the initial datasets. Download the annex to access the case studies.