Briefing
How NHS Wales is responding to the climate emergency
Briefing showcasing case studies from some of the NHS organisations in Wales on how they are responding to the climate emergency.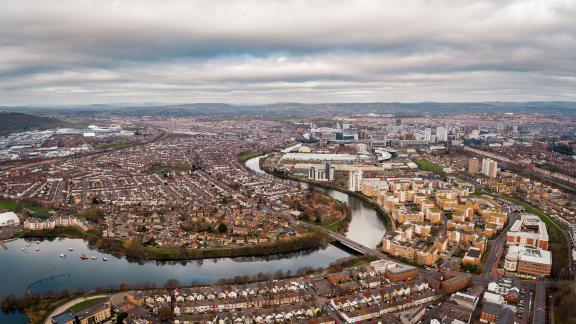 Introduction
The climate emergency is a public health emergency, but the healthcare sector itself currently contributes to the problem. NHS organisations have a significant impact on the environment and are some of the largest contributors to climate change and air pollution, with health systems accounting for 5 per cent of global carbon emissions.
Delivering high-quality health and care places numerous demands on natural resources and the environment, such as: the use of energy, water and consumables, including single-use plastics; waste production and management; and travel, requiring fossil fuels and contributing to air pollution. It is therefore essential that healthcare professionals and providers are educated on the priority of climate change as a health risk, taking the necessary action to reduce the contribution to climate change.
NHS Wales, as the country's largest public sector organisation, has a key role in delivering this change. This is highlighted within the Welsh Government NHS Wales Decarbonisation Strategic Delivery Plan (March 2021).
During COP26 (9 November), all four UK health services united to commit to net zero carbon emissions and build climate resilience through the COP26 Health Programme. For the NHS in Wales, this will mean:
NHS Wales and social care is committed to the ambition for the Welsh public sector to be collectively net zero by 2030.

By 2025, all lighting across the NHS Wales estate will be LED.

Reducing emissions will be part of all new procurement contracts for major suppliers to NHS Wales.

By 2030, the Welsh Ambulance Service will aim for all new ambulances to be plug-in electric or low-carbon fuel.

Low carbon heating will be used in all NHS Wales new builds and renewable energy will be generated on site by 2030.

Delivery of the NHS Wales Decarbonisation Strategic Delivery Plan.
NHS Wales role in responding to climate change
The Welsh Government published the "NHS Wales Carbon Footprint 2018/19" report (July 2020), following its declaration of a Climate Emergency in April 2019. The report highlights that NHS Wales' carbon footprint remains high, although it has started to take a more proactive approach to addressing its carbon footprint over the last few years.
The NHS Wales 2018/19 carbon footprint was calculated as ~1 million tCO2e. This has an associated estimated cost of £1,965m of direct NHS Wales spend. In 2018/19, 99 per cent of NHS Wales' total building use emissions were energy related, consisting of 86 per cent energy and 13 per cent upstream energy. Water and waste account for a small percentage of building use emissions.
In Wales, the NHS produces up to 600,000 tonnes of waste each year, and around 85 per cent of this waste is categorised as non-hazardous. Although much of this waste is recyclable, a significant amount is still incinerated or sent to landfills. Healthcare waste must be categorised, segregated and processed according to the appropriate waste management stream. However, practices around waste management and the communication of relevant practices could be enhanced. For example, diverting specific waste from incineration and landfills into recycling saves money and reduces carbon.
Transport emissions are often recognised as being associated with an organisation's own vehicle fleet. However, NHS Wales transport related emissions are much wider reaching than this and business travel associated with staff expensed travel in personal vehicles must also be considered. Additionally, staff commuting from home to base and also patient and visitor travel to place of care contribute to emissions significantly. The Welsh Emergency Ambulance Service in Wales also contributes to carbon emissions. The ambulance service is looking to address this through its Environmental Strategy and the trial of electric vehicles for patient transport.
Through using its buying powers, NHS Wales organisations are looking at establishing new, local supply chains, which will have the additional impact of shortening the supply chain and reducing carbon. Making better use of digital technology across NHS services and communities will also reduce the environmental impact of healthcare delivery, including technology such as video consultations.
Given its large carbon footprint, any action taken by the NHS to support responsible consumption and reduce waste has a significant impact on the environment. This is important to reduce carbon impact and to support more sustainable utilisation of finite resources across Wales and the UK.
The NHS has the power and responsibility to influence action on a broader scale, to reduce its contribution to climate change and protect resources for the health of future generations.
Below are some examples of how NHS organisations in Wales are responding to the climate emergency.
Aneurin Bevan University Health Board
Healthy Travel Charter
Collaborative working to develop commitments to sustainable travel.

Promote and consider healthy travel options.
Aneurin Bevan University Health Board is one of 29 public sector organisations who are committed to sustainable travel and have signed up to a Healthy Travel Charter.
The Gwent Sustainable Travel Group, led by the Health Board, has worked on the development of the charter, which sets out a number of commitments and four targets for the period of 2020-2023.
Partners across Gwent worked in collaboration to develop the commitments, which cover the following areas:
communication & leadership

walking, cycling & public transport

agile working

ultra-low emission vehicles.
A launch event took place in November 2020 as part of Wales Climate Week. Organisations aim to:
Reduce the proportion of journeys commuting to and from work made by car from 87% to 77%.

Increase the proportion of staff who use public transport to travel to and from work from 3% to 8%.

Increase the proportion of staff who work from home one or more days per week from 14% to 25%.

Increase the proportion of vehicles used during the day which are ultra-low emission from <1% to 5%.
Betsi Cadwaladr University Health Board
Orthopaedic surgeons lead sustainable healthcare project
Reducing carbon footprint in operating theatres.

Annual savings of 11.6 tonnes C02e/year and £12,641 a year.
Two orthopaedic surgeons have been nationally recognised for an innovative sustainable healthcare project. Mr Prash Jesudason from Ysbyty Gwynedd and Mr Preetham Kodumuri from Wrexham Maelor Hospital were one of five surgical teams competing in the first ever 'Green Surgery Challenge', co-hosted by the Royal College of Surgeons and the Centre for Sustainable Healthcare.
For their challenge, they focused on hand surgery, reducing the consumables used and the volume of clinical waste generated by creating a new, streamlined procedure pack. The team also reduced the use of ward beds and theatre space, effectively challenging the assumption that all surgical procedures must take place in theatres, when minor surgery can be carried out in rooms with lower energy requirements.
This project demonstrated it was not only safe to carry out the surgery in this manner, but it also increased productivity, had a lower environmental impact, a lower economic cost and also reduced time in the hospital for patients.
The project has forecast annual savings of 11.6 tonnes CO2e/year and £12,641 a year.
Cardiff and Vale University Health Board
Embracing sustainability and energy efficiency
Initiatives to reduce environmental impact.

Combined heat and power plant produces 60 per cent of University Hospital of Wales (UHW's) needs.

In 2020, 564 tonnes of paper, cardboard and plastic were recycled.
The Health Board's capital, estates and facilities team has introduced a range of initiatives to enable the organisation to become more sustainable and reduce its environmental impact.
The Health Board has adopted strategic sustainability objectives in its Shaping our Future Wellbeing 10-year strategy, as well as their wellbeing objectives.
The sustainability agenda includes:
Biodiversity at UHB
The Health Board are working towards an agreed Biodiversity Action Plan to establish a more effective Environmental Management System. This plan further commits the Health Board to its environmental responsibilities throughout its extensive site portfolio.
One of the Health Board's proactive initiatives is the WellBEEing project, which has established a bee garden at Our Orchard, located at University Hospital Llandough, and introduced a number of beehives at other Health Board sites. The project aims to help people understand their immediate environment and will also look to generate antibacterial strength honey, which will be used for research around infections and towards the healing of patients. In 2021, the Health Board supported No Mow May, allowing lawns and wild flowers to flourish and protecting pollinators.
Energy/water-efficient healthcare
The Health Board is fully committed to reducing its carbon and water impacts, recently embarking on the Re:fit Cymru programme and an NHS Wales Decarbonisation Strategy programme. Both are designed to adopt energy generating/saving technologies and energy strategies. The programmes aim to achieve both short-term and long-term results.
A combined heat and power plant installed at the UHW is the largest of its kind ever to be installed by the NHS in Wales. It produces 60 per cent of UHW's needs, saving the Health Board around £1m every year.
The Re:fit programme is continuing with its LED lighting, Solar Photovoltaic installations, the upgrade of building management systems and the installation of a more efficient plant. In addition, a sustainable approach to procurement ensures all electricity purchased by the Health Board is renewable.
Waste management
The Health Board has established a zero waste to landfill strategy, whilst looking to also improve upon its recycling activity. Recycling stations across the estate allow users to separate liquids, cups, plastics and general waste, reducing the volume of waste for disposal. All non-recyclable waste from these sites goes to the energy recovery facility in Splott, Cardiff. In 2020, 564 tonnes of paper, cardboard and plastic were recycled.
The Health Board has signed up to the UK Refill Scheme. The insertion of a free water fill station at Barry Hospital offers a popular alternative to single-use plastic bottles. The Health Board introduced washable glass cups within ward-based catering and Health Board restaurants in March 2018.
Active and sustainable travel
The Health Board supports visitors, patients and staff members towards making sustainable travel choices. The Health Board provides a Park and Ride scheme and public transport information, along with links to the latest travel and weather information in the local area. A cycle to work scheme further encourages staff members into active travel.
The Health Board also facilitates a shuttle bus between UHW and University Hospital Llandough, which enables staff to avoid commuting in their own vehicles between sites.
All of the Health Board's efforts support steps towards the success of the Healthy Travel Charter.
Cwm Taf Morgannwg University Health Board
Green CTM
Green CTM launched to ensure green and sustainable principles are embedded across the Health Board.

Approach delivering on Health Board's responsibility as a population health organisation.

Engaging with the local community on social media, using #GreenCTM.
The Health Board formally launched its 'green' initiative to coincide with UN Climate Chance Conference. Green CTM is a staff working group which aims to ensure green and sustainable principles are embedded in all aspects of the Health Board's work and the services provided to patients and communities.
Green CTM actively engaged with the Welsh Government's ambitious decarbonisation plans. Carbon net zero means only using the same amount of carbon as is offset in the rest of Wales. Therefore, NHS Wales must reduce its carbon output by 34 per cent by 2030 due to 'carbon negative' initiatives across Wales such as tree planting.
Going green and being sustainable is a vital part of the Health Board's approach to delivering on its responsibilities as a population health organisation. The Health Board is putting this at the centre of its decision making at every level.
So far, the Health Board has made improvements to buildings, used more solar and wind power, introduced electric fleet vehicles, reduced use of high carbon anaesthetic gases and increased the range of recycling.
The Health Board has had a great response from their staff so far and it is also keen to hear from the community by sharing on social media, using #GreenCTM.
Health Education and Improvement Wales (HEIW)
A plan to help protect the planet
New strategy begins a shift in culture and better decisions for our planet.
During COP26, HEIW published their Biodiversity and Decarbonisation Strategy in full. The new strategy is intended to help HEIW staff and others take positive steps to make changes in their working and personal lives.
HEIW's strategy sets out the organisation's high-level aspirations and intentions to meet requirements. It also calls its staff, stakeholders, partners and suppliers to action, making positive changes to achieve longer-term goals for Wales.
In line with legislation and national plans, HEIW's strategy focuses on four key areas for action:
engaging and supporting staff

sustainable procurement

developing its office, Ty Dysgu, and supporting local communities

environmental sustainability.
In Ty Dysgu, HEIW has already installed LED lighting, used green electricity, developed a recycling scheme and diverted 100 per cent of their waste away from landfill. It is also encouraging staff and stakeholders to make sustainable changes in their lives and providing information on how they can make a difference.
Hywel Dda University Health Board
Heat pumps installed in care centre
Air source heat pumps reduce carbon emissions by 30 per cent.

Energy saving projects include solar, energy efficient lighting and biomass boiler.
Hywel Dda University Health Board is enhancing its environmental credentials with the installation of three air source heat pumps at Cardigan Integrated Care Centre.
Work has begun on the project that will help reduce the building's carbon emissions by 30 per cent and offset natural gas boilers currently serving to heat the building.
The measure is part of the Health Board's wider decarbonisation strategy. To date, the Health Board has undertaken a number of energy saving projects, including a photovolcaic solar system on the community estate, energy efficient lighting, and a biomass boiler at one of the acute hospitals.
Welsh Government Energy Service conducted a feasibility assessment for low carbon heat solutions for Cardigan ICC. Support was provided to the Health Board to appraise low carbon heat options and integrate a solution into the plantroom to service lower temperature heat loads. The recommended solution was a 70kW air source heat pump and upgrade of air handling unit heater batteries to lower temperature rated units. This culminated in the Health Board securing a £325,000 grant from Welsh Government to deliver the scheme in 2021/22.
The installation of the air source heat pumps is due to be completed in February 2022.
NHS Wales Shared Services Partnership
Supporting decarbonisation across Wales
Decarbonisation is a key element of procurement of goods and services.

Introducing electric vehicles across NHS Wales.
NHS Wales Shared Services Partnership (NWSSP) is supporting NHS organisations to reduce their carbon footprint. NWSSP was instrumental in the development and implementation of the Decarbonisation Strategic Delivery Plan for NHS Wales and has supported the introduction of electric vehicles across Wales, producing 0 per cent emissions.
NWSSP Procurement Services will adapt its Sustainable Procurement Code of Practice to include a requirement for suppliers in multi-year contracts to assess the carbon intensity of their goods and services. This will then be reported back in a standardised format. NHS Wales will mandate certain suppliers to decarbonise as a contractual requirement, as it is the most influential method of progressing decarbonisation in the supply chain.
Powys Teaching Health Board
Pioneering ecotherapy programme
Nature and environment supporting health and wellbeing.
Montgomeryshire Wildlife Trust's (MWT) trailblazing health and wellbeing project, Wild Skills Wild Spaces, has attracted national acclaim with a prestigious NHS Forest 2021 Award for Engaging People with Nature.
The ecotherapy programme is a partnership between MWT, Powys Teaching Health Board and Cardiff Metropolitan University and is designed to improve people's mental health and wellbeing through reconnecting them with nature and their environment.
Wild Skills Wild Spaces incorporates a range of outdoor activities, from wildlife walks and food growing to bushcraft such as fire lighting and green woodworking. The free ecotherapy sessions are delivered by a trained team at various MWT nature reserves and other local wildlife-rich sites. As well as helping boost participants' wellbeing, the project aims to enable them to make a positive change for wildlife in their communities.
Funded by the Welsh Government, Wild Skills Wild Spaces launched in June 2021 and already has around 50 people aged 12 to 75 involved with it each week. Participants are referred from primary and secondary healthcare providers, such as GPs and mental health services, and programme attendance is at 80 per cent.
The project is currently funded up to 2023. If successful, it could pave the way for similar schemes to be rolled out across Wales.
Public Health Wales NHS Trust
New resource highlights health impacts of climate change
Infographics highlight impact of climate change on the health and wellbeing of the population.

Infographics aim to ensure organisations and public bodies in Wales have the evidence and information they need to plan for and respond to the health and wellbeing impacts of climate change.
To coincide with COP26, Public Health Wales NHS Trust published a series of infographics highlighting the impact of climate change on the health and wellbeing of the population of Wales, and to support public bodies and businesses to take action to address any impacts.
The infographics focus on the relationships between the natural environment and health, the population groups affected and some of the key health and wellbeing impacts.
People: climate change affects everyone, but the impacts will be felt disproportionately by some groups. The infographic highlights the health and wellbeing impacts of climate change on different population groups, including: children and young people; older adults; people with disabilities and long term health conditions; and people living on a low income. Effective adaptation planning includes thinking about different groups and how they will be impacted.

Places: climate change will impact health and wellbeing in the places where we live, work and play. More action is needed to prepare for increased heat in Wales, and the infographic aims to draw attention to places where plans are needed for adaptation to higher temperature, such as workplaces, schools, homes, hospitals and care homes.

Food: good nutrition is essential for healthy growth and development in children, maintaining health in adulthood and reducing the risk of diseases such as cancer. The infographic explores the impacts of climate change on food security and healthy eating.

Nature and health: The natural environment supports population health and wellbeing. The infographic summarises the benefits of nature to physical, social and mental health and wellbeing. It also gives some ideas for actions on how everyone can take care of nature.
Swansea Bay University Health Board
Re:Fit Project reducing the carbon footprint
Reduce the Health Board's carbon footprint by around 3,000 tonnes a year.

Solar farm and energy-reducing schemes save more than £1.5 million a year.
The Re:Fit Project (Re:Fit) is a £15.3 million investment in environmental initiatives to reduce the Health Board's carbon footprint. The Re:Fit framework allows public organisations to access funding to implement a range of Energy Conservation Measures. These measures can generate savings which reduce carbon emissions and provide additional long-term cost savings, reducing back log maintenance and providing increased budget certainty.
The Re:Fit project includes a range of energy conservation measures at eight of the Health Board's highest use buildings. It also includes the development of a 4MW Solar Farm which will provide around 25 per cent of the electricity for Morriston Hospital, cutting the electricity bill by around £500,000 a year and significantly reducing carbon emissions.
The investment in the solar farm and energy-reducing schemes will lead to a minimum guaranteed saving of more than £1.5 million a year. It will also reduce carbon emissions by around 3,000 tonnes a year.
The focus of the project has been to reduce the organisation's carbon footprint, but it has also sought to improve the services within the Health Board's facilities. The installation of over 14,000 LED light fittings will improve lighting levels, aesthetics of the wards, and reduce the maintenance required due to the longevity of the fittings.
By engaging with the Re:Fit Framework, the Health Board has been able to work in partnership to deliver a range of the decarbonising initiatives, which will reduce its emissions by over 73,000 tonnes over the lifetime of the project.
Velindre University NHS Trust
Ambitions for the 'greenest hospital in Britain'
Placing biodiversity and the protection of the natural environment at the heart of everything.

Hospital infrastructure designed around natural design principles, embracing natural materials, natural lighting and biodiversity enhancement.
Velindre University NHS Trust is underpinning its plans for a new cancer centre in Cardiff with a list of commitments aiming to make it the 'greenest hospital in Britain.'
The trust was granted planning permission to build on NHS-owned land, known as the Northern Meadows, in 2018 and wants to provide patients with a better, more peaceful and restorative healing environment for treatment. As a result, it has looked around the country to inspire its vision for a building which sits comfortably in its landscape.
The commitments are two-fold, drawing on Velindre's design brief and Green Infrastructure Management Strategy. Firstly, Velindre has pledged to keep the Northern Meadows green, which means enhancing community access, supporting the ecological diversity and natural environment of the site, while also implementing sustainable transport and a Green Travel Plan.
Secondly, it wants to make the building carbon neutral by using renewable energy and natural resources. It will also protect and conserve water, minimise light pollution, noise impact and the production of waste materials.
Welsh Ambulance Services NHS Trust
Embedding environmental sustainability across the ambulance service
Long-term strategy to reduce the carbon footprint and introducing greener working practices.

Hybrid rapid response cars, reducing 125 tonnes of CO2 emissions per year.
The Welsh Ambulance Service (WAST) has been highly commended for its work to embed environmental sustainability into its working culture, winning a number of awards.
In 2016, WAST launched a new Clinical Response Model that has become a template for ambulance services across the UK. Key 'green' points in the model include:
Senior clinical on-call rota to support paramedics facing difficult decisions, driving down unnecessary conveyances.

The Advanced Paramedic Practitioner model, which launched in January 2019, and in a year saw 1,978 patients visited with 65 per cent of these being treated in the home.

Piloting the use of electric vehicles.

Meeting the Welsh Government target of a 3 per cent reduction in carbon dioxide annually.

Leading the way with video conference meetings.
All of WAST's electricity is bought from renewable sources. It is using solar panels on vehicles, recently modernising its fleet to be more environmentally friendly. Forty-six of the new Toyota Rav4 Hybrid rapid response cars are now on the road across Wales, replacing some of the trust's older diesel-powered vehicles. The mile-per-gallon of the new rapid response car will increase from around 22mpg to 31mpg, which equates to a reduction of around 125 tonnes of CO2 emitted per year.
The WAST has also commissioned new and improved emergency and non-emergency ambulances, as well as a fleet maintenance vehicle to help with the upkeep of its new haul.
You can watch this short video to see other initiatives WAST has introduced.