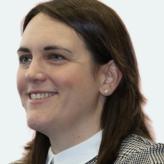 Nesta Lloyd-Jones
Nesta has over ten years' experience working in policy and public affairs in Wales and is currently assistant director of the Welsh NHS Confederation.
After completing her law degree and being called to the Bar in 2004, Nesta worked at Welsh Women's Aid for six years as legal issues co-ordinator. Nesta then became part of the award-winning External Affairs team at Macmillan Cancer Support. During her time at Macmillan, Nesta was also a consultant for Rape Crisis England and Wales.
Since April 2014, Nesta has been working for the Welsh NHS Confederation focussing on Policy and Public Affairs before being appointed Assistant Director in August 2019. Nesta is responsible for public policy, public affairs, research, media relations and effective political liaison on behalf of Welsh NHS Confederation Members.
Nesta was a founding Trustee of a new charity, Surviving Economic Abuse, which is now recognised as the leading organisation raising awareness of and transforming responses to economic abuse. Nesta has also been a Trustee of the End Violence Against Women Coalition, Chair of Public Affairs Cymru and has volunteered for her local Citizens Advice Bureau and BAWSO.