Briefing
The health and care bill: five influencing successes
An overview of the key areas where we have had success in influencing the health and care bill for our members.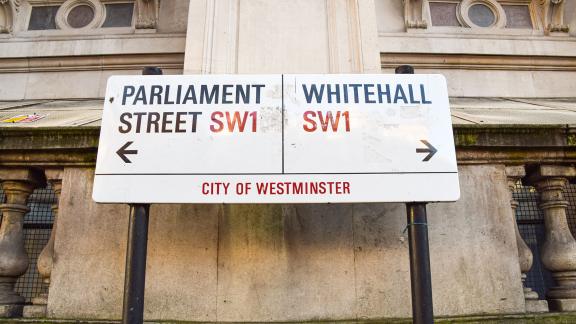 Background
There has been clear consensus across our membership that the future of health and care must be based on collaboration and partnership working at a local level. The health and care  bill facilitates this, so we have largely supported the proposed legislation.
Nonetheless, our members have raised concerns over certain elements of the legislation and we have lobbied to change these throughout the passage of the bill. Our influencing activity has included: 
regular meetings with health ministers, the Department of Health and Social Care (DHSC) and opposition bill teams
holding briefing events, and direct correspondence and meetings with parliamentarians
joint media activity with other organisations across health and care. 
With the bill set to receive Royal Assent imminently, this short briefing sets out the five areas where we have had success in influencing the bill for our members. 
Our influencing successes

Ensured checks and balances on new Secretary of State powers over local service reconfigurations 
The issue
Our members' most pressing concern was the significant new powers the bill proposed to confer on the Secretary of State for Health and Social Care to intervene at any stage of a local service reconfiguration – with no minimum information requirements on which to base such a decision.
The original wording of the bill would have allowed the Secretary of State for Health and Social Care to intervene – with no limitations – in a decision on local services for political reasons. Equally, without clinical advice, the input of the local community or public transparency over local service reconfiguration decisions, the quality and safety of patient care may have been at risk.
Our action
We have worked to secure, at the very least, important checks and balances on these powers. We have been clear from the start that our members don't see how these new powers will benefit patients. 
We've also been vocal in the media, both independently and alongside partners. 
Working with Baroness Cumberlege (Con), Baroness Thornton (Lab) and Lord Stevens (Crossbench) and other parliamentarians, we helped to develop a set of amendments that would limit the powers, ensure there are opportunities for clinical input and help to prevent them being misused for political reasons. We have lobbied peers and MPs to vote for these, working alongside key partners such as the King's Fund, NHS Providers and beyond. 
The outcome
On Monday 25 April, the government tabled a series of amendments on reconfiguration powers. These will ensure: 
both NHS organisations and local authorities affected by an intervention on local services by the Secretary of State will have to be consulted and their responses published
removal of requirements for NHS leaders to notify the Secretary of State whenever they are planning (or even considering) a change to services – the Secretary of State will only need notification on complex and substantial reconfigurations
the Secretary of State is required to make a decision on a proposed service change within six months of 'calling it in' for consideration. 

Secured transparency on mental health investment and representation on integrated care boards (ICBs)
The issue
The NHS Confederation, including notably our Mental Health Network members, wanted to see greater attention paid to mental health within the bill. We believe it is vital the mental health investment standard continues to be upheld and that progress towards parity of esteem continues to be central to collaborative working under integrated care systems (ICSs). 
Our action
Through the Mental Health Policy Group (MHPG), we have pressed the government for further safeguards in the bill on mental health investment, representation and a duty to parity of esteem.
The MHPG met regularly with the DHSC bill team and mental health team to discuss areas within the bill we believed could be strengthened. We engaged with peers and MPs to outline our concerns and used public communication channels to press the need for the legislation to give more prominence to mental health.
On mental health representation on ICBs, we were conscious of the views of ICS leaders that they wanted flexibility on ICB composition. We therefore worked on a compromise position that would achieve better mental health representation without being too rigid (the detail of which is set out below).
The outcome 
We welcomed the government's amendment that puts a requirement for the Secretary of State to confirm, each year, whether they expect mental health funding to increase, and for ICSs and NHS England to report annually on their mental health spend.
Our Mental Health Network, along with the wider Mental Health Policy Group, also welcomed the government's amendment that would require the ICB to include an individual with expertise and knowledge of mental illness, and for it to be made explicit in the bill that the definition of "health" includes mental health.

Ensured NHS and social enterprise organisations are not penalised under conflicts of interest amendments
The issue
During report stage in the House of Lords, an opposition amendment was passed which aimed to restrict private providers' membership of ICBs and committees/sub-committees of ICBs. We had strong concerns that the wording of the amendment would not only penalise private providers, but NHS and social enterprise organisations too. We sought advice from legal partners, who confirmed this. 
Our action
We flagged our concerns on these amendments publicly, while also engaging directly with opposition parliamentarians in the House of Lords and the DHSC bill team. We suggested alternative wording, eventually helping to reach a compromise on the wording of the amendment which all sides could agree on. 
 
The outcome 
Rather than a rigid set of rules on which organisations can sit on various ICS governance bodies, the revised wording states ICB chairs will have discretion to determine whether the participation of a private organisation on the ICB (or one of its committees) constitutes an 'undermining' of the independence of the NHS. This wording is now included in the bill and will help to ensure our members are not penalised. 

Ensured that the bill passes in time for the ICS implementation date
The issue
There has been real concern across our membership that the implementation date for ICS commencement, already delayed from April to July 2022, would again be pushed back to allow time for contentious political issues relating to the bill to be resolved. 
Our action
We were clear with the government and NHS England and NHS Improvement (NHSEI) after the first delay that the decision was poorly communicated and had caused a range of logistical and administrative issues for many of our members. We set this out publicly through our media activity and a comment piece by our ICS Network director, Lou Patten. 
More recently, we have stressed in our meetings with ministers and DHSC – as well as our parliamentary briefings – that the implications for accountability, finances, HR and a range of other issues would be even more severe with another delay.
Our message to government was clear: compromise on the issues of most concern to NHS leaders and let them get on with delivering integrated care.
The outcome 
We have welcomed that the bill will receive Royal Assent in time for the 1 July implementation date to be met. This will be a significant relief, especially for our ICS members. 

Resisted amendments that would limit local leaders' flexibility
The issue
While there is good reason for ensuring that there is some central direction on ICS decision-making on certain issues (such as mental health parity of esteem), we have broadly heard a clear message from members that ICSs must be left to get on with delivering for their populations as they see fit. A permissive legal framework with empowers ICSs with the flexibility they need to tailor their governance arrangements to the particular needs of the populations they serve is essential to making these reforms a success.
Our action
We have been clear in our engagement with, and briefing materials to, parliamentarians that we must not restrict local leaders' autonomy unless it is imperative to do so.  
This was one of the key messages conveyed by our chief executive Matthew Taylor, ICS Network director Lou Patten, ICS Advisorate chair Dame Gill Morgan and NHS Employers chief executive Danny Mortimer when they gave oral evidence to the Health and Care Bill Committee, as well as in our written evidence to the committee in September 2021. 
The outcome 
Broadly, we believe the bill strikes the right balance between prescription where necessary but a high degree of freedom for system leaders on issues including governance, accountability and commissioning. This will allow for system working to reflect, incorporate and be built around local circumstances. 
Unresolved issues
There are changes we sought to the bill on important issues which were not successful. To support the delivery of care services to patients, the government will still need to take action to address these outstanding policy challenges. 
Workforce
We published a joint statement with the Academy of Medical Royal Colleges, the British Medical Association, NHS Providers, the Royal College of Nursing and UNISON calling for issues contained in the NHS People Plan to be addressed, including improving staff wellbeing, arrangements for flexible working, increasing workforce supply, transformation and leadership. We worked with the Royal College of Physicians and others to press for amendments. 
We are disappointed that proposed amendments which would have set a duty for more regular, independent workforce planning across health and social care more regularly than every five years were unsuccessful. This was a missed opportunity to take stronger action to address chronic staffing shortages across the health and social care sector.
The Secretary of State has commissioned NHS England to develop and publish a "workforce plan" for the NHS by "end of the year". It will not be the more open and transparent process we were seeking but is step in right direction and will require sufficient resourcing from HM Treasury. The planning and development of a larger workforce capable of meeting the demand for health and care services is the most fundamental challenges our members face and the onus remains on government to address this issue.
We will continue to input into the work of NHS England, Health Education England and other national bodies to plan for future workforce needs across health and care.
Next steps
The hard work is, of course, far from over as we look ahead to the implementation of ICSs from July 2022. The detail of statutory guidance, non-legislative policy set by NHS England and the regulatory framework developed by the national regulators will have significant implications on how systems operate from July onwards. We will continue to influence central policymaking to ensure it reflects our members' priorities.