Press release
Wales' arts and health organisations call for arts to play leading role in 'A Healthier Wales'
This Creativity and Wellbeing Week, arts and health organisations in Wales are calling for arts to play a leading role in improving population health.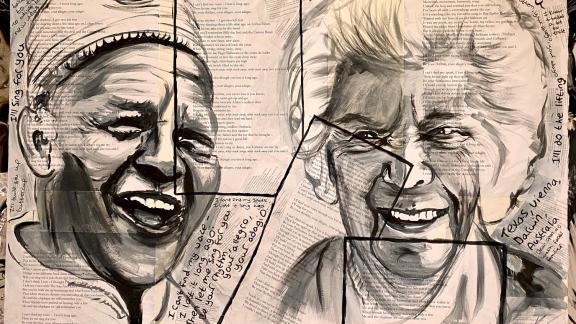 Image: Digital Threads artwork by Nathan Wyburn
A series of innovative arts and health projects run across Wales during the height of the pandemic have sparked recommendations this Creativity and Wellbeing Week (16-22 May) for how art can take a leading role in creating 'A Healthier Wales'.
Singing for dementia, creative writing to support addiction recovery and arts sessions for mental health inpatients were among 13 projects funded and supported by HARP (Health, Arts, Research, People) - a research and innovation partnership between the Arts Council of Wales, Cardiff University's Y Lab and innovation foundation Nesta. All of the projects were collaborations between artists, community-based health and care organisations, local authorities and/or local health boards.
Long waiting lists for addiction support in Welsh-speaking areas of North Wales, for example, prompted the artist Iola Ynyr to partner with Theatr Genedlaethol Cymru and Literature Wales to start Ar Y Dibyn ('On The Edge') and develop it into a national programme. The Welsh language project uses creative writing and other art forms to support people experiencing addiction and has been working with counsellors, Substance Misuse Services and housing associations, among others, to help people access support in a different way. 

As HARP ends, the experiences and impact of projects like Ar Y Dibyn have informed a comprehensive set of recommendations for Wales' policy and decision-makers, as well as health care leaders, researchers and investors, aimed at securing greater support for creative and innovative approaches within Wales' future health and care system.
Among the recommendations, published by HARP, is a call for the arts to become as central to plans for 'A Healthier Wales' as sport currently is. HARP also recommends policymakers identify and fund collaboration between arts and health bodies on key issues, such as mental health; social prescribing 1 ; and supporting the wellbeing of health and care staff.
The HARP teams have also co-designed a model for innovation in arts and health, called 'the HARP Approach', which is designed to empower those running art and health projects to ask for and access the support they need to thrive.
Rosie Dow, programme manager at Nesta Cymru, said: "Despite the challenges of the past two years, the projects we've worked with have brought some amazing ideas and partnerships to life, giving us a glimpse of what's possible if organisations work together to innovate.
"If we want a healthier Wales we now need funders, health and care leaders, and policymakers to recognise the potential of these projects and ensure they receive the investment and support they need to grow and reach more people."
Sally Lewis, Programme Manager for Arts, Health and  Wellbeing at the Arts Council of Wales said: "Our investment in Arts & Health projects over many years has provided powerful evidence that the arts have a central role to play in supporting people's health and wellbeing. And the pandemic has underlined just how relevant and necessary creative opportunities are as a source of self-expression, comfort, fun, social connection, relaxation, stimulation as well as solace.
"The HARP Programme has responded to current health challenges in dynamic, exciting and innovative ways, resulting in a distinct approach, rich learning and a number of important recommendations emerging. We look forward to working with our partners in Health to explore how we can jointly respond to ensure that everyone in Wales can benefit from the health and wellbeing benefits that the arts can offer."

Nesta Lloyd–Jones, Assistant Director, Welsh NHS Confederation, said: "Throughout the COVID-19 pandemic, the arts have played a critical role in supporting the health and wellbeing of people in Wales, as highlighted by these HARP-supported projects.

"Across the health and care system there is a growing understanding that access to arts opportunities and participation in the arts can dramatically improve health outcomes and wellbeing, counter inequalities and increase social engagement.
"NHS leaders recognise that creativity and the arts need to be part of the solution in helping tackle the indirect health consequences of COVID-19, now and in the future, and we must work with partners across all sectors to enable person-centred care to be provided."
James Lewis, Director of Cardiff University's Y Lab, said: "The combination of high-quality research and genuine creativity often leads to innovation that can positively impact people's lives, and this approach is exemplified by HARP.
"We have worked alongside the teams, health leaders and participants during their HARP innovation process to support their use of appropriate research and evaluation methods. And our HARP Public Involvement and Patient Experience in Research (PIPER) group has provided a strong service-user voice to inform our research design and guide our impact in a safe and inclusive space.
"We believe the HARP approach allows space for greater creativity and innovation in the way our health systems frame their challenges and try to create solutions."
A series of HARP online sharing events this week will explore how to generate, grow and learn about creative innovations that support people's health and wellbeing in Wales. Anyone interested in participating can register online here.

For more information, or interview opportunities, please contact Leah Oatway, communications coordinator for HARP, on leah_oatway@hotmail.com.
HARP's online resources, along with all of the projects' stories, can be found at www.healthartsresearch.wales from 16 May 2022.
More information about these projects is available on request.


Ar y Dibyn ('On the Edge')

A Theatr Genedlaethol-led partnership delivering Welsh language creative workshops as part of recovery provision for groups of people with substance dependency, in a mix of online and face-to-face settings. The project is supported by the North Wales Area Planning Board for Substance Misuse, Literature Wales, Adra (Tai) with referral and support by Adferiad Recovery, Stafell Fyw (Living Room), Shelter Cymru, Abbey Road Centre and many more.
 

Digital Threads

An online music and poetry programme aimed at keeping inpatients with dementia at St David's Hospital in Cardiff cognitively active and socially connected during the pandemic. This was a partnership between Forget Me Not Chorus, artists Louise Osborn and Emma Jenkins, and Cardiff and Vale University Health Board. The lives of all participants has been reflected, honoured and celebrated in song, poetry and visual art.


Creative Options

A partnership between Arts Care Gofal Celf and Hywel Dda University Health Board to deliver a range of creative activities to adults in Carmarthenshire living with mental health challenges, who are in inpatient services and supported living or residential care settings.
 

Art Well

A collaboration between SPAN Arts, Pembrokeshire Association of Voluntary Services (PAVS), PAVS' community connectors, Pembrokeshire Council, and Hywel Dda University Health Board's research, innovation and improvement coordination hub aimed at building resilience of isolated individuals and communities in Pembrokeshire through a remote choir, online community theatre (Theatr Soffa) and writing for wellbeing sessions.


Arts and Health Programme, Aneurin Bevan University Health Board

A partnership between Aneurin Bevan University Health Board, Gwent Arts in Health, Head4Arts and  individual practitioners to deliver various creative activities focused on mental health for different groups, including young people and the bereaved, through which the team explored how to embed arts in the health board. They have developed the board's first art strategy.


Cystic Fibrosis Voices

Cardiff and Vale University Health Board partnered with Four in Four to deliver interactive online arts sessions for people with cystic fibrosis, as well as staff, with several motivations, including to find ways the creative arts could reframe future cystic fibrosis services, assisting people living with the condition and staff responding to changing care dynamics.
 

HARBWR

HARBWR built on partnerships between Swansea Bay University Health Board, artists, art organisations, third sector and local councils to develop and test a new arts-on-prescription model in the area. It also sparked the launch of a cross-disciplinary arts and health forum with the Wales Arts, Health and Wellbeing Network.
 

Joio

A multi-partnership project between dance organisation Impelo, Powys Teaching Health Board and Dementia Matters Powys to develop and build the evidence around 'Joio', a co-designed online dance programme for older people living with memory issues and their carers, supporting them to stay active and maintain social connectivity.
 

Seren

Seren was a multi-partnership HARP Nourish project between Cwm Taf Morgannwg University Health Board and arts partners Tanio, Sue Hunt, Glen Manby and Uschi Turoczy.
It used creativity to address trauma and disorientation of older people recovering from Covid-19 in the field hospital and then in the community. The team also worked with healthcare staff to bring creativity for wellbeing.
 

Spark

The partnership between Re-Live, Bridgend County Council, and Powys Association of Voluntary Organisations connected older adults experiencing isolation and loneliness to a new creative community online. It worked alongside people living with complex mental health conditions, dementia and addiction.
 

Creative First Aid Kit

Denbighshire County Council, Denbighshire Leisure and artists Mari Gwent and Steffan Donnelly co-produced a sustainable and innovative arts resource for frontline care staff to bring creativity and positivity to their daily routines.
 

Doing the Write Thing

Health Education and Improvement Wales partnered with freelance artists, Ali Goolyad and Eric Ngalle Charles, to discover the stories of the Covid-19 pandemic from the perspective of Black NHS healthcare workers, healthcare students and trainees in Wales.
 

Messages of Hope

A partnership between New Pathways and freelance artists Matilda Tonkin Wells and Jain Boon to build the resilience of rape and sexual abuse survivors in Wales, keep them connected during pandemic-related lockdowns, and encourage survivors in Mid and West Wales to access New Pathways' services and support.
 
About us
We are the membership organisation that brings together, supports and speaks for the whole healthcare system in England, Wales and Northern Ireland. The members we represent employ 1.5 million staff, care for more than 1 million patients a day and control £150 billion of public expenditure. We promote collaboration and partnership working as the key to improving population health, delivering high-quality care and reducing health inequalities.
Footnotes
1.

Social prescribing involves health professionals referring people to community-based, non-clinical services to support their health and wellbeing.

↑