Webinar
Watch: Personality Disorder: No Longer a Diagnosis of Exclusion – A Call to Action
Join us as we unite healthcare professionals from across the system to share findings, recommendations and next steps.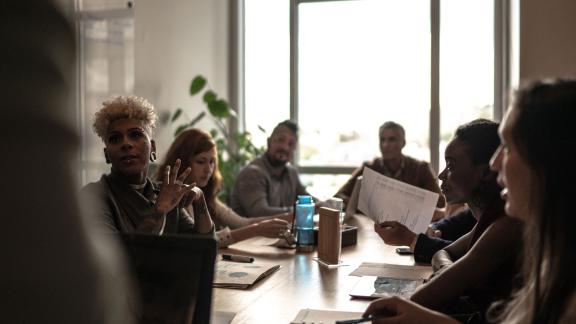 Personality disorder is an example of a diagnosis which for decades has impacted on a person's ability to receive equitable care wherever they present within the system. It represents the link between mental ill-health and physical health inequalities, with those diagnosed facing poorer outcomes throughout their lives as a result. 
The webinar - convened by the NHS Confederation and partners Rethink Mental Illness and University College London - is intended to act as a call for action, uniting staff from across the health system and sparking change to improve outcomes and inclusion for people with lived experience of personality disorders. In particular, we will share findings and recommendations from three key events in 2023:
• Mental Health Network conference, April 2023
• Personality Disorder: No Longer a Diagnosis of Exclusion special conference led by MIND, RETHINK Mental Health and University College, London, June 2023
• Royal College of Psychiatrists 10th International Congress, July 2023
We want you to be part of this important event, whether as a leader, change-maker or front-line clinician. Whatever your role, come along about how you can contribute to improving outcomes and reducing social injustices for people who have had a personality disorder diagnosis.
Best practice presentations
We will hear from researchers, service and system leaders and service users who will share their good practice and learning through one of four shorter presentations, which will each be followed by a Q&A session.
No Longer A Diagnosis of Exclusion: What now, what next? – British and Irish Group for the Study of Personality Disorder, with Dr Julia Blazdell and Dr Oliver Dale.
Therapeutic Community and Rehabilitation Services – NAVIGO Health & Social Care Community Interest Company, with Dr Wojciech Greg Gierynski and Suzanne Brown.
What seamless, wrap around crisis care looks like in practice (Circle Café for Young People) – Hammersmith, Fulham, Ealing and Hounslow MIND, with Nana Owusu and Meg Wamithi.
Daring to be brave: what is needed to create a culture for change – Black Country Healthcare NHS Foundation Trust, with facilitator to be announced.
Speaker bios
Marsha McAdam is an expert by experience, influencer and ambassador, committed to bringing about positive change within the mental health sector. She identifies as having a diagnosis of Borderline Personality Disorder (BPD) and physical health comorbidities. Marsha occupies important advocacy and advisory positions including as an ambassador and peer consultant for Centre for Mental Health, is the vice chair on the NHS Confed's Mental Health Network and is the expert by experience for Equally Well UK. 
Peter Fonagy is a psychoanalyst and clinical psychologist who is Professor of Contemporary Psychoanalysis and Developmental Science at University College London, and Chief Executive of the Anna Freud Centre. His clinical interests centre on borderline psychopathology, violence, and early attachment relationships and he is regarded as the father of mentalization theory. In his award-winning book Affect Regulation, Mentalization and the Development of the Self, he put forth a detailed theory of how reflective function, that is, the ability to mentalise and regulate affect can determine an individual's successful development. He has published over 630 scientific papers and coauthored 21 books. 
Kuli Kaur-Wilson is the chief strategy and partnerships officer at Black Country Healthcare NHS Foundation Trust, and executive-lead for the systems Black Country MH/LDA Lead Provider. This was one of the very first lead provider arrangements established for locally commissioned MH and LDA services in the country, which brought strategic system planning, commissioning, resource allocation and quality assurance together alongside the provision of services. Kuli leads on the development of a range of partnerships, and the advancement of MH/LDA health equity. A key priority in the Black Country system this year is to reset the approach to supporting citizens with complex emotional needs in order to achieve improved and more therapeutic outcomes.
Dr Wojciech Greg Gierynski is Medical Lead for Sequoia Therapeutic Community and NAVIGO Rehabilitation Services. Wojciech is a consultant psychiatrist with a special interest in personality disorder and for the last seventeen years has been instrumental in developing a range of services for individuals suffering from complex emotional issues, usually diagnosed as borderline personality disorders, in the Grimsby area. In 2015, together with Suzanne Brown, Wojciech set up Sequoia Therapeutic Community, merging a traditional ethos of therapeutic community with a strong psychotherapy and psychoeducation backbone of mentalization dased treatment (MBT) and dialectical behaviour therapy (DBT). 
Files