Webinar
Watch and access slides: Making sense of integrated care strategies
Watch the recording and access FAQs from our webinar on integrated care strategies, how they relate to other strategic work, and involving partners.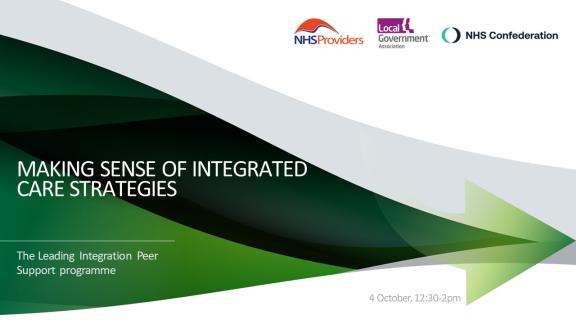 This free webinar was delivered through the Leading Integration Peer Support programme, in partnership with the NHS Confederation, NHS Providers and the Local Government Association. The session focused on the development of integrated care strategies, explaining what they are, how they relate with other system strategies, and what best practice looks like. It was intended to support wider partners of integrated care systems to understand, in an introductory way, what the integrated care strategy is and does, how they might engage with it, and how they are being developed.
Links and information
Frequently asked questions
General
In response to this question during the webinar, it was highlighted that provider collaboratives are expected and encouraged to engage with the ICP and support stakeholders in working towards the objectives set in the strategy. Part of the ICPs role in leveraging this support will be to engage with provider collaboratives when developing the strategy.
About the Leading Integration Peer Support (LIPS) Programme
The NHS Confederation, the Local Government Association and NHS Providers have joined forces to deliver a range of free, bespoke support for local health and care systems through the LIPS Programme. Our support will help systems strengthen their leadership and accelerate their partnership ambitions at system, place, and neighbourhood levels. It is independent, 'from and of the sector' and includes peer reviews, workshops, critical friend support, mentoring and best practice sharing, all delivered by peers with extensive expertise leading health and care.