Briefing
Integrated care strategy and health and wellbeing board guidance: what you need to know
A summary of DHSC guidance on integrated care strategy development, health and wellbeing boards and partnership working.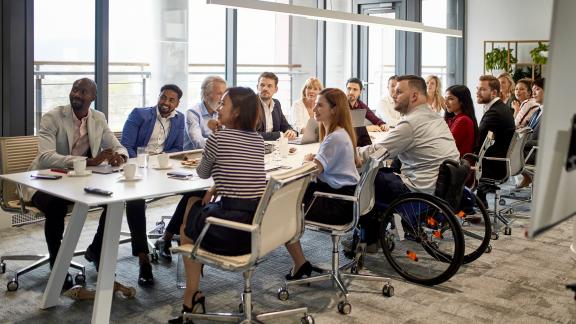 Key points
The Department for Health and Social Care has released guidance for:
Integrated care partnerships will be expected to publish an initial interim strategy by December 2022 which will align and influence integrated care board five-year joint forward plans in April 2023.

The government has recognised that integrated care partnerships are at varying levels of maturity and development, and this will be reflected in their approach to the guidance. The Department for Health and Social Care will review the guidance and if necessary, refresh it in June 2023.

The NHS Confederation has worked closely with The Department for Health and Social Care, NHS England and the Local Government Association in the development of these publications and provided opportunities for our members to feedback their views on what these documents should achieve. We are pleased to see members' feedback reflected in the guidance.
Background
From 1 July 2022, all 42 integrated care systems (ICSs) across the country became legal entities, with statutory responsibilities to deliver for their local populations. Legally, ICSs comprise two core parts: an integrated care board (ICB), the budget-holding body, and an integrated care partnership (ICP), a broader coalition of partners within the system, to join up planning and delivery.
The ICP will be required to produce an integrated care strategy to set the strategic direction for health and care services across the whole geographic area of the ICS, including how commissioners in the NHS and local authorities can deliver more joined-up, preventative, and person-centred care for their local population.
In this context, the The Department for Health and Social Care (DHSC) has produced guidance on integrated care strategy development, health and wellbeing boards (HWBs) and partnership working. To help members digest the guidance, this briefing serves as a summary of each.
Summary of the guidance 
1. Integrated care strategy guidance
The guidance is broadly structured into four sections: an introduction to the strategy and its purpose; processes for producing the strategy; its content; and the publication and review of the strategy.
The government outlined its expectation that the integrated care strategy will be informed by the HWBs' Joint Strategic Needs Assessments (JSNA). ICPs should use these assessments, but also carry out further research and draw on other data sources, to build a holistic understanding of their local populations' health and care needs.

Integrated care strategies are encouraged to focus on activity that can be delivered by systems at system (or cross-system) level, while Joint Local Health and Wellbeing Strategies (JLHWSs) – developed by HWBs – should focus on what can be delivered at 'place' and in communities. In the few systems where ICPs and HWBs are coterminous, the government recommends that they work with partners to agree what sits within the scope of the integrated care strategy and what sits within the JLHWS.

ICPs and HWBs have statutory commitments to deliver both of their strategies separately; however, they should be aligned.

ICPs should engage with local Healthwatch organisations; local people and communities; providers of health and social care services; the voluntary, community, and social enterprise (VCSE) sector; local authority and ICB leaders; and wider organisations and partnerships to ensure a wide range of people are able to engage and input into the production of the strategy. 

The guidance includes a full list of people and organisations to consider engaging (see Annex A), but this is intended as a non-exhaustive list and there is not an expectation that all stakeholders must necessarily be consulted. There may be stakeholders not listed who are appropriate and important to speak to.

The government has recognised that the contents of the strategy will vary from system to system but expects agreeing shared outcomes within the ICS, quality improvement, and joint working under section 75 of the NHS Act 2006, to be important aspects of all strategies. 

The guidance outlines some key areas to consider when producing the strategy, including: personalised care; addressing disparities in health and social care; population health and prevention; health protection; babies, children, young people and their families, and healthy ageing; workforce; research and innovation; health-related services; and data and information sharing. 

ICPs will need to consider revising their strategy when they receive a new JSNA, and are encouraged to work with HWBs, local authorities and ICBs to align the timelines of their strategies with the five-year joint forward plan.
​​​​​

2. Health and wellbeing board guidance
The guidance on HWBs had not been updated since 2013 and this document aims to bring the guidance up to date in line with the establishment of ICSs.

The publication focuses on the role of HWBs in enabling effective system and place-based working and provides clarification about their role within systems.
The responsibilities of HWBs outlined in the Health and Social Care Act 2012 still stand:
assessing the health and wellbeing needs of their local population

publishing a JSNA and joint local health and wellbeing strategy

promoting greater integration and partnership working.
As referred to above, the guidance recommends that systems build on the work of HWBs to ensure that action at a system-wide level adds value to what is being done at place. The guidance suggests five principles for partners to adopt when developing relationships, including:
building from the bottom up

following the principles of subsidiarity

having clear governance

ensuring that leadership is collaborative

avoiding duplication of existing governance mechanisms.
HWBs and ICPs are expected to work collaboratively in the preparation of the integrated care strategy to tackle challenges that are best dealt with at a system level. HWBs must consider whether to revise the JLHWS when they receive the integrated care strategy, and ICPs should use the insight and data held by HWBs when developing their strategy.

The guidance outlines a new duty for ICBs not previously required of clinical commissioning groups, which are no longer in place as a result of the Health and Care Act 2022. ICBs and their partner NHS trusts and NHS foundation trusts must share their Joint Capital Resource Plan and any revisions with each relevant HWB. 
The government is seeking responses to questions on the guidance contents, as follows:
What examples can you provide of how HWBs are reacting to the introduction of ICBs/ICPs, brought about by the Health and Care Act? 
Are there any issues you are encountering with the introduction of ICBs/ICPs that are affecting HWBs?
Are there new ways of working that are emerging which you would be happy to share as best practice? 
How are HWBs working to join-up to ensure that they are part of discussions around implementation of the proposals in the Integration White Paper?
We acknowledge the great work Local Government Association do in supporting HWBs and the resources they provide. In the final guidance we would like to provide examples in the form of diagrams etc outlining the different structures and scenarios HWBs operate within and would welcome examples or case studies.  
Does this guidance provide the information you need? Are there any gaps?
To feedback on this guidance or be involved in the engagement process with DHSC, please email integrationplacepartnerships@dhsc.gov.uk by 16 September 2022.
3. Principles for adult social care sector engagement with ICPs
The guidance sets out a series of four engagement principles for ICPs and adult social care (ASC) providers to guide their work together. It serves to ensure ASC providers are involved as essential partners within the ICP and therefore the development of the integrated care strategy.
The principles at the centre of the guidance are:
Partnership – ASC providers are critical partners in planning, delivering, and improving care and outcomes, and should be fully engaged in the strategic planning of the ICP.
Inclusion – ICPs and providers should collectively support the whole ASC voice to be heard.
Subsidiarity – ICPs and ASC providers should build on existing place-based partnerships and foster new working relationships within their local communities.
Knowledge sharing – ICPs should share good practice across places and systems to improve health and care services.
These principles, alongside guidance for ICBs and HWBs, will help to ensure ASC providers are involved in service planning across England.
4. Principles for health oversight and scrutiny committee engagement with ICPs
The guidance sets out expectations for how ICBs, ICPs, local authority health overview and scrutiny committees (HOSCs) and other local system partners will work together to ensure that systems are locally accountable to their communities.
The document outlines five principles for effective partnership working to ensure the benefits of scrutiny are realised, which are:
Outcome-focused – a strategic approach to consider the best way to scrutinise and evaluate the key strategies and outcomes of system partners.
Balanced – ICBs and ICPs should take an inclusive and future-focused approach to agreeing scrutiny arrangements, while at the same time ensuring HOSCs can be reactive and responsive to issues in local communities.
Inclusive – System partners should work with HOSCs to ensure local people's needs and experiences are considered when commissioning and delivering health services.
Collaborative – communities, providers and planners of health and care services should help to inform the strategic direction of HOSCs in their areas.
Evidence-informed – health and care providers and commissioners should respond positively and constructively to requests for information from HOSCs.
Viewpoint  
The four documents outline clear guidance and recommendations for producing the integrated care strategy and how partners in the system can work together to improve population health and wellbeing. We welcome the permissive approach the government has taken, and the useful case studies which members can draw upon to understand what is happening across the country. It also helps to reiterate the crucial role that these broad partnerships can play in planning and delivering health and care across their geographies and putting their strategies at the heart of integrated care systems.
We are pleased to see that the guidance and engagement principles clarify how ICPs, ICBs, local authorities and other system partners will work together and the need for collaborative working to truly understand local populations' needs. There is a section of the HWB guidance which states that integrated care strategies should not duplicate or supersede the JLHWS. The ambition is that ICPs should ensure their strategies only address the priorities that are best managed at system (or cross-system) level, and not replace or duplicate the priorities that are best done locally. However, it remains to be seen how this will work in practice in the case of a partnership having just one HWB in their area. The government suggests that the HWB and ICP will determine how their strategies will complement each other and ensure the assessed needs are addressed between them, but duplication between the two strategies in those circumstances may be inevitable.
The guidance rightly acknowledges the transitional period ICSs are in, however, leaders still have concerns about the timeframes set for the strategy development and how much detail they will be able to include within a December 2022 deadline. Leaders recognise that this is an interim strategy on which they can build over the coming months but have asked whether there is value in that if the exercise cannot be completed to a comprehensive degree.
Our members felt that the ambition ICSs will demonstrate in these strategies must also recognise the reality and the pressures health and care organisations are currently facing. The rising cost of living is continuing and will continue to have a profound impact on people's physical and mental health, exacerbating health inequalities and increasing demand for services. Measures to address these challenges do not rest solely with the health and care system.      
We look forward to working with members as they take forward their integrated care strategies over the coming months. We will continue to relay leaders' views, challenges and experiences to help inform the review in summer 2023 into integrated care strategy guidance. Our partnership with the Local Government Association to deliver a forum for ICP chairs to connect and address some of these challenges is just one way in which we are working directly on these issues.                                   
Key actions for members
Several expectations are set out for members throughout the publications. These include:
By December 2022, ICPs are expected to publish an initial integrated care strategy. A copy must be given to each responsible local authority and the ICB.

Systems will need to consider what resources and training they can provide to enable groups and organisations to engage in the development of the strategy. It is expected that through the engagement process, systems will identify those who need support and draw on their insights and experience to inform their strategies.

Systems should identify a publicly available point of contact to ensure people and groups can pro-actively engage in the preparation of the strategy. This could be a mailbox or an individual.
How we are supporting members
We will continue to support ICS leaders to share, learn and engage with one another through our forums and support programmes. Our feedback sessions with DHSC ensured members views were reflected in the guidance and provided an opportunity for leaders to ask questions. It also identified some questions around the role of the Care Quality Commission and system regulation in the context of integrated care strategies – we are exploring how we can support members with this.
DHSC will be issuing statutory guidance on the new call-in powers of the Secretary of State and will outline how they propose to exercise their functions under the new reconfigurations process. The guidance will include information for NHS commissioning bodies, NHS trusts and NHS foundation trusts about how they should be exercising their functions under the new process. We will work with system leaders to share their insights and expertise with DHSC in the development of the guidance. 
Forums
Our forums bring ICS leaders together to exchange ideas, share experiences and challenges, and connect directly with policy makers to influence national thinking. 2022/23 is a transition year for ICSs, and we will be supporting our members throughout this period to develop strategies that will improve people's health and wellbeing.
9 August 2022 - ICP chair meeting: In collaboration with the LGA, our next ICP chairs meeting will focus on the relationship between ICPs and HWBs.
September 2022 - ICP directors meeting: Our next meeting of ICP directors with local authority officers working on ICPs will be a chance to:
discuss members' progress in developing their integrated care strategies
share learning and ideas throughout the session.
Further information
If you have any questions about the guidance or sessions we are hosting, please contact Ian Perrin, policy and delivery manager for the ICS Network at the NHS Confederation on ian.perrin@nhsconfed.org