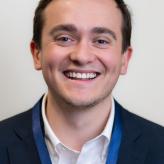 Ian Perrin
Ian joined the ICS Network in October 2021. Prior to joining NHS Confederation, Ian worked at a policy and public affairs agency as a specialist in healthcare. He worked on clinical research, learning disability and autism, out of area placements, COVID-19 policy and system transformation.
Prior to this he worked for a global life sciences policy consultancy, working in Brussels and abroad on immune-oncology, migraine research and diabetes. He has a Master's degree in Public Policy from King's College London.
Away from the desk, Ian plays tennis, football, enjoys running and reading fiction, and is an enthusiastic but very amateur pianist.
The policy areas Ian focuses on include:
The development of place-based partnerships

Provider collaboration

Clinical leadership