Conference
Primary Care Conference 2024
Primary care at the interface - maximising the opportunity of greater connection in neighbourhood, place and system.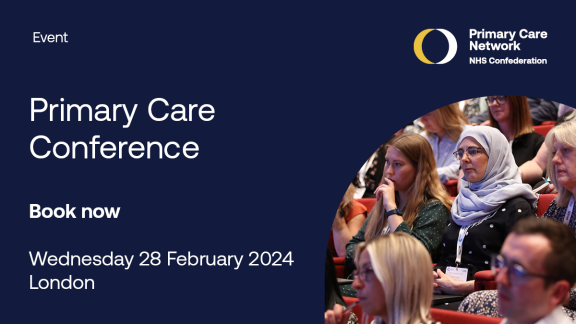 This is a critical time for the NHS, and for primary care in particular. There's a microscope on plans to improve access to services; workforce challenges that will take time to resolve despite the new NHS Long Term Workforce Plan; debate about the new GP and PCN contracts, the role of primary care at scale and we are fast approaching a general election in which both main parties will put forward their ideas impacting the future of primary care.
At the same time there are opportunities – to really showcase what primary care can do if it is supported and empowered. So, there couldn't be a better time to come together to connect, be inspired and, together, explore how we can shift the dial to a more positive future. That is why the theme of this year's conference is Primary care at the interface - maximising the opportunity of greater connection in neighbourhood, place and system.
A key part of our offer to members is the opportunity to come together once a year with national and local experts and inspirational speakers to examine what changes and ways of working need to be implemented in order to improve patient care, sustain primary care and drive change and innovation.
Following the success of our first face-to-face conference in 2023 with nearly 400 attendees, we are excited to be able to do it again on 28 February 2024 and to present another fantastic opportunity for networking, learning from each other and being inspired to lead and implement change.
Primary Care members are entitled to two complimentary places for their organisation. You should have received your unique link by email. If you have not, please email primarycare@nhsconfed.org
For partnership and exhibitor opportunities, please contact Shaz Azam, Senior Business Development Manager.
Main stage conference sessions live 
Q&As  
Access to breakout sessions 
Exhibition  
Networking  
Drinks, lunch and treats throughout the day 
Post conference drinks reception

We are committed to hosting an inclusive and accessible event that enables everyone to attend and engage fully.  

ETC Bishopsgate has induction loops installed, accessible toilet facilities, and assistance dogs are welcome. 

Whatever your requirements may be, please email primarycare@nhsconfed.org in advance of the event to tell us how we can support you to take part on the day.