Case Study
Using a bus to deliver vaccines to hard-to-reach groups
Kent and Medway ICS's expanded use of a 'vaccine bus' to also offer mini health checks has proved popular.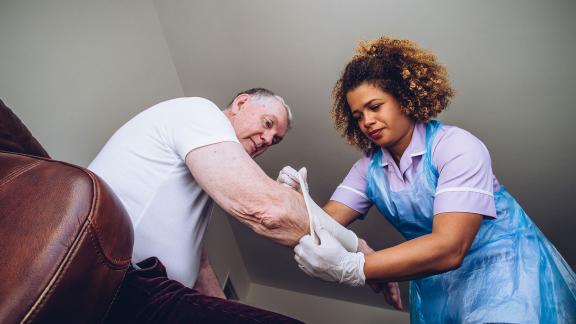 Kent and Medway integrated care system (ICS) has expanded the use of a 'vaccine bus' in areas with low uptake of the COVID-19 vaccine, to also offer mini health checks. This has proved popular, with nearly 3,000 people undertaking health checks during the first 13 weeks.
Key benefits and outcomes
Hard-to-reach groups have been effectively targeted for both vaccines and health checks.

Good take up in the four-week pilot has led to an extension of the scheme.

The model offers potential to expand to other vaccines and health services in the future.
What the organisation faced
Kent and Medway ICS had been using minibuses to reach some patients in rural or deprived areas who might otherwise not had come forward for COVID-19 vaccinations. This had been successful, but it was felt more could be done to reach people and 'make every contact count' by expanding the services to offer mini health checks, which included blood pressure, weight and blood glucose.
What the organisation did
The existing minibuses did not offer enough space to provide this mini health check service, but the offer of a double decker bus plus driver made the proposal possible. Staffing was provided by an independent provider, so as not to affect trust services. After some alterations were made to the bus, a service offering both COVID-19 vaccinations (both an 'evergreen' offer of primary vaccinations and follow-up boosters) and mini health checks was started. The bus was originally commissioned for four weeks early in 2023, but almost immediately the response from the public was so positive that this was extended. The ICS is now planning to run the service until June 2023, when the spring booster drive will be completed, and then start again in September with COVID-19 and flu vaccinations. It has recently increased operations from five days a week to six. 
The bus is parked in a suitable space – often a supermarket car park or similar – and 'vaccine ambassadors' are used to inform the public of its location through door-knocking and leaflet distribution.  Locations are chosen using data about the local communities. So far, most have been in Medway and Gravesend, which has a large Sikh population. A session at the local gurdwara saw 342 interactions between those staffing the bus and the public, with 66 people having health checks and 24 referred to GPs. The team find they often need to tackle vaccine hesitancy and provide additional information before people agree to be vaccinated.
Results and benefits
The scheme has led to more than 26,000 public interactions in its first 13 weeks, delivering 316 COVID-19 vaccinations and 2,853 health checks. Of these, 1,099 were referred onwards, with the vast majority referred to their GP but with 3 per cent needing immediate A&E attendance. A third of those who had blood pressure checks had out-of-range results, three quarters had a BMI that was overweight or obese, and over a sixth of those who had blood glucose tests had a high level.
Although the main aim of the bus was to deliver COVID-19 vaccines, the service has shown that multiple interventions can be delivered at the same time and could potentially be used with hard-to-reach communities for other purposes. The model could be adapted to meet the health needs of different communities.
Overcoming obstacles
There were initial challenges around fitting out the bus and ensuring it complied with requirements such as infection control and accessibility for patients. One solution has been to offer some less mobile patients a vaccination outside the bus so they don't have to climb on it. The ability to hold confidential discussions also had to be reflected in the bus layout.
Because different vaccines are on offer, the bus needed to be fitted with separate areas to carry these with no chance of them being mixed up.
While finding locations has generally not been a problem, some potential sites with significant footfall – such as shows and festivals – initially wanted to charge a fee, leading to negotiations with the team.
But the major challenge is only having one bus when there are many other deprived or isolated communities in Kent and Medway who could potentially benefit from the service.
Takeaway tips
Data about vaccine uptake can be used to pinpoint areas where the bus has the greatest potential to make an impact. This maximises the benefit from using the bus.

Communication between all parties involved has been key to the smooth running of the service. For example, the stocks of vaccines are held at primary care network level, so they need to know what the bus team require and when.

Forward planning has been important to ensure the bus has sites and staffing for each day mapped out.
Further information
For more information, please contact Shelley Johnson, programme manager, covid and flu team, NHS Kent and Medway ICB: shelley.johnston2@nhs.net