Blog post
Incredible staff commitment and resilience
As we approach Christmas, Darren Hughes reflects on all that staff have done and continue to do for the people of Wales.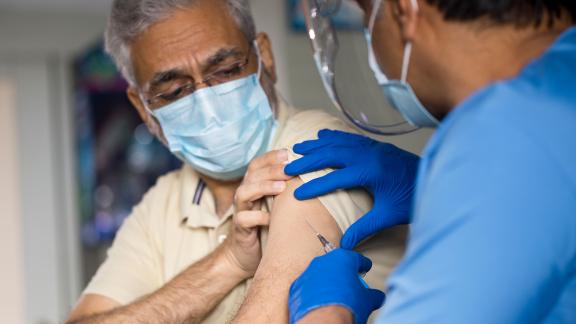 As we approach Christmas, it's safe to say most of us didn't think we'd be in this position this time last month. The emergence and subsequent global spread of the Omicron variant has served as a stark reminder that the Covid pandemic is not yet behind us. 
Recent developments have destabilised and worried so many. We've all considered the implications for our Christmas plans, thought about our relative who hasn't yet had their booster jab, or the long-awaited scheduled care that will likely need to be postponed. But what about the amazing staff? Where would we be without them? 
There were scientists who identified the new variant in South Africa and alerted the world to the potential dangers. There are the staff who work in our laboratories, doing genomic sequencing every day to ensure we have the most current data possible and therefore our governments can take appropriate action. And then there's health and care staff. Although Omicron will only just be affecting NHS staff in terms of those needing advanced medical care due to the variant in Wales, we know their contribution towards Covid goes far beyond this.  
The speed at which leaders, clinical staff, public services, partners and volunteers have come together to plan for and deliver the expansion of the Covid booster vaccination programme – not once, but twice – is unbelievable and shows their commitment not just to their job, but to protecting the people of Wales. The hard work, determination and sacrifice of health and care staff at all levels never fails to astound me. These people are sacrificing their time, their plans and sometimes putting all of us above their families and their well-deserved time off.  
Aside from all of this, there are staff working hard across the breadth of the system to try to keep as many services running as possible, and care for those who need non-Covid treatment. Many of these are doing their substantive role in the day and doing additional hours on evenings and weekends to support the vaccination programme. 
To all staff: from the bottom of our hearts, we cannot thank you enough. 
To this end, there's a need to remind ourselves and others that beneath the backdrop of Omicron and the booster programme, pre-existing challenges have not gone away. You can't put these things on pause – the focus has simply been adjusted in the short-term. 
In a similar vein, we are reminding people that getting their Covid booster is not the only thing they can do to help reduce the spread of Omicron and reduce the subsequent burden on the NHS and disruption to all our lives. The public continues to have a vital role to play in curbing the spread of the virus in our communities.  
We're reinforcing these messages at every opportunity and leading health and care organisations, charities, unions and medical professionals across Wales have joined forces to endorse the NHS Confederation's #NotTooMuchToMask campaign.  
The campaign calls on the public to commit to keep themselves and others safe, by pledging to: 
Wear a face mask, if not exempt 
Keep indoor spaces well ventilated and meet outdoors if you can 
Make sure you get the coronavirus vaccine, including boosters and third doses when advised 
Clean your hands regularly including before and after social contact with those outside your household 
Test regularly, support contact tracing measures and self-isolate when required 
With an undeniably difficult few months ahead, we're asking people to take action, in line with Welsh Government advice, to help protect themselves and keep their loved ones safe. 
On behalf of the Welsh NHS Confederation team, we wish you all a Merry Christmas and a Happy New Year. We look forward to continuing to support our members and working closely with our partners in 2022.