Briefing
Supply chain resilience: supporting the NHS in challenging times
Exploring the lessons learned over the pandemic and the steps being taken to ensure supply chain resilience.
Key points
As the pandemic unfolded across the world, supply chains and transportation links were disrupted and demand for some product areas, such as gloves and face masks, increased to unprecedented levels across the globe. The NHS's experiences through COVID-19 highlighted the critical need to ensure a resilient supply chain to NHS trusts through NHS Supply Chain, as well as through other suppliers' supply chains.
Significant global challenges to supply continue, including ongoing issues stemming from COVID-19, EU Exit and the conflict in Ukraine.
The NHS has evolving service needs and requires continued support to deliver safe and excellent patient care. NHS Supply Chain – which manages the sourcing, delivery and supply of healthcare products, services and food for NHS trusts and healthcare organisations – is working closely with the NHS and wider system to understand the impact of supply disruption and to work together to affect change.
Communication remains a critical factor in managing supply issues. Processes are in place to ensure the NHS is aware of product shortages and, where possible, has early warning on likely shortages to enable proactive action.
NHS Supply Chain will continue to invest in key tools and capacities within its end-to-end supply chain service.
On 1 April 2022, operational responsibility for the Department of Health and Social Care's Personal Protective Equipment (PPE) programme transferred to NHS Supply Chain, which will act as the agent in providing PPE requirements. The priority is always to drive continuity of supply, particularly as we navigate a challenging period for global supply chains.
This briefing, from NHS Supply Chain and the NHS Confederation, explores the lessons learnt over the pandemic and the steps being taken to ensure supply chain resilience.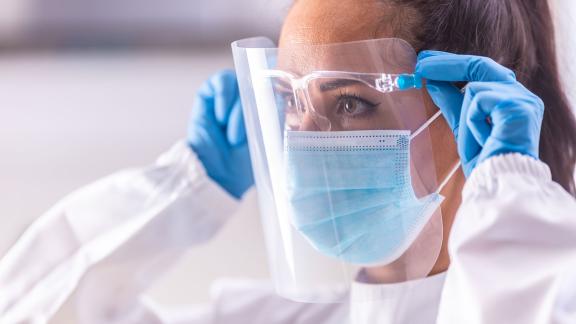 Introduction
NHS Supply Chain manages the sourcing, delivery and supply of clinical consumables, capital medical equipment and products such as food and office solutions for NHS trusts and healthcare organisations across England and Wales.  It currently has over 60 per cent of the market share in these areas.
It manages 7.7 million orders per year, across 129,420 order points and over 16,000 locations. NHS Supply Chain delivers over 35 million lines of picked goods to the NHS annually and its systems consolidate orders from over 930 suppliers, saving trusts time and money in removing duplication of overlapping contracts.
NHS Supply Chain's experiences through COVID-19 highlighted the critical need to ensure a resilient supply chain to trusts, both through its own delivery networks, as well as upstream through its suppliers' supply chains.  As the pandemic unfolded across the world, supply chains and transportation links were disrupted and demand for some product areas, such as gloves and face masks, increased to unprecedented levels across the globe. 
Some global supply chains are still facing disruption due to the pandemic, EU Exit and the conflict in Ukraine. Some of the challenges include:
A lack of raw materials available to manufacture products. This has increased competition for the availability of raw materials and resulted in a significant increase in the cost of these limited raw materials.

All countries are struggling with increased utility costs and an increase in the global demand for products and services. Specifically, the UK affiliates of international companies are competing for product in a global marketplace.

COVID-19 continues to disrupt manufacturing, with the general disruption in global supply chains stemming from the pandemic, resulting in a move away from just-in-time models and increased pressures on freight, warehousing and distribution.

Transport disruption due to lockdowns, COVID-19 outbreaks and the conflict in Ukraine is ongoing. It has resulted in congestion at ports, including Shanghai, which is increasing lead times. This has led to the use of more expensive transportation options, such as air freight.
In partnership with the NHS, NHS Supply Chain is undertaking a number of activities which, collectively, will help to improve supply chain resilience for the NHS organisations that rely on its services. Only by working together will the NHS be able to truly understand the challenges and pool collective skills, expertise and resources to effectively work through them.
Working in partnership with NHS organisations
Supply chain resilience is a critical issue. The impact for a patient of not having the right product in the right place at the right time can be immense.  The ability to deliver safe and effective patient care depends on the availability of products. Across the world we are experiencing times of unprecedented global supply challenges. While we cannot mitigate every product shortage, NHS Supply Chain is working in partnership with procurement professionals, clinicians in the NHS and suppliers to do as much as it can to ensure products reach patients. 
Following discussions initially at the NHS Supply Chain customer boards, a customer group to engage on supply chain resilience was established. This group contains representatives from each of the four regions working with a cross-functional team from NHS Supply Chain and meets fortnightly. The aim of the group is to work with NHS Supply Chain and the system to improve process and communications around supply chain resilience issues. Areas of focus include:
improving the communications around supply challenges and enhancing the important customer notice (ICN) process which informs trusts about affected products

being proactive in communications that have an impact for the NHS, including early warning of potential stock shortages

in-depth understanding of both the use and impact of demand management during product shortages

ontinuing the monthly webinar series to update the NHS around PPE, resilience issues as well as key business and service updates

strategic pricing discussions with suppliers to mitigate price increases wherever possible.
In addition to this group, another has been established which will address concerns around finding alternative products for those running short. The group will involve clinicians from the NHS and will discuss the most critical supply issues and suitable alternative products. Working together nationally, the intention is to do this work once, saving valuable clinical time identifying and sourcing potential alternatives in multiple NHS settings.
Increased stockholding
In common with all NHS organisations, NHS Supply Chain has taken on board lessons learned over the past couple of years to improve the resilience of its supply chain and has increased its national stock-holding levels. As of September 2022 it has circa 130,000 pallets and circa seven weeks' stock cover, with additional storage capacity secured to accommodate this.
These measures will help insulate the NHS from the effects of short-term supply challenges.
Boardman report recommendations
The Cabinet Office commissioned the Boardman review in which Nigel Boardman was asked to review government procurement activity during the response to the COVID-19 pandemic. The findings contain a number of recommendations, which the government accepts and is in the process of implementing.
Recommendation five states: 'NHS procurement teams should complete and maintain supply chain maps and there should be a preference for direct and scalable contracts with manufacturers rather than with distributors.'
In response to the initial supply chain issues created by the COVID-19 crisis, and in response to the release of the Boardman recommendations, NHS Supply Chain has instigated the following actions to map its key supply chains:
Determining the country of origin of manufacture of products, enabling potential supply disruptions to be identified as early as possible.

Prioritising suppliers' product categories that form part of the top 80 per cent of sales, alongside embedding the requirement into future procurement exercises.

Implementation of risk-based analysis tools via NQC Ltd. to provide labour standards and modern slavery analysis.
This avoids duplication of effort for both the NHS and suppliers, as it means that there is one source of data for NHS trusts to access which negates the need to ask individual suppliers for this information.
Managing national supply disruptions with national bodies
NHS Supply Chain has worked collaboratively with the Department of Health and Social Care and NHS England to manage major supply disruption events since 2020.  Examples of this include administration sets, cannulas and blood collection products.
To manage these kinds of disruptions effectively for the NHS, NHS Supply Chain, NHS England and the Department of Health and Social Care develop solutions to mitigate the supply issues for the NHS. An example is the national route set up for blood collection products. It used NHS Supply Chain's infrastructure, with close working with the national bodies and the suppliers involved. This enabled available products to be managed through a single supply chain, streamlining the communication channels and ensuring product was delivered to where it was most required.
To manage any patient safety impacts, NHSE set up a clinical cell consisting of specialist clinicians and worked with stakeholders to understand the impacts and benefits of switching to other products. The clinicians also managed the demand allocation process to ensure that the available products were delivered to those organisations in the system which had the greatest need. 
Supporting NHS Supply Chain's suppliers
NHS Supply Chain helps suppliers to work more collaboratively with the NHS market as it minimises the need for them to maintain relationships with every NHS trust, avoids overlapping routes to market and brings benefits, such as a single point of order, billing and payment settlement.
To help suppliers, NHS Supply Chain has engaged with three leading freight companies (CEVA, DHL and Kuehne Nagel) and facilitated discussions with suppliers to support them with their transportation needs, such as access to air freight, cheaper shipping costs, and capacity on certain routes.
Within the global freight market factors such as the sharp increase in container prices increasing and the reduction in availability of shipping options have contributed to global supply chain issues.
Global events are continually being monitored to provide early warnings and enable mitigation plans to be put in place.  NHS Supply Chain teams liaise with suppliers to confirm any identified potential supply disruptions and work with them on mitigating any disruption, including finding alternative transport routes, suppliers or products. 
NHS Supply Chain is undertaking a Service Excellence Programme to further improve suppliers' inbound performance i.e. deliveries into NHS Supply Chain's warehouses. The programme is undertaking a review to optimise the supply channel across thousands of products.
NHS Supply Chain is mapping risk throughout its supply chain using its new eProcurement system and a risk management tool from NQC Ltd.  This involves taking a strategic approach focusing on those product categories that contribute to 80 per cent of products that the NHS uses for patient care purchased through NHS Supply Chain. From the information inputted by suppliers, it will provide NHS Supply Chain with more in-depth views of suppliers' supply chain and second and third tier sub-components, which in turn will allow NHS Supply Chain to better protect the NHS when there are supply chain disruptions.