Briefing
Patient safety in healthcare products and services
Shared learning on patient safety and how collaborative working is enabling better assurance and safety for healthcare products and services.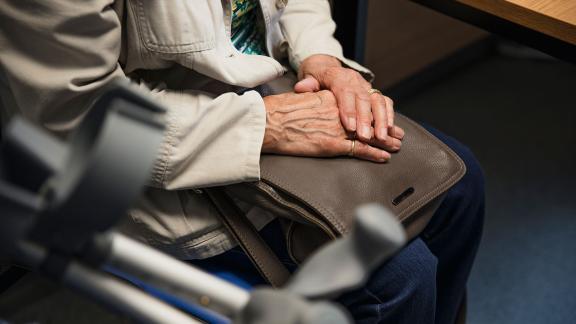 Introduction
Patient safety is the avoidance of unintended or unexpected harm to people during the provision of healthcare. [ 1 ] Recognised as a high-risk industry, healthcare involves complex systems, vulnerable individuals and constantly evolving clinical treatments and healthcare products. As with medical knowledge and methods, approaches to clinical risk management and patient safety have changed over time. Balancing proactive and reactive safety factors, understanding and improving safety culture and shifting from an emphasis on individual incidents to a systematic perspective are all elements of patient safety which continue to evolve.
This is recognised within the NHS Patient Safety Strategy, which outlines the vision of the NHS to continuously improve patient safety. The strategy sets out a patient safety culture and a patient safety system as the two foundations the NHS needs to build on to deliver continuous improvement, with three strategic aims supporting the development of both:
improving understanding of safety by drawing intelligence from multiple sources of patient safety information (insight)
equipping patients, staff and partners with the skills and opportunities to improve patient safety throughout the whole system (involvement)
designing and supporting programmes that deliver effective and sustainable change in the most important areas (improvement)
Patient safety matters. The impact of adverse incidents in healthcare can result in serious injury and death, with traumatic impact on patients, their families and healthcare staff. As well as the tragic human cost of avoidable harm, patient safety issues cost the health service billions of pounds each year.
The impact of COVID-19 has directly highlighted safety issues to all of us. The management of infection prevention and control has become everybody's business, with personal protective equipment (PPE), physical distancing, and other safety requirements necessary to prevent the spread of the virus both within healthcare settings, and in the community. The toll wrought on the NHS workforce by the demands of the pandemic have also presented risks to patient safety issues, with concerns about absence rates and staff burnout evident across healthcare systems.
This briefing, produced by NHS Supply Chain, aims to showcase examples of learning related to patient safety, highlighting the role of NHS Supply Chain and other national bodies. It outlines the impact of collaborative working across healthcare systems to contribute to assurance and patient safety in relation to healthcare products and services.
In figures
£2.26 billion: the direct cost to the NHS of clinical negligence in 2020/21 [ 2 ]
5,945 patients in England reported to have suffered serious, life-changing harm in the year to March 2021 [ 3 ]
The role of NHS Supply Chain in patient safety
NHS Supply Chain (one of several supply chain routes into the NHS) manages the sourcing, delivery and supply of healthcare products, services and food for NHS trusts and healthcare organisations across England and Wales. The organisation manages more than 8 million orders per year across 17,465 locations, delivering over 28 million lines of picked goods to the NHS annually from over 930 suppliers. NHS Supply Chain is part of the NHS family.
Delivering clinically assured, safe products is one of NHS Supply Chain's key priorities, and it is committed to supporting the delivery of safe and high-quality NHS patient care. NHS patients and staff rely on a vast array of products when accessing and providing healthcare. These products must work as expected, without causing undue harm. 
Safety specifications for safer products
NHS Supply Chain provides product assurance on behalf of NHS trusts, which means that end users can be confident that products are safe, fit for purpose and will meet their needs. Product assurance also informs clinical standardisation and equity across local systems, aligning supply and need with health and care partners to support the procurement of safer and better quality products.
Aligning with priority pathways as identified in the NHS Long Term Plan, NHS Supply Chain is collaborating with clinical leaders at national, regional and local levels to confirm product needs for specific clinical speciality care pathways, incorporating best practice guidance and performance requirements. The organisation is transitioning towards product essential specification development for new contracts and frameworks being procured in 2021/22 and beyond to support delivery of the best possible experience of care for patients, along with improved health outcomes. Product essential specification development is a holistic due diligence approach which will change the way products are procured, codesigned with health and care professionals and suppliers and include specific technical, product performance, human factors and sustainability requirements.
Product essential specifications are an example of proactive safety work undertaken to strengthen assurance at the stage which informs product procurement and development. Using a due diligence type approach sets out the parameters of product requirements and use, informed by people that use the product, people that are impacted by the product and the environment the products are used in. This also includes the regulatory requirements and sustainability objectives and means that NHS Supply Chain is very clear about product and supplier expectations from a patient safety perspective before awarding contracts.  
System-level join up
When something does go wrong, NHS Supply Chain's clinical and product assurance (CaPA) team instigates a collaborative call to action response. There are two levels to this response.  Safety specialists receive, review and log all complaints. Any complaint that is aligned to a product that is for the care, treatment, assessment or diagnosis of a patient or used by health care delivery personnel will inevitably trigger a containment response. This response must take place within 72 hours for safety issues scored as low-moderate and within 24 hours for safety issues graded high-very high. This includes engaging with the product supplier and the relevant NHS partners so relevant action can take place and crucial information is communicated back to the NHS.
Where a user safety complaint is identified as high risk or very high risk, a Safety InteRvENtion (SIREN) team, including experts from across the organisation, is brought together to mitigate potential for reoccurrence. For complaints that are identified as very high risk, CaPA will notify the Medicines and Healthcare products Regulatory Agency (MHRA) and NHS England and NHS Improvement (NHSEI). This enables a triangulation of information and a coordinated response to identified problems.
In current challenging times, disruption of supply of medical products also poses a patient safety risk as inaccessibility to products can impact continuity of patient care. The SIREN process is also used to manage supply disruption issues, where the Department of Health and Social Care national supply disruption response team and NHS England and NHS Improvement's emergency preparedness resilience and response team work together with NHS Supply Chain to mitigate the impact of supply disruption to the frontline. This is one of a number of measures being taken by NHS Supply Chain to strengthen resilience around product supply and availability.
In addition, NHS Supply Chain has a team of clinical nurse advisers who liaise directly with NHS trust procurement departments and clinicians. Complaints are often received from a range of frontline clinicians, such as ward department managers and specialist care professionals as end users. Clinical nurse advisers enable NHS Supply Chain to strengthen engagement and collaboration with end users, and therefore ultimately respond more effectively to safety concerns. The role of clinical nurse advisers in these efforts presents an opportunity to support more proactive patient safety alongside effective response when things go wrong, and the efficient coordination of safety feedback and data.
Human factors and just culture
An important component in the product essential specification work referenced earlier in this briefing is the inclusion of human factor elements within the product specification requirements. A high number of safety complaints received by NHS Supply Chain are not linked to highly regulated complex products, but rather relate to high volume everyday clinical products such as intravenous cannulas, syringes, blood lancets, urinary catheters, gels and electrodes. If issues such as how these products are used, where they are used and the human and product interactions are not appropriately considered, issues with these products and their use can have a catastrophic impact on patients and end users. The case study section of this briefing outlines examples of safety issues and learning related to such products.
Professor Ken Catchpole defines human factors in healthcare as:
"Enhancing clinical performance through an understanding of the effects of teamwork, tasks, equipment, workspace, culture and organisation on human behaviour and abilities and application of that knowledge in clinical settings."
Human factors approaches to safety seek to understand the behaviour of individuals, their interactions with each other and with their environment. These are crucial elements to understand and address the root causes of safety issues in a fast-paced and inherently risky context such as healthcare delivery.
An example covered in the case study section relates to the placement of nasogastric (NG) tubes, which are checked by testing the pH (acidity or alkalinity) of fluid from the stomach taken out of the NG tube by syringe. The pH testing strips from different manufacturers have different pH colour coding scales which are inconsistent, and different strips may be in circulation in the same hospital setting, increasing the risk of error. Environmental issues such as poor lighting also contribute to the risk of error by affecting the environment within which pH testing strips are being interpreted.  This is where initiatives such as a product essential specification designed by end users becomes critical in identifying critical safety factors going forwards.
This is one example of the interactions taking place across equipment, environment and tasks in a healthcare setting. Human factors such as these are common across patient safety incidents, and partners such as NHS Supply Chain have an important role to play in supporting the NHS to understand them and to develop solutions for better outcomes.
Another crucial factor in delivering safe care and continuous improvement is a recognition of the impact of culture, and efforts to eliminate blame and fear in support of patient safety. This is outlined in the NHSEI Just Culture guide, which states:
'The fair treatment of staff supports a culture of fairness, openness and learning in the NHS by making staff feel confident to speak up when things go wrong, rather than fearing blame.

'Supporting staff to be open about mistakes allows valuable lessons to be learnt so the same errors can be prevented from being repeated.'
If staff and patients feel able to be candid about mistakes and are encouraged to discuss error and concerns, this will contribute to safer care and system learning. Much work has been undertaken at national and local levels in support of organisations progressing towards a just vulture in the NHS, and this is a continuous process which requires a consistent and sustained focus. The SIREN process led by NHS Supply Chain (described earlier) is one example of how open and honest discussion is taking place at national level to actively prevent future harm.
Case studies
The case studies below reflect examples of cross-system working, where partners such as NHS Supply Chain, Healthcare Safety Investigations Branch (HSIB), MHRA and NHSEI have worked collaboratively to investigate, learn and implement recommendations to ensure safe healthcare products and services for the NHS.
Placement of nasogastric tubes
Data from national reporting showed 14 incidents in a six-month period of misplacement of nasogastric tubes into the lungs as opposed to the stomach. A pH stick can be used to test placement of NG tubes and there are various factors which contributed to the safety incidents including:
lack of consistent training and assessment of placement of NG tubes

human factors issues relating to design, ergonomics and usability

lack of consistent safety and monitoring standards around insertion of NG tubes.
As a result, HSIB proposed a number of recommendations across the system including those for NHS Supply Chain which involve the design of an essential specifications which considers all the human factor elements and works with the British Standards Institution (BSI) on a set of standards which can be incorporated into the specification for procurement.
Fetal heart rate monitoring
Following an investigation into a number of neonatal deaths, problems involving fetal heart rate monitoring (FHRM) equipment featured in a significant number of them. HSIB were brought in to investigate and found a number of contributing issues including:
products purchased were not always compatible with existing equipment

products purchased were not always fit for the setting in which they would be used

staff were not always trained consistently on the same pieces of equipment.
As a result, HSIB produced a report with a number of cross-system recommendations.  While NHS Supply Chain was not part of the official recommendations, following involvement in the investigations two changes were made by NHS Supply Chain as safety actions ahead of the report publication to immediately help improve safety at the point of purchase of FHRM equipment:
Additional information is provided with the product details which explains compatibility and suitability with other equipment

A communication of 'points to consider' has been added for trusts purchasing FHRM products.
Patient safety alert around electrocardiogram electrodes
An investigation into a series of safety issues identified that the clear backing from electrocardiogram (ECG) electrodes had been accidently aspirated during intubation or ventilation procedures and remained in the lungs. NHSEI's patient safety team sent out a national patient safety alert via the Central Alerting System in relation to the backing required on ECG/ECT electrodes, stating that electrodes had to have either large sheet backing (if clear in colour) or had to be fully coloured or patterned if using individual backing.
NHS Supply Chain worked with suppliers to ensure non-compliant backing would be changed by the required deadline and that only compliant products could be purchased through the national route. 
MHRA publishes information about declared compliance at provider level with the changes.
Find out more:
Patient Safety Learning hub
The charity Patient Safety Learning also runs The hub to share learning for patient safety. One case study example from the platform relates to the importance of user-centred design in surgical equipment.
Quite often it is evident that medical instruments and devices, as well as equipment such as operating theatre tables, have not been adequately designed in a user-centric manner, taking into consideration the variation in anthropometrics. For example, operating theatre tables and laparoscopy equipment stacks are designed for users with a height of 5'10" and above. Many hand instruments are designed for large hands.
As time passes, we develop workarounds 'to get the job done'. These can be effective and functional but can cause 'error-traps' and user fatigue. The patient safety implications of such examples emphasise the value of healthcare system engagement to develop essential specifications which can apply human factors to the design process.
Overview of system partners
Accessing data from different sources has helped drive the national response to COVID-19, and the organisations outlined below provide a range of sources of assurance for NHS organisations and systems.
Organisation
Patient safety assurance

NHS Supply Chain

Developing essential specifications for safer products.

Overseeing product patient safety complaints through the Clinical and Product Assurance (CaPA) process.

Proactively managing and mitigating supply disruption, minimising the safety risk from products being unavailable.

Coordinating SIREN Team and notifying the MHRA and NHSEI when triggered by product complaint risk score.  Acting on outcomes as required.

Clinical nurse advisors working closely with clinicians and procurement teams to help identify safety risks early

NHS England and NHS Improvement

Reviewing patient safety events recorded by staff and patients on NHSEI national systems, as well as information from other sources, to identify new or under recognised patient safety issues.

Developing the resulting advice and guidance, such as 

National Patient Safety Alerts

, to support providers across the NHS to keep patients safe.

Healthcare Safety Investigation Branch

Conducting independent investigations of patient safety concerns in NHS-funded care across England.

Identifying the contributory factors that have led to harm or the potential for harm to patients.

Developing recommendations aim to improve healthcare systems and processes, to reduce risk and improve safety.

Medicines and Healthcare products Regulatory Agency

Regulating medicines, medical devices and blood components for transfusion in the UK.

Operating the Yellow Card scheme of reporting suspected adverse incidents with a medicine or medical device.

Issuing a recall of products where required.

National Institute for Health and Care Excellence

Producing evidence-based guidance and advice for health, public health and social care practitioners.

Developing quality standards and performance metrics for those providing and commissioning health, public health and social care services.

Providing a range of information services for commissioners, practitioners and managers across health and social care.
Conclusion
To truly commit to patient safety as a whole-system issue with complicated interdependencies, we must recognise and highlight that there are diverse roles and responsibilities which will enable the NHS to continuously improve patient safety.
Whether working in finance, data, procurement or clinical practice, individuals and teams across the NHS and its partners have important contributions to make to patient safety and can support the delivery of safe high-quality care in their roles.
There are a range of opportunities for NHS trusts and other system partners to work with NHS Supply Chain to:
expand the engagement with expert reference groups and device working groups as work on product essential specifications progress

engage and collaborate with the growing network of patient safety partners to respond more effectively to safety concerns

access and strengthen sources of assurance on quality and safety, including collaboration with NHS Supply Chain clinical nurse advisers and the clinical and product assurance team

continue to collaborate with system partners to support a culture of continuous improvement. This will ensure products procured are not only value for money but fit for purpose, safe, and meet the needs of both health and care professionals and patients.
About us
NHS Confederation
The NHS Confederation is the membership organisation that brings together, supports and speaks for the whole healthcare system in England, Wales and Northern Ireland. The members we represent employ 1.5 million staff, care for more than 1 million patients a day and control £150 billion of public expenditure. We promote collaboration and partnership working as the key to improving population health, delivering high-quality care and reducing health inequalities. Find out more.
NHS Supply Chain
NHS Supply Chain manages the sourcing, delivery and supply of healthcare products, services and food for NHS trusts and healthcare organisations across England and Wales.
We are part of the NHS family, managing more than 8 million orders per year across 94,000 order points and 17,465 locations. We deliver over 28 million lines of picked goods to the NHS annually and our systems consolidate orders from over 930 suppliers. This enables us to bring value to our customers, including by saving NHS trusts time and money in removing duplication of overlapping contracts. Find out more.