Report
Putting people first: supporting NHS staff in the aftermath of COVID-19
Five key factors needed for the NHS to support and sustain staff after a gruelling 12 months tackling the COVID-19 pandemic.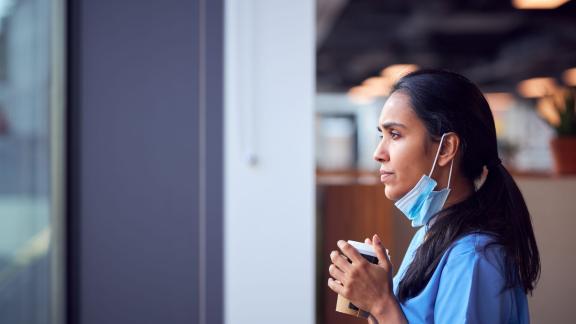 Caring for patients and service users during the pandemic has taken an enormous toll on NHS and social care staff. Throughout this time, there has been a significant focus from NHS  organisations and national bodies on placing staff experience and wellbeing at the centre of decision-making.
With the NHS facing a major backlog of treatment across all settings and an expected surge in demand for mental health services, this must continue. The ongoing demands of COVID-19 and persistent inequalities across the workforce make clear that such a focus must remain a priority, delivered at local level and enabled by national policy, planning and funding decisions.
For health and care staff, the last 12 months have been likened to sprinting a marathon, with concerns raised over the impact on health and wellbeing. As the NHS explores how best to support staff after a gruelling year, it will be important to ensure that a focus on all its people sits at the heart of recovery and reset planning. Such an approach will need to apply equally to the legislative, policy and structural changes to the NHS in England, as structural and organisational change can have a negative impact on staff (and can exacerbate existing inequalities). Ensuring that the health service is able to support and nurture its most valuable resource – its people – must be the linchpin of the next phase and longer-term planning.
To fully address the wellbeing of staff for the long term, the healthcare sector will also need to address long-standing vacancies, deal with the underlying causes of staff distress (including systemic workplace discrimination), which were prevalent pre-COVID-19. It will also need to create the capacity and environment for staff to think, innovate and deliver change.
This report, part of the NHS Reset campaign, considers the five key factors needed for the NHS to provide the most effective environment to retain – and sustain – staff over the weeks and months ahead.