Report
Primary care networks: one year on
On the one-year anniversary of primary care networks (PCNs) being established across England, the PCN Network has assessed their progress so far.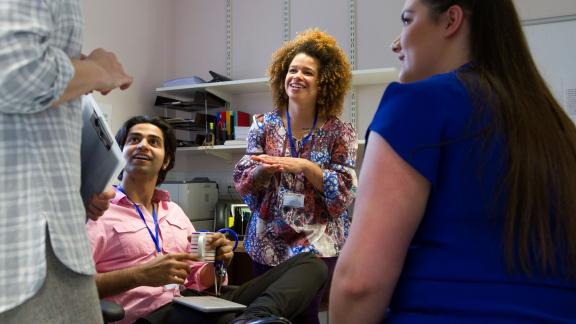 While the picture nationally is one of variation, during their first year, progress has been made in several areas. Many PCNs have significantly expanded their use of digital platforms, allowing more patients to be seen during COVID-19, and built strong new relationships with other partners across primary care. Equally, those recruited through the Additional Roles Reimbursement Scheme (ARRS) have in many networks played a key role, helping to ease workload pressures and forge strong links with other stakeholders such as in social care
There have, however, been some significant challenges. In some instances, local stakeholder relationships have been strained. Workload has also been an issue – for many PCNs it has been higher and more stressful than anticipated, with much of this work falling to the clinical director
Looking ahead to the next 12 months, this report identifies several areas in which there will be opportunities for PCNs to develop. However, to take advantage of these opportunities PCNs will require support from NHS England and Improvement (NHSEI) and the government and the report focusses on a set of key asks.
Through ongoing engagement with networks, specifically including clinical directors and network managers, the PCN Network stands ready to support both NHSEI and the government in delivering the above asks. We intend to work collaboratively with both to ensure that the PCN voice is heard and that their role in systems is clear and widely understood over the coming years.
You can also download a two-page summary.
Watch the webinar PCNs: One year on
Reflections from clinical directors
We asked a selection of clinical directors on our PCN Network board to share their views on the first year and what lies ahead
PCN Network co-chair Dr Farzana Hussain, clinical director at Newham Central 1 Primary Care Network
PCN Network co-chair Dr Mark Spencer, clinical director at Fleetwood Primary Care Network
Dr Tayo Kufeji, clinical director at The Bridge Primary Care Network
"Time flies when you're having fun, as the saying goes! It seems not that long ago that PCNs were launched and the last 12 months have passed by in a blur with a cacophony of emotions - excitement, enthusiasm, anxiety, stress, worry, conflict and overwhelming optimism. Then there are the meetings; endless diary invites for more and more meetings that as a PCN clinical director, you struggle to accommodate.
"In all of this though, PCNs have provided a means for a new way of working that challenges the status quo. It has put primary care right at the centre of our model of care delivery in the NHS, where it should be, seeing that 70 per cent of all NHS contacts take place in primary care. Primary care now has a voice at the highest levels of decision making and resources are being diverted to support enhanced working at PCN level. We have additional financial and workforce resource that supports the work we do in primary care and a set of clear objectives to improve the quality of care for our populations.
"But we must not forget the core reason that PCNs exist and that is the patient population we serve. PCNs need to be more than just recruiting additional staff and delivering the DES specifications. The greatest opportunity for PCNs is to engage with the populations they serve and begin to address the whole population needs. There are gaps in service delivery across a population, there are hard to reach groups and there are services that can be improved upon. Addressing these issues should be at the heart of PCNs going forward. And in fact, this is the part of the job that generates the most passion. We can become true partners in people's care and start to address some of the wider issues that impact on people's health. My PCN now has two members of our patient population on our executive group helping to shape our strategy and influencing our direction of travel.
"As we embark on another year of PCNs, there's a lot to look forward to. More clinical staff, further funding, more specifications, even more meetings. But if we keep the patient at the centre of it all, we can be confident that we won't get it wrong.
Dr Rupa Joshi, clinical director at Wokingham North Primary Care Network
Kat Dalby-Welsh, clinical director at Yeovil Primary Care Network
"We didn't know what wasn't possible. Yeovil PCN came together and we started to see that all of our practices found a common ground around the challenges of time, capacity and sustainability. So we started planning our future, together, aligned, but maintaining our own identities. It only seemed possible to address the issues together and with the help of Somerset CCG. Then came COVID-19, and this very much galvanised our thoughts of collaboration, so we collaborated, and changed our way of being to protect patients and staff and are now in a far stronger position to face the ongoing needs of ourselves as practices and population.
"Now we know that anything is possible, we are continuing our momentum, looking to do work together, recognising the individual practices need, understanding our needs through PHM and informing our work during this year. Our eyes are now open, our minds are clear and we see the future together"
Dr Sian Stanley, clinical director at Stort Valley and Villages Primary Care Network
Helen Kilminster, clinical director at People's Health Partnership
"Our PCN feels like the last bud waiting to blossom. Yet when I look back over the last 12 months or more, we have achieved so much. As a PCN Clinical Director I have learnt an invaluable lesson about the resilience of primary care and general practice in particular.
"I am proud to share that the People's Health Partnership has increased in practice members from five to nine practices. We have recruited a full quota of Additional Reimbursement Roles in our first year and, as planned, we are in the process of recruiting more. Our team is beautifully diverse and a heady mix of strong personalities; creating an environment that encourages a culture of openness, honesty and respect. The PCN team has dramatically evolved and has shown autonomous working as well as positive outcomes.
"Trust is never assumed and is always earned. Our working relationships vary in maturity amongst all stakeholders in the PCN. It is crucial that we involve everyone and instil confidence to our community that our PCN is effective and inclusive. Trust is priceless and should be handled with care and the upmost respect. The introduction of the NHS Rainbow badge pledge in the PCN is a start to demonstrate we want to take action to create a Network that is approachable and safe for all, a PCN that does not discriminate, a PCN that is serious about tackling health inequality.
"During the pandemic, our weaknesses as a PCN have been greatly exposed but our mobility to ensure safety and the welfare of our staff and our patients has been timely. We have successfully enabled digital solutions and remote access, which has changed the dynamic in processes and workload. While we plan ahead and move into recovery post COVID-19 we will continue with certain aspects of digital working. Even before the pandemic the initiation of group consultations for diabetes care and respiratory care showed huge potential in embedding new ways of working. We also have a new pathway to create personalised care and patient led services.
"Our PCN strives for better working conditions for our valued workforce and we want to offer the best care and support for our community's health and wellbeing. While we start with a team of GP practices, we recognise that PCNs will only achieve its ambitions of positive change and sustainability through a combination of effective collaboration with wider stakeholder and sufficient funding.
"I wrote in previous blog on 6 June 2019 'No matter what happens on the 1st July. The vision is clear. We want to expand Primary Care workforce. We do not want to destabilise existing networks and working relationships. We all add value to the quality of patient care.'
"I still believe this to be true and I am now actually hopeful that PCNs will be even more. Even revolutionise Primary Care as we know it, for the better, and for all.
Dr Pramit Patel, clinical director at The Care Collaborative PCN
Dr Simone Yule, clinical director The Vale Network