Key points
The NHS is dealing with a formidable task this winter and the Omicron COVID-19 variant has the potential to derail an already struggling service even further. Yet integration and innovation are happening across the NHS, with organisations working collaboratively and developing models of care in the community that support the reduction in ambulance conveyances and emergency department admissions.
This report outlines a range of examples where NHS organisations are working collaboratively to improve outcomes for patients and local communities. Based on interviews with NHS leaders, it reflects on the opportunities and challenges of models of care that aim to treat patients in the community.
This collaboration only works through the strength of local relationships, both within the NHS, with wider external stakeholders and with communities. Through building capacity in the community and, in some cases, making greater use of existing models of care, there is an alternative that can provide a more holistic and patient- centred model of care without the need for acute intervention.
Our key reflection from the interviews is that building capacity in the community is essential. Developing models of care that both anticipate what patients will need from their care in the future, while addressing their immediate and urgent needs through community and home-care-based solutions.
Technology has a significant role in enabling this model of care, from virtual assessments and training to home monitoring and diagnostics. To effectively change the model of care in the future, more emphasis and funding needs to be invested in developing pathways that support primary and community-based providers to support patients in out-of-hospital settings.
The NHS Long Term Plan in England, and similar strategies in Wales and Northern Ireland, set an ambition to increasingly treat illness in primary and community care settings. The demand pressures on acute and ambulance services show that too many people are still being treated in emergency care settings. But, as this report indicates, there are innovative and exciting models of care happening within community settings that are having an impact and there is the potential to build on this.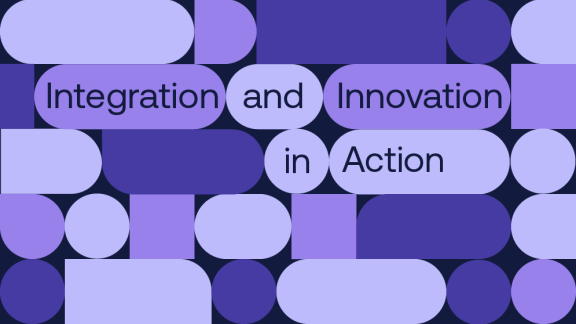 Background
Nearly two years on from the onset of the COVID-19 pandemic, the NHS across the UK remains under significant pressure. The triple challenge of managing waiting lists, rising demand and managing the Omicron wave amid staff shortages has left the service running hot and contending with another difficult winter. Even before the latest spike in infections, healthcare leaders in England had sounded alarm over an NHS at tipping point. In our recent poll, nearly nine in ten leaders (88 per cent) reported that demands on their organisation were unsustainable and 92 per cent felt demands on the whole system were unsustainable.
"Systems are at breaking point and risk is unacceptably high (for) some cohorts of patients, be that in emergency, primary care, cancer or elective care (or elsewhere)." Acute trust chief executive responding to our poll [ 1 ]
While these challenges present a bleak picture, health and care services are finding ways to support each other locally and to shift demand from emergency departments and the ambulance service to a more community-based model of care. These integrated and often innovative approaches are supporting system partners and yielding alternative models of care. This is enabling patients to stay at home, or to minimise their stay in hospital, and providing a holistic, integrated service across multiple service providers.
That is the focus of the latest instalment in our Integration and Innovation in Action series. Based on interviews with system leaders, this report explores how integration is driving efforts to increase community capacity. It highlights reflections from leaders and spotlights local examples of how integration is driving improvement at pace.
We are grateful to the members who have given their time to contribute to this report and our wider Integration and Innovation in Action series. Our hope is that the insights shared throughout the series will support you with the task ahead, shine a light on the changing way members are working, and connect you with a community of leaders across the health and care sector.
This edition draws on the following case studies:
Mid and South Essex Integrated Care System, where a new urgent community response team is providing a single integrated service that responds to people experiencing an acute medical crisis in their own home.
NimbusCare, where a community health village in York is delivering services on behalf of busy providers and diverting children from unnecessary hospital attendances.
South Warwickshire NHS Foundation Trust, which developed a virtual ward which resulted in 48 per cent of conveyances for over 80s being avoided.
City Health Care Partnership CIC, where a community frailty pathway in Hull and East Riding has brought together consultants, GPs, advanced nurse practitioners, social workers, pharmacists, other specialists, and the voluntary sector, to work as a single system supporting and transforming care for vulnerable patients.
Chapter footnotes
1.

NHS Confederation, 2021. Under pressure: NHS priorities this winter. https://www.nhsconfed.org/publications/under-pressure

↑
Pulling in the same direction
At a time when acute services are trying to recover elective activity and seeing increased demand, avoiding conveyance and admission to hospital is an opportunity for integrated care systems to shift the delivery of care, where appropriate, from emergency secondary care to community-based care.
The NHS aims to boost out-of-hospital care, investing in primary and community care with the goal of preventing unnecessary admissions [ 1 ]. While many of the plans have been acted on, with the roll out of primary care networks and the creation of two-hour urgent community response teams, the pandemic has both accelerated change and challenged it.
Avoiding admissions and diverting pressures
As pressure has increased on acute services, system partners have looked for opportunities to support their system and provide models of care that avoid acute interventions. The development of the paediatric ambulatory care service in Hull, for example, began from a spike in children presenting with respiratory issues, resulting in emergency department attendances.
Nimbuscare, an at-scale provider of primary care services across York, looked at what it could do differently to manage the situation. Working with the acute trust and local GPs, it developed a service that enables GPs and 111 to refer children with respiratory issues to a paediatric ambulatory hub that can observe the children, as well as providing information for parents on managing ongoing symptoms and conditions. Families have embraced the service: of the first 50 patients seen by the service, 49 were able to go home without a visit to hospital. The service is new and currently being evaluated but has shown a reduction in unnecessary attendances to hospital for families with under-fives and is reducing the workload for primary care.
Nimbuscare has engaged primary care in the service. The service has evolved over time and is now 'pointing in both directions,' says Professor Mike Holmes, chair of Nimbuscare. Initially it was a hard sell to primary care, as it is funded from primary care to reduce hospital visits and length of stay. But as it has developed, primary care has benefited and services can now refer patients after an initial phone or video consultation.
For SWFT, the use of a virtual ward meant that 48 per cent of conveyances for over 80s were avoided, freeing up the ambulance service to attend other patients waiting in the community
Ambulance services have come under increased pressure over the past 18 months, with category 1 (life threatening) incidents increasing 12 per cent between September 2019 and September 2021 in England. Ambulance services also lost 116,000 hours waiting to handover patients at hospitals in October 2021. [ 1 ] Against this backdrop, South Warwickshire NHS Foundation Trust (SWFT) and Mid and South Essex's urgent community response team (UCRT) have been working closely with their ambulance services and identifying ways to reduce pressure on the ambulance service, and potentially reduce conveyance.
For SWFT, the use of a virtual ward meant that 48 per cent of conveyances for over 80s were avoided, freeing up the ambulance service to attend other patients waiting in the community. Of those who were conveyed, only 25 per cent of over 80s were conveyed to an emergency department, with the rest conveyed to the trust's frailty assessment unit. By being transported to the frailty unit, patients can access specialist services and have a shorter length of stay.
Mid and South Essex's urgent community response team has a nurse working with 111 and 999, identifying patients that could be seen by the team, which avoids the need for an ambulance to be dispatched to those patients. The team also take referrals from ambulance crews where a patient could stay at home, with additional observation and support. The team has done an initial case review looking at emergency department avoidance, to support the hospital trusts in planning their bed requirements. These showed that for every UCRT referral, 2.7 acute bed days were saved on average.
System integration is at the crux of services like this, where one part of a system steps in to support another part, diverting pressure elsewhere and providing an alternative for patients.
Relationships
All leaders involved in this report highlighted relationships as critical. Relationships ranged from local businesses supporting the development and running of a site, to working with other parts of the NHS to build collaborative relationships and increase referrals.
Prof Mike Holmes says that the relationships required to deliver their paediatric ambulatory care service are far greater than just the NHS. The service is delivered from a disused car park loaned to them by the council. The site was initially developed to deliver COVID-19 vaccinations but is growing into a health village. As it has grown, the local community and local businesses have supported them, providing skills and time to support the service, building fencing, volunteering and providing food and drinks. The pandemic has also seen a culture shift in ways of working across their integrated care system. "The hub would not have existed without the shared objectives they developed as a system due to the pandemic," Prof Holmes acknowledges.
Relationships are not just critical in developing services and getting them up and running, but also in ensuring they are used effectively
Partnerships within the NHS have been equally important, enabling patients to receive more holistic services and reducing pressure on other parts of the NHS. In Hull and East Riding, for example, City Healthcare Partnership CIC has developed a frailty pathway, bringing together geriatricians, primary care staff, social workers and others, treating patients in the community and reducing emergency and GP attendances.
Relationships are not just critical in developing services and getting them up and running but also in ensuring they are used effectively. This is evident in both Mid and South Essex UCRT and South Warwickshire's frailty pathway, where the effectiveness of service delivery relies on referrals from other parts of the NHS. In both cases, the providers worked with the referring organisations and their staff, developing relationships and ensuring they understood what the services could deliver and when to refer. Mid and South Essex doubled referrals to the urgent community response team from ambulance crews through developing trust and working collaboratively to highlight the benefits of the service. Similarly, South Warwickshire increased referrals from ambulance crews by 500 per cent through daily calls with their strategic cell. 
City Healthcare Partnership also found relationships critical in identifying the right patients for its frailty service. Through developing relationships locally, the team and partners gather information about local authority placements and work with care homes to identify patients.
The development of integrated care systems has highlighted the importance of relationships in developing and delivering services, the pandemic has supported that, with many leaders reporting the pandemic as having a positive impact on partnership working, particularly at place level. [ 1 ]
The role of technology
Digital technology has had a significant role in supporting out-of-hospital care and enabling organisations to work collaboratively. Technology can support the delivery of services, as South Warwickshire found with its virtual ward model, but it can also be challenging when shared care records do not exist or when information governance creates barriers to true integration.
Dr Dan Harman, consultant community geriatrician at City Healthcare Partnership CIC, says that by investing in tablets for local care homes, the social enterprise was able to conduct initial assessments virtually. 70 per cent of the assessments the CIC delivers through its advice and guidance line for care homes are carried out virtually – either over the phone or via tablet. Technology has also enabled the organisation to develop a training platform for staff in care homes, developing their skills and enabling them to deliver observations and feed them back through the virtual assessments.
The use of a virtual ward enabled patients to be monitored and managed at home, receiving enhanced care in their homes from an advanced clinical practitioner
The use of technology to connect with patients is something South Warwickshire NHS Foundation Trust wanted to test through developing virtual wards as part of its frailty pathway. The use of a virtual ward enabled patients to be monitored and managed at home, receiving enhanced care in their homes from an advanced clinical practitioner.
While technology has enabled services to connect with and monitor patients virtually, the connection between organisations is equally important. City Healthcare Partnership CIC, for example, has instant access to patient records and has shared integrated care plans for patients.
But information governance issues can present a stumbling block. By sharing information, South Warwickshire could provide a more integrated service with West Midlands Ambulance Service, identifying patients from ambulance call records and visiting them without a referral from the ambulance service. This would enable them to get to patients without them needing to be seen by an ambulance clinician. If the patient still required an ambulance after being visited, they would remain in the queue for an ambulance. Information governance is currently proving to be an obstacle to expanding the service in this way, making it reliant on referrals from the ambulance service. If the information governance obstacles can be overcome there is the potential for this service to take more pressure off the ambulance service by directly identifying patients to visit.
Technology has the potential to enable the NHS to connect with patients in their own homes, to provide virtual monitoring, and to connect clinicians across organisations. While challenges remain, there is scope for services to increasingly integrate and to provide patients with more opportunities to have their care managed in the community. The use of home-based monitoring is central to the NHS Long Term Plan's aims for community care, preventing the escalation of conditions that require admission and the impact, as set out above, can enable patients to be managed in a different way. This need was recognised in the 2022/23 planning guidance, published in December 2021, where systems were asked to complete development of virtual wards by December 2023.
The right care, at the right place, first time
When NHS 111 First was rolled out in 2020, much of the messaging focused on it getting people the right care, at the right place, the first time. The NHS Long Term Plan set out how, 'despite improvements, too often when, where and how care is being delivered is a source of frustration, waste and missed opportunity for patients and the teams looking after them.' In July 2021, the Welsh Government launched the Help Us Help You campaign and set out six goals for urgent and emergency care [ 1 ], intended to support people to access the right care, in the right place, as quickly as possible. The goals include signposting to the right place, first time and alternatives to hospital admission.
The pathway has reduced emergency and GP attendances by 10 per cent, and by 50 per cent in admissions among the most frequent attenders to hospital
This ambition is something City Health Care Partnership CIC has put at the heart of how it works with patients across Hull and East Riding. "We ask patients what they want to get from their appointment and their expectations. We can then address their needs and expectations," says Dr Dan Harman. Severely or moderately frail people make up around 4 per cent of the population of Hull and East Riding, yet account for up to 38 per cent of hospital bed days. This has driven local geriatricians to develop a frailty pathway for these patients, ensuring they are being treated in the right place for their care needs. The pathway has reduced emergency and GP attendances by 10 per cent, and by 50 per cent in admissions among the most frequent attenders to hospital.
Chapter footnotes
1.

https://gov.wales/written-statement-six-goals-urgent-and-emergency-care-and-expectations-system

↑
About Integration and Innovation in Action
Integration and Innovation in Action is a new series that showcases how local services are working in partnership to address the biggest challenges facing health and care. Head to the web section to find out more, register for events and join the conversation on social #IntegrationInAction