Briefing
Community pharmacy: no longer the silent 'P' in PCNs
Practical steps to ensure community pharmacy resource is effectively engaged to best support improved outcomes for primary care networks' populations.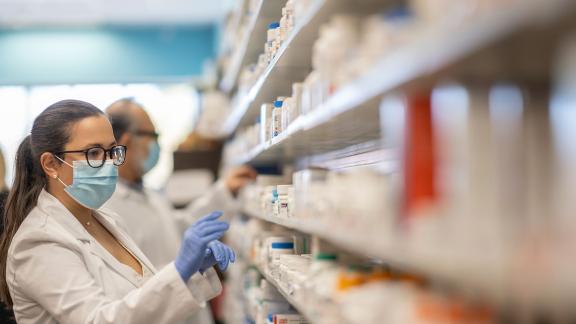 Key points
Community pharmacy is an integral part of the NHS and has a vital role to play as a full partner within a primary care network (PCN). Medicines' safety and optimisation is widely recognised as part of its unique skill set, but increasingly community pharmacy is collaborating with partners in primary care to deliver integrated clinical services to the population.
At a time when PCNs are looking to fulfil an enhanced role within integrated care systems (ICS) and resources are stretched to a maximum, it is critical that all available clinical capacity is used effectively on the ground. For this reason, the NHS Confederation's PCN Network and Primary Care Federation Network were keen to explore with the National Pharmacy Association what some of the barriers are and how they can be practically addressed.  
We brought together some of the key players in the PCN and community pharmacy world to tackle this question at a roundtable discussion and have produced this document to highlight the key actions you can take forward now to ensure that the community pharmacy resource is effectively engaged to best support improved outcomes for your PCN's population.  
What we found
The key take home message from the roundtable was that there are already national service specifications / core services established as part of the community pharmacy contract which aren't universally implemented. If we ensure that as a minimum every area takes the opportunity to implement two of these it will have a major impact on workload, NHS spend and patient outcomes.
Whether you are a community pharmacist who has yet to engage with the PCN or a PCN clinical director/lead looking for practical ideas to develop services, we encourage you to review the suggestions with your primary care team and decide what you can do next to take forward the proposed actions.
For those interested in the broader implications of community pharmacy in an ICS and taking things a step further, read a full account of the roundtable discussion. 

Key actions you can take now
PCN clinical directors and leads
Talk to your local community pharmacists about implementing the national NHS Community Pharmacist Consultation Service – this advanced service enables general practice to refer patients directly to a community pharmacist for a minor illness consultation.  The national specification is ready to go and once a local referral pathway has been agreed it can deliver an immediate benefit to patients and divert some of the workload away from GPs. More information can be found on the PSNC website.
Ensure that trusts in your patch are using the Discharge Medicines Service, which is a service that all community pharmacists provide. This service has a demonstrated impact on patient safety and has significantly reduced hospital readmissions. More information can be found on the PSNC.
Support community pharmacists in your area to navigate the ICS so that they can link into discussions about representation in the emerging governance arrangements and play their part in clinical and professional leadership.

Community pharmacists
Find out what the key priorities and capacity constraints are in your PCN area – get together with your pharmacy colleagues in the area and discuss how your skills, and the services you could provide, would support the PCN to address them.  If the Community Pharmacy Consultation Service isn't on your list, it probably should be.
Engage in a discussion with your PCN lead/clinical director – your LPC will be able to facilitate these contacts. The earlier you do this the better as PCNs will be starting to look at how they represent primary care in the governance structure at place and system level.  
Remember that while PCNs have the general practice registered list at its core, primary care means you as well as GPs – and your colleagues in dentistry and optometry.  The NHS Confederation is working hard to ensure that opportunities for clinical leadership are available to all primary care clinicians, with appropriate resources for backfill and development, so look out for leadership roles in your area. It may feel like you are stepping out of your comfort zone, but you will be warmly welcomed by your colleagues across primary care.