News
Starting the booster campaign in September is welcome but more support needed for primary care
Ruth Rankine responds to the announcement that the booster campaign will begin in early September.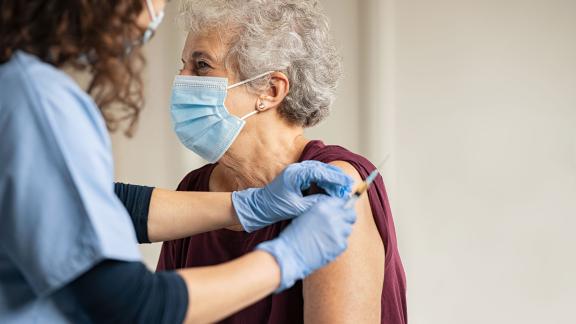 Commenting on NHS England's announcement that the COVID-19 booster campaign will begin in early September, Ruth Rankine, director of primary care at the NHS Confederation, said:
"We welcome the news that eligible adults will begin to receive their COVID-19 autumn booster from early September and that the Government has accepted JCVI advice to use bivalent vaccines in the rollout. This will ensure that those most at risk in our society can receive the best protection on offer, as COVID-19 continues to have a presence in our communities.
"Primary care has played a crucial role in the COVID-19 vaccination programme to date, and will continue to deliver to protect their patients and the public.
"With 26 million general practice appointments taking place in June, primary care teams are already going above and beyond for their local communities and will step up again to deliver this important programme.
"However, we shouldn't underestimate the additional work involved and must acknowledge the time and investment it will take to deliver alongside the flu vaccination programme. This is as well as meeting increasing demand for services which has felt like winter already and managing patients waiting for secondary care.
"It is also vital that the Government provides the NHS with the capital investment it desperately needs and a fully resourced workforce plan that resolves chronic staff shortages across our health service.
"We urge all those invited for both a flu and COVID-19 booster vaccine to take up the offer wherever possible, as this will improve protection against severe illness for the most vulnerable in our communities."