News
Speed of vaccination rollout testament to outstanding staff determination
Welsh NHS Confederation welcomes Audit Wales' report on the COVID-19 vaccination programme across Wales.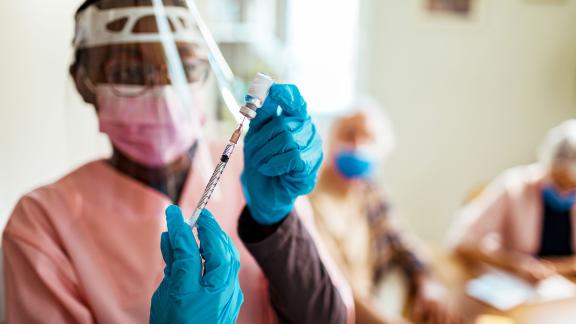 Responding to Audit Wales' report on the rollout of the vaccination programme in Wales, Darren Hughes, director of the Welsh NHS Confederation said:
"We welcome Audit Wales' report which examines the rollout of the Covid-19 vaccination programme across Wales. The speed with which the rollout was delivered shows the outstanding determination of health and care staff and wider partners to keep the people of Wales safe in what has been an unprecedented and uncertain time for us all.
"We cannot thank all those involved in the vaccination programme enough for their hard work, whether that be health and care staff, local authorities, the military, private organisations or volunteers who have all contributed to its success. We're also grateful to the Welsh public for so willingly taking up the offer of vaccination to not only protect themselves, but to protect their loved ones and communities.
"A significant amount of work has been undertaken to vaccinate hard to reach groups and communities with lower uptake. Our message to anyone who thinks they've been missed or who may have changed their mind about having the vaccine is to please come forward, and we can't emphasise enough how important it is for everyone to take up the offer of the second dose. This will provide us with an increased level of protection and help minimise the effects of any variants, such as the Delta variant."
"We know that vaccination is a key part of responding to Covid-19 and protecting the NHS from being overwhelmed with Coronavirus cases once more, allowing us to treat those that desperately need care and support."