News
NHS Confederation responds to latest JCVI guidance on COVID-19 vaccines
Ruth Rankine, our director of primary care, responds to the further expansion the COVID-19 vaccination programme.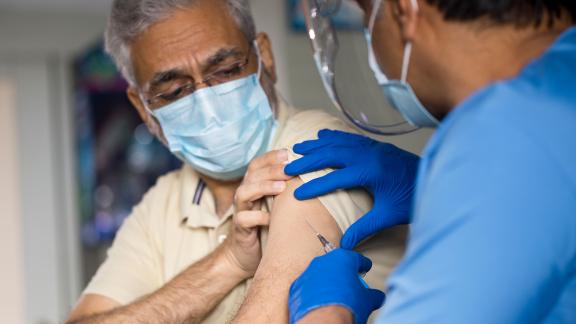 Responding to the latest advice from the JCVI on coronavirus vaccines in light of the emergence of the omicron variant, Ruth Rankine, director of primary care at the NHS Confederation, said:    
"With the advent of the new Omicron variant of COVID-19, and as we head into what will already be one of the most difficult winters the NHS has faced, it is welcome that all adults will now be eligible for a booster jab three months after their second dose and 12-15 year olds eligible for a second dose in the same timeframe.
"The booster vaccine will offer people significant extra protection against COVID-19 and NHS leaders and staff will do all they can to ensure those eligible for booster jabs get them. But, this is a significant expansion that adds to the complexity of an already challenging programme so we would encourage the Government to support front-line teams to play a critical role in ensuring the public get vaccinated as quickly as possible.
"They will also want assurances that the supply of vaccines matches the volume and timing of appointments as they are booked.
"This pandemic is not over so it is vital that people come forward to get vaccinated and to receive their booster jabs when eligible.
"In the meantime, we can all help to reduce the spread of this disease by regularly testing ourselves, wearing masks in enclosed spaces and keeping indoor spaces well ventilated. It is also important to support people to enable them to isolate when need."