Case Study
Working harder than ever to support patients and communities: examples from across the NHS
How staff across the system are working together to deliver care under difficult circumstances.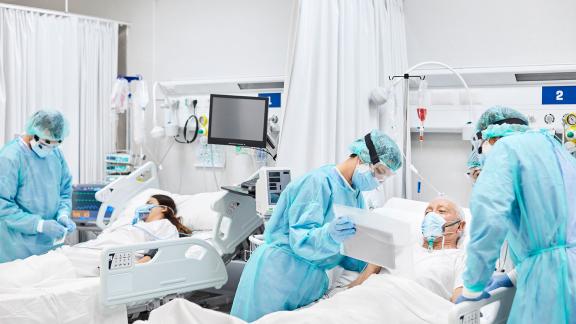 Amid unrelenting pressures, staff are working harder than ever to support patients, serve local communities and support each other. Here, we spotlight some of the ways healthcare organisations are stepping up to the challenge.
Acute care
Acute care staff are working around the clock to see a record number of patients.
Extending elective care at Barking, Havering and Redbridge University Hospitals NHS Trust
Barking, Havering and Redbridge University Hospitals NHS Trust (BHRUT) set up a successful initiative to extend elective care to 1,000 more patients between May and September. The Scalpel Project was delivered by the trust's general surgery division and focused on seeing patients that had been waiting longest.
Through a special series of six Saturday clinics, they were able to provide flexibility to patients who are unable to attend a weekday appointment. The trust is now looking to build on this project, to embed the positives of the initiative into the system and share best practice with others across the country facing similar challenges.
Read more on the BHRUT website.
Virtual wards in Norfolk and Norwich University Hospitals NHS Foundation Trust
At the start of the pandemic, Norfolk and Norwich University Hospitals NHS Foundation Trust (NNUH) started monitoring patients remotely to free up capacity for COVID-19 patients. This 'virtual ward' offers 24/7 monitoring of vitals such as respiration and oxygen saturation, with nurses, doctors, pharmacists and a range of other professions providing full care and support that would ordinarily be held within a physical bed in hospital. The trust also developed virtual wards for other pathways, including palliative care, cancer patients, those on the gastroenterology pathway and now those awaiting treatment or diagnostics.
Feedback from patients has been overwhelmingly positive and staff have benefited from more flexibility. Plus, unlike traditional wards, the service can more easily flex the numbers it cares for, often without too much impact on staffing needs. This shift to virtual wards freed up 3,548 day beds, improved efficiency and patient care, and virtual monitoring at home proved to be 82 per cent cheaper than having someone in an acute bed.
Find out more on the NNUH website.
Primary care
Primary care remains at the forefront of the COVID-19 response in the NHS.
All Together Better, building a better picture of patient need
GP practices in Barking and Dagenham are working smarter to understand what patients need and deliver their services more effectively. All Together Better, Barking and Dagenham GP Federation has been working with seven GP practices in the patch to build a better picture of patient need and recommend ways to help manage demand. They collected front-door activity over 44 days and found that just under 60 per cent was administrative enabled, which meant that by changing how they worked, including recruiting additional medical secretaries and increasing resources such as FAQs, they were able to better support administrative workloads.
The federation also recommended recruiting pharmacy technicians to support with medicine queries after finding that medication queries took up 20 per cent of front-door activity. The federation is working to expand this project to support more practices locally.
Community care
Community care is providing a crucial bolster to emergency capacity.
Reducing emergency admissions in mid and south Essex
The urgent community response team (UCRT) in mid and south Essex responds to the crisis needs of people in their own homes to avoid admission to hospital. A range of specialists have started to work together to support people to stay in their own homes when experiencing an acute medical crisis, such as an infection or fall, and support for those needing urgent support for long-term conditions.
Focused on what patients in the community needed, three community organisations are collaborating to offer a single service, resulting in more people being able to access care and fewer people needing emergency care or local ambulance services. The team has done an initial case review looking at emergency department avoidance, to support the hospital trusts in planning their bed requirements.
Find out more on the Mid and South Essex Healthcare Partnership's website.
Frailty support in Hull and East Riding
In 2018, the City Care Health Partnership CIC, a social enterprise providing health and care services, established the Jean Bishop Integrated Care Centre, which is transforming care by providing out-of-hospital care and enabling residents to stay in their own homes. In 2020, the partnership established a frailty response line for health professionals, social care and care homes to call if they are worried about a frail and elderly patient, ensuring care is provided at the right time and subsequently reducing the need for attendance at hospital or emergency departments.
The team of health, social care and voluntary sector professionals work collaboratively to provide a holistic approach to supporting people and ultimately improve health outcomes. ​The centre's work has helped to reduce pressure on other acute and social care services in Hull, achieving a sustained reduction in unnecessary emergency department attendances and hospital admissions as well as GP appointments.
Find out more about the Jean Bishop Integrated Care Centre and the frailty support line.
Freeing acute beds through discharge to assess
Teams are working across sectors to ensure people are able leave hospital as soon as possible after their acute care is complete. New discharge-to-assess approaches have allowed acute trusts to innovate using new funding to free up acute beds during COVID-19, as well as provide much-needed support to stretched social care providers and support more people to live well at home. 
Before the pandemic, 20 to 30 per cent of NHS acute beds were consistently occupied by patients who were ready to leave hospital but were awaiting confirmation of a care package or transfer to a community or care home bed. Discharge to assess involves local independent sector and social care partners working with acute trusts to enable patients to leave hospital as soon as they are medically ready, crucially freeing up capacity in acute settings.
Sussex Community NHS Foundation Trust reported that the average length of stay fell by 37 per cent during the COVID-19 response as a direct result of discharge to assess. Across the NHS, 30,000 beds were freed up during the first COVID-19 wave, as well as 6,000 staff including 4,000 frontline nurses. Between winter 2019/20 and winter 2020/21 we saw a 28 per cent reduction in patients staying more than 21 days.
Find out more in this briefing from the Community Network.
Mental health
Mental health providers are collaborating with partners to relieve emergency pressures
Southern Health's mental health triage team
Partners across the south coast worked together to provide a single point of access to mental health crisis support and reduce the need for patients to use emergency services. NHS Hampshire, Southampton and Isle of Wight CCG and Portsmouth CCG worked with partners, including people with lived experience, to develop a seamless, all age, single point of access to mental health nurses working in NHS 111. As well as providing easy access to support for patients, this approach has relieved pressure from the rest of the system by reducing attendance at A&E and other urgent and emergency services. Since the service began, it has reduced the number of patients referred to primary care from 69 per cent to just 10 per cent. Mental health contacts to 999 have also been reduced by 26 per cent.
A similar approach to triage services delivered by mental health nurses in Southern Health NHS Foundation Trust showed massive impact on outcomes for patients. 88 per cent of calls are now supported with self-care and home management, compared to 11 per cent before the service was provided by a mental health professional with access to patients' care or crisis management plans.
Find out more about the NHS 111 mental health triage team.
Supporting children and young people's mental health in Doncaster
Partnership working in Doncaster is stepping up support for children and young people's mental health at a time of rising need. The Social and Emotional Mental Health (SEMH) Group is a multi-agency forum that includes key decision-makers across the Doncaster Children's Partnership, which represents the CCG, local authority, CAMHS services, police, education, and other partners. The work of the SEMH group accelerated in 2020 in response to the tragic increase in children and young people accessing the emergency department following a suicide attempt or self-harm.
Through partnership work, the SEMH promotes better joint assessments, planning and service delivery for vulnerable young people in need of care without delay. The CCG's designated nurse for children's safeguarding and looked-after children is a key member of this group and can escalate any enduring issues that cannot be resolved as a group. The development of the SEMH group has helped the different agencies understand each other's pressures and ensure children and young people receive the support they need. The work means children receive the right care at the right time and at a time of high pressure has enabled partners to work smarter rather than harder. 
Supporting the frontline to continue to deliver through the winter
Increasing workforce supply in Hull
Bolstered by board-level support, Hull University Teaching Hospitals NHS Trust has increased its workforce through apprenticeships and international recruitment, achieving an oversupply of nurses to help current teams fight the pandemic, continue to reduce the backlog of patients waiting for treatment, and be better placed going into winter. Other organisations are using solutions such as employment passports to help staff move between organisations.
Find out more in this case study from NHS Employers.