Case Study
Supporting the refugee community in Kirklees: West Yorkshire Health and Care Partnership
Improving mental and physical health outcomes for asylum seekers and refugees through holistic support.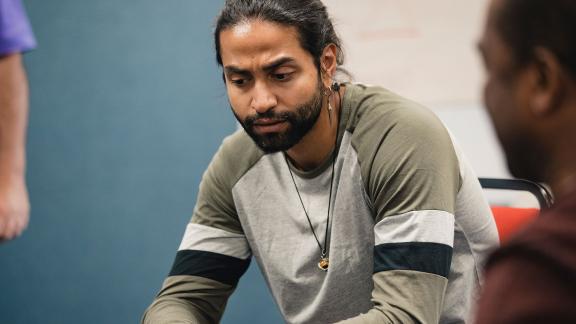 The Kirklees district  of West Yorkshire is home to a community of refugee and asylum seekers. Many of them face a difficult path to the UK and are still traumatised by their experiences escaping human traffickers, war zones, torture or refugee camps.
When lockdown occurred, local GPs were concerned that this community's heightened fears would quickly escalate to more serious, prolonged and costly mental illness, so West Yorkshire Health and Care Partnership provided funding for the specialist charity Solace, who in turn liaised with partners to support this vulnerable group of people.
Key benefits and outcomes
Reduction in levels of distress within the refugee and asylum seeker community, from a mean score of 23 to 17.

Increased support

for the most vulnerable in the refugee and asylum seeker community through online therapeutic services, which also fostered more connected relationships with peers and the wider community.

Double the provision of therapeutic support from just two days a week to five, through partnership funding.

Fast-tracked holistic support for the community during the pandemic, through liaising with partners.
What the organisation faced
Pre-pandemic, local GPs were already seeing a large number of patients from the refugee and asylum seeker communities in their surgeries, with common complaints ranging from persistent bodily pain, acute headaches and migraines, to sleeplessness.
The pandemic exacerbated fear and anxiety felt by this community, with concerns fuelled by  language barriers, digital exclusion and the fact that many social activities stopped during lockdown. Given the very limited financial resources provided to the asylum seekers and refugee communities, they found themselves with no funds to pay for the internet, or to buy creative materials to explore new interests.
Parental mental health was also heavily impacted during lockdown given there was no break from parenting responsibilities, coupled with a lack of understanding of the risks in taking children outside for exercise.
It was clear that a strong, decisive and holistic intervention was required to support this vulnerable cohort. Specialist therapeutic interventions were a priority, but with only one therapist employed by the local GP surgery, for two days a week, this support was lacking.  
What the organisation did
West Yorkshire Health and Care Partnership quickly responded to the call for emergency therapeutic support by making Solace - a charity specialising in providing holistic support to refugees - one of the recipients of its Partnership health inequalities fund.
With a remit to increase their provision of therapeutic services to the refugee and asylum seeker community, to help them feel supported and safer, Solace was able to additionally conduct valuable research into the barriers these groups faced when accessing help with their mental health.
Following the integration model already operating successfully at the Whitehouse Centre in Huddersfield, Solace's psychotherapist and clinical director were also able to tailor a programme of support involving key community partners.
A large proportion of this work involved liaising with these partner organisations such as DASH and TSL Migration, which provide legal advice, material and practical help such as identifying a solicitor, signposting to English language courses (ESOL), help with asylum claims and helping families to remain digitally connected during the pandemic. 
Because these partnership groups had established strong relationships with Kirklees council, this relationship was easier to manage and fast track. Some refugees had arrived in the country with absolutely nothing, so DASH, in partnership with Solace and TSL Migration, were able to supply clothing vouchers, accommodation and therapeutic support. 
Solace therapists also gave advice about setting a routine or a time limit to build confidence for venturing outside and provided links to walking groups, which followed safe routes and were socially distanced. This social interaction helped reduce their feelings of social isolation.
A sense of community was also quickly established online, largely facilitated by Solace administrators helping patients get mobile phone data top ups in order to download the Zoom app and attend online meetings. A women's craft group, ESOL classes, an Albanian women's group and a support group for men show the diversity of the online communities that developed and which were, according to the centre's clinical director Anne Burghgraef, 'a real lifeline.' None of them could have taken place without the funding.   
Additionally, Solace was able to deliver training to partners on the emotional health of refugees and techniques and strategies of how to work with them. Being mindful of cultural sensitivities was an integral part of this therapeutic offering.
Solace now delivers individual psychotherapy sessions to refugees who are participants in the Migration Yorkshire Connecting Opportunities project, as well as therapeutic services to resettlement refugee children and families through the Child and Family Wellbeing Support project.
Results and benefits
The collective response from GPs, Solace therapists and all the other community groups and partner organisations helped to support this community to come through the pandemic in far better shape than they would have been without this support.
Solace was able to use the funds to extend provision of its specialist therapeutic care, delivered in a neutral 'white space' setting. CORE-10 readings (a baseline measurement of psychological health) showed a significant reduction in distress levels from a mean score of 23 to 17.
As this community is often unable to access the services available to other people, the funding has helped to train and support other mental health providers in the area, to ground their own therapeutic practice within a systemic framework  and informed by a knowledge of the effects of trauma, acute and chronic stress on asylum seekers. This has meant more services have acquired knowledge and skills relating to good cross-cultural practice.
The stronger links forged between the NHS provision and Solace has led to improvements in the assessing and matching of needs appropriately (matching the individual to the right care), with more refugees and asylum seekers being aware how to access the right level of support, whether that's locally or via the main support hub now located in central Leeds. Solace and DASH have also forged a working partnership at The Quaker Meeting House in Paddock, Huddersfield.
Solace has recently received more funding from the Home Office, which will be used to foster even more joint collaboration and inter-agency provision of mental health services, and greater access to universal services, to support the mental health of asylum seekers.
Overcoming obstacles
It cannot be underestimated the high levels of distress and social isolation faced by the local refugee and asylum seeker communities at the start of the pandemic.
There were many external barriers such as culturally insensitive provision in certain sectors; a low use of interpreters; and administration procedures that were often lengthy and inaccessible. Research has enabled a greater understanding of these myriad barriers as well as the misunderstandings that prevent these groups from seeking emotional help.  
Prior to the pandemic, the GP surgery only had one therapist working two days a week. The funding meant that Solace was able to develop the partnership side.  Although this was initially challenging to set up so quickly, the support of partnership organisations pulling together helped make a difference.
Takeaway tips
Enhanced partnership working across teams makes it easier to signpost appropriately.

Establish a clear understanding of the barriers that prevent individuals accessing help within existing mental health services.

Provide a clear explanation of

what therapy is and how it can help.
Further information
For further detail on the work in this case study, contact:
Anthea Kilminster Solace psychotherapist: anthea@solace-uk.org.uk
or
Anne Burghgraef Solace clinical director: anne@solace-uk.org.uk