Case Study
Redesigning orthopaedic outpatient assessments
New staff-designed assessment clinic has shortened waiting times for orthopaedic patients, increased capacity and improved patient experience.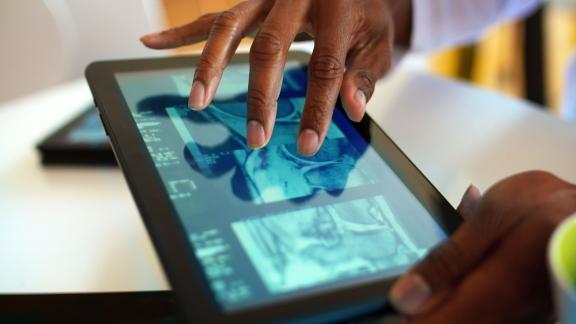 To support orthopaedic patients waiting for elective care, Dorset County Hospital redesigned its outpatient clinic assessments, opening a new assessment clinic in just five weeks. By doing so, the hospital has shortened waiting times, increased capacity and improved patient experience.
Key benefits and outcomes
In its first month:
A total of 681 patients were seen (304 additional patients)
Over 50 volunteers were trained

32 'live well' 

health and wellbeing interventions following appointment
What the organisation faced
Following the onset of the pandemic, Dorset County Hospital was resolved to reduce the number of orthopaedic patients waiting more than a year for assessment, and to ensure they were supported to wait well. The hospital, which provides a range of district general services, also wanted to improve patient experience – shortening the time spent on waiting lists and travelling to assessment clinics, their experience once there, and supporting their wider health and wellbeing. It was also keen to improve working between its departments and other organisations, such as the voluntary sector and local authority. 
What the organisation did
The hospital worked with staff – including a multi-disciplinary team of consultants, nurses, physiotherapists, healthcare assistants and volunteers – to design a new service from the ground up. Seizing the opportunity to re-envision the service and take advantage of a vacant town centre building owned by Dorset County Council, the team created a service around the needs of patients. 
To design a new clinic, staff considered patient flow and how to increase the number of patients seen in a day. They used the insight as the basis for making decisions about equipment and staffing requirements.
The service within the clinic includes musculoskeletal (MSK) assessment and physiotherapy assessment. It is staffed by an orthopaedic team and allied health professionals, such as physiotherapists and occupational therapists, to enable the trust to support patients' broader health needs.
When a patient arrives, they are greeted by a volunteer who leads them through the space, offering an opportunity for an informal conversation about their health and wellbeing. Important parts of this conversation are relayed to clinicians for further discussion, if required, when they assess the patient. 
Patients then sit in an examination pod, awaiting the arrival of clinicians. If required, a patient can be seen in their examination pod by multiple clinicians, including physiotherapists, occupational therapists, musculoskeletal staff, pain team and staff from Live Well Dorset to advise on healthy lifestyle. 
Clinicians share the clinic space with consultants, so they can discuss patient needs on the day, bringing in on-site colleagues to see the patient while they're at the clinic, if appropriate. 
Patients follow a one-way journey through the clinic, accompanied by a volunteer, leaving via a conversation with a Live Well Dorset staff member if required.
The new clinic was implemented in just five weeks.
Results and benefits
Locating the clinic in the town centre has made it easier for patients to access. The increased patient flow means those on waiting lists are being assessed sooner and are able to wait well for their surgery. Some patients are given adaptive equipment to help their mobility, while awaiting surgery. 
In just one more, more than 680 patients were see (more than 300 more), over 50 volunteers trained, and 32 'live well' health and wellbeing interventions in place following an appointment.
The clinic bridges the gaps between different teams within the hospital, meaning patient avoid being handed over between services and needing to share their information multiple times. 
Feedback from patients include:
'The volunteer staff were very professional and helpful. My wait to see a consultant was almost instantaneous; very pleased with his manner and information about my condition. On the whole, a pleasant and efficient experience.'  
'Fantastic venue and service, friendly and informative staff and no hassle parking as is the usual with DCH.'
'Appointment arrived much quicker than expected which was probably due to the new space. Welcomed and directed to where I needed to be nicely and friendly. Minimum waiting time to see clinical team. Happy with the service.'
Clinicians have a separate space to discuss patients on their own if required, to work out treatment and how this is best delivered between the various hospital departments and wider services. Clinicians are present with the consultants, so they get to know how they work and can discuss patient needs more quickly, supporting closer working between hospital departments. Each examination pod is laid out in the same way, making it easy for staff to find required equipment to assess the patient as staff move between patients, who remain static in the assessment pods. 
Overcoming obstacles
To build and maintain momentum, the team worked with all parties, including the local authority and charity sector, to ensure the project showed improvements or wins as early as possible, resulting in continued engagement and maintaining the pace of change.
Although there was some initial staff resistance, the team worked closely with staff to explore the model, giving them the opportunity to influence the project. The team also worked with peers to overcome any potential hesitance they may have had. The key role of trained volunteers unlocked the new model, providing patients with navigation through the clinic's space, while giving them an opportunity for an informal conversation about their health which is passed onto clinicians, allaying some of their fears.
The project management structure kept the team focused on the scope, enabling them to open the clinic within the timescale required, noting further developments for a discussion after it opened.
Governance was key to ensuring the team involved the right people at the right time for decisions and they were documented. The project had daily meetings and we aimed to build while designing and then further refinement once the project was running. 
Takeaway tips
Don't be afraid to start with a blank piece of paper. Rethinking everything can lead to better use of resources you wouldn't consider by tinkering around the edges.

If you could describe your perfect service, from a patient's perspective, from access (physical and in time to wait), to patient experience, how would you design it?