Case Study
Growing and creating health improvement within local health and care systems
Improving the conditions for place-based health to flourish through a co-creation approach to health and wellbeing.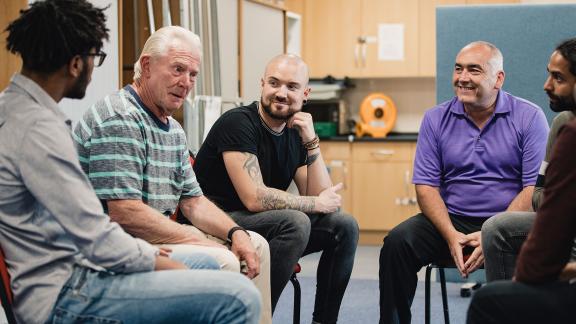 The potential of place-based prevention and health creation across East Surrey is being cultivated through new initiatives in local communities.
Key benefits and outcomes
Initiatives led by local citizens are supporting improved health and wellbeing within local communities.

Services are coordinated arounds people's needs.

Local collaboration is creating the conditions and communal assets that influence health and wellbeing, empowering person-led and place-based prevention and health creation.
What the system faced
Creating the conditions for health to flourish requires a shift in focus from the causes of disease and clinical care, to one that cultivates the causes of health from within neighbourhoods, places and health and care systems.
In East Surrey, local GPs and partners wanted to create a more sustainable health and care system, particularly over the longer term, by reducing demand in primary and secondary care through health creation, prevention, and early intervention.
What the system did
A number of local GPs and partners collaborated to create the Growing Health Together (GHT) programme, which was born out of a Surrey Action Learning set for GPs on lifestyle medicine. It invites people living and working across the region to collaborate to co-create conditions in which everyone's health and wellbeing can flourish.
This collaboration of health creation has three priorities:
Health – supporting social, mental and physical health for people of all ages and backgrounds.

Equity – making access to health-giving opportunities fairer and more equal.

Sustainability – reducing waste and supporting a healthy natural environment, recognising this is fundamental to human health and health equity.    
Given that income, education, employment and social relationships, as well as the natural and built environment have a greater influence on the health outcomes of individuals and populations than healthcare alone, GHT has been assisting local primary care networks (PCNs) to collaborate with community members and local organisations with the ambition of improving health, reducing health inequalities and supporting sustainability in the region. Since December 2020, collaborative partnerships have been developing within the five East Surrey PCNs covering  Horley, Caterham, Merstham, Redhill, Oxted and surrounding areas with each area working on different projects to support health and wellbeing, reflecting the interests, needs and capabilities within each place. The common principles of work in each PCN include:
identifying and highlighting existing health and wellbeing opportunities outside of the health service

building relationships with and listening to local people's views

supporting and enabling communities to lead their own health creation activities

facilitating collaboration between citizens and local organisations in order to co-create better conditions for health and wellbeing in communities.
Results and benefits
The potential of place-based prevention and health creation across East Surrey is being cultivated through new initiatives in local communities.
In Horley Healthy PCN, new community-led initiatives have been established including a support group for parents of children with additional needs, an English-language group for non-native speakers, and a self-organised women's group offering social connection alongside support around money and IT. A new active travel infrastructure is being piloted in collaboration with Surrey County Council to support inclusive walking and cycling and reduce local air pollution / carbon emissions, while enabling the health benefits associated with physical activity.
In Redhill Phoenix PCN, relationships are being strengthened between colleagues in the PCN and local mosques. This aims to support health creation and improve health outcomes among men and women in the South Asian community, in particular with physical activity and healthy eating.
Within the Care Collaborative PCN, a new green social prescribing initiative offers access to nature for those who may have fewer opportunities, while links are being strengthened between the wellbeing offer from Merstham Community Facility Trust, and the GP practices within Merstham.
North Tandridge PCN established an inter-generational music making project, connecting children from local schools, often those with additional needs, with older people living in care homes.
South Tandridge PCN has strengthened links with local schools and liaises with parents and pupils to support mental wellbeing, including meeting local citizens in Oxted who are running community fitness classes.
Overcoming obstacles
Fostering relationships between statutory and non-statutory groups and the local population required dedicated time and funding. However, the coming together of community groups and public agencies through a partnership can be the vehicle through which population health outcomes can be transformed, with shared values founded on social justice, equality and inclusion.
Takeaway tips
Connect with other community and statutory organisations in the local area to foster collaborative place-based connecting and strengthening.

Listen to what works and what has not worked, as health creation works best when people and professionals work together as equal partners.

Empower and enable those who may benefit from contributing to the conditions of creating healthier places, by allowing them to lead on solutions. 
Further information
For more information on the work in this case study, please contact Dr Gillian Orrow (Smallfield Surgery, Horley): info@growinghealthtogether.org