Case Study
Creating a whole-system flow discharge lounge : Walsall Healthcare NHS Trust
How Walsall Healthcare NHS Trust improved the functionality of its patient discharge lounge.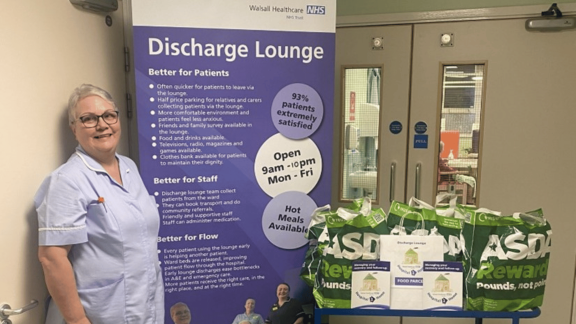 Overview
Walsall Healthcare NHS Trust improved the functionality of its patient discharge lounge to improve patient flow through the hospital.  
What the organisation faced
The discharge lounge is a bridge to home for patients who are clinically ready to be discharged. It has been present for approximately 10 years and used to be situated in a bay area at the end of a ward. With this, if patient demand increased and escalation areas needed to open up, the discharge lounge had to move places or close down for a while. There were also no substantive staff to run it and was largely dependent on agency and bank staffing. On average it would accept a maximum of four-to-five patients a day. This set up meant many staff did not know where it was located, whether it was open, or who to discuss ongoing issues with it.
Improvement
A lead nurse for capacity and patient flow, Nicky Dixon, saw the opportunity to look at the functionality of the discharge lounge and how it could be improved to support better patient flow.
The management of the discharge lounge was aligned to the site team to provide a better focus. Nicky assessed what the discharge lounge could provide and a dedicated senior leader was appointed to managing the lounge. A permanent space was also allocated for the discharge lounge to ensure there was a dedicated place that everyone was aware of across the hospital.  A detailed workforce plan was created and it is now staffed by a permanent team with strong leadership.
The new dedicated team has focused on improving processes, such as identifying patients on wards who are close to being clinically ready for discharge and then working with ward staff to ensure the discharge process is enacted in a safe and timely manner. The discharge lounge has also had its opening hours extended, now running 7am-10pm on weekdays and 12-hour shifts on weekends. The team raised the awareness of the discharge lounge and what it can offer via posters and attending team meetings, creating a shared vision and continuously raising its profile.  
The site team identify potential discharges and share them with the discharge lounge who will then pick these up and discuss them with wards. Equally, patients for discharge the next day are shared continuously with the lounge, so they know what to expect the next day and who to follow up on.
Outcome
Being discharged via the discharge lounge is now seen as the default pathway, unless there is a clinical reason not to.  This has taken the proportion of ward discharges that leave the ward before 9am from about 6 per cent to over 9 per cent, and 23 per cent of ward discharges now leave the ward before midday. This has benefits for patients and services across the whole pathway by improving overall flow.
The discharge lounge also focuses on patient experience by providing food parcels for patients (donated), comfort packs of toiletries, a clothing bank if needed to maintain dignity, and  designated pick-up point for relatives.
Lessons learned
Staff need dedicated time and space to develop the right changes. This requires careful planning and consistency in approach to ensure it is effective.

Executive or senior support and commitment to the vision can help create the right drive behind the improvements needed and empower individuals to take on the challenges.

Investing in staff in new roles is important for retention. Upskill them and invest in their 

development.