Case Study
Network of electronic birth cohort studies: improving health and wellbeing by linking routine data
A data-gathering project in Bradford is preventing long-term health problems from becoming more complex in the future.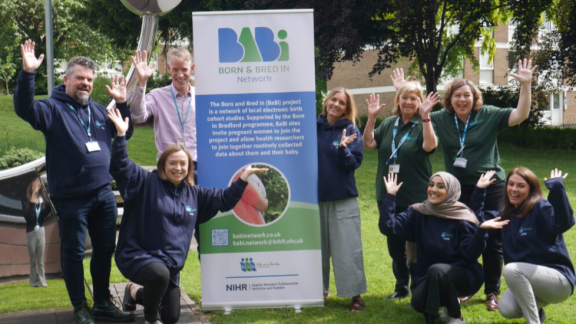 Overview
A project in Bradford to gather and link routine data from pregnant mothers, has helped to better understand the many influences that shapes lives, and identify and reduce long-term problems that could present themselves as more complex health problems in the future.
What the organisation faced
As the NHS continues to deal with huge pressures it places increasing constraint upon services across the health system, creating a need to find more efficient ways to deliver care, especially to those who need it most. Reducing demand on acute care for patients with complex, long-term health conditions requires early intervention and better understanding of their needs at early stages. This must happen in the community. Data and data-driven improvement offers huge potential to improve services and help manage demand in secondary care setting, offering an opportunity to improve health outcomes across all NHS services and reduce long-term problems that will eventually present themselves as more complex health problems in secondary care down the line.
Gathering data to support early detection and preventative practices can have long-term positive impacts for acute care by reducing demand through pro-active early management and identification of health risk factors. This helps to reduce long-term problems that will eventually present themselves as more complex health problems in secondary care down the line.
Improvement
The Born and Bred in (BaBi) programme began in Bradford as the BiB4All programme, where pregnant women are invited to join a project that enables health researchers to routinely collect data about them and their baby, to better understand the many influences that shapes lives.
It has been adopted in five additional regions, forming a network of local electronic birth cohort studies that is led and co-ordinated in Bradford and currently includes BaBi Leeds, BaBi Doncaster, BaBi Wakefield, BaBi East London and BaBi Nottingham. All community midwives are involved in these regions, inviting women to become part of the study during routine maternity appointments. The initiative is currently at 29,163 recruits across the whole network.  
At each of the BaBi regions they are asking pregnant women booked in for check-ups to join the study and give consent for health researchers to collect health, social care, and education data locally to build a picture of child health and development and use this to inform and evaluate local policy and practice.
Lots of organisations regularly collect data about the services they provide to patients in the form of routine data. By linking information from women's health records and their child's records, researchers are able to build a much clearer picture of people's lives and answer questions that may help to improve health outcomes.
Outcome
Bradford's established BiB4All programme improved the base of evidence around the relationships to health and interventions for factors such as what gives children the best start to life; the inheritance and risk around particular genes; the promotion of healthy lifestyles through diet, nutrition, and physical activity; while also looking at environmental indicators such as green space and air quality levels in relation to health.
These findings have helped address health inequalities and improved prevention through personalised, anticipatory care. For example, BiB data showed that less than 10 per cent of eligible pregnant women were taking a vitamin D supplement. When following this up, they found that many parents were unaware of the importance of taking vitamin D supplements during pregnancy. This resulted in 97 per cent of women remembering being offered supplements, and 87 per cent taking up this offer. BiB also helped to establish screening for gestational diabetes for all pregnant women at Bradford Teaching Hospitals. This increased the detection rate from 2 per cent to 7 per cent, meaning that more women were able to avoid the negative pregnancy outcomes caused by gestational diabetes. Additionally, BiB has helped build a body of evidence to help direct and support changing practice across professions. As a result, midwives are playing a more active role in supporting patients' wider needs and are now able to make appointments directly with the Bradford Stop Smoking service, providing greater support to mothers to stop smoking in pregnancy.
The BaBi network in its entirety remains in development, however the series of electronic data collected already across the BaBi networks not only shapes services, it brings the meta-cohort together to give insight into answering research questions of national relevance. Once the meta-cohort is established, they are committed to making the data available to researchers.
The positive impact for acute care will take some time to materialise but some potential benefits are already being recognised through better health inequalities management; enabling services to distribute and target resources more equitably while also aiding those involved to better understand and manage their own health.
Lessons learned
Data and data-driven practice in the community can help drive down future acute care pressures by prevention and management of population health.

Provide insight into health inequalities where they arise and how they might be addressed.

Multi-agency and system collaboration is essential in improving population health outcomes.
Contact details and further information
To connect with the creators of the service, contact the Born in Bradford team on 01274 364474 or email: borninbradford@bthft.nhs.uk
Further information