Blog post
Place is key to successful public health partnerships
The public health expertise we already have in our systems needs to be used in the right places and at the right levels.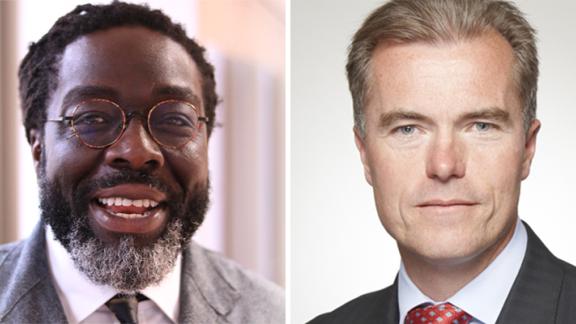 We need to harness the public health expertise we already have in our systems in the right places and at the right levels, write Victor Adebowale, chair of the NHS Confederation, and James Jamieson, chair of the Local Government Association.
The reform of Public Health England (PHE), the new UK Health Security Agency (UKHSA) and Office for Health Promotion and forthcoming legislation on the statutory basis of integrated care systems (ICSs) means we are facing a significant period of organisational change.
With an evolving NHS and a new public health institution being established, there is much to discuss about the role of public health in system working. So we have met virtually with integrated care system leaders, local government leaders and directors of public health to have an honest and open conversation about what needs to happen to improve health outcomes for all and confront health inequalities head on.
How has this conversation helped shape our mutual agenda and priorities? As the two of us have listened, we have heard many common threads in the conversations.
Firstly, we recognise that this is going to take a new kind of leadership, a more collaborative approach that helps develop good system thinking. We will need a mindset that sees boundaries as being porous and all actions being in the interests of the population rather than the interests of individual organisations. The leadership of ICSs and local government will need to have a clear vision and an established set of values that they use to clearly communicate to their populations how they plan to really improve health outcomes.
In order to get there, we know that there is work to do across health and local government, but we also know that we have enough public health expertise in our systems; we just need to harness it in the right places and at the right levels.
Culture and relationships
Our members agree that the crucial aspects in all this are relationships, culture, leadership, collaboration and alignment for systems and places, and we are having that honest and collaborative conversation about how to work together to deliver public health. What might help would be establishing a comprehensive programme which helps people get together and to understand things from other organisations' viewpoint.
The biggest impact at local level will come through the social and corporate responsibility that leaders take through the NHS, local authorities, local employers and corporate citizens – we need to help create access to education and employment. It's not just to our services that we should be looking but to ourselves as employers and corporate citizens.
Place, place, place
We will need a system that recognises place is where most of this work will happen. Our respective members agree that place-based working is where most public health work happens. Improving the health agenda sits partly within integrated services, but also it sits out in our communities who can influence and act to address inequality and poverty.
Together leaders will need to develop a clear vision and understanding of population health approach, of each other's roles, and of challenges at system and place level. The principle of subsidiarity is crucial – making the right decisions at the right levels, and this is thinking that has already developed through the work done by NHS clinical commissioners and the LGA jointly. We should also have some humility about ICSs; they won't have that many people and will mostly be a planning and coordination body rather than a delivery organisation.
Sustainable and inclusive growth
Many leaders have raised the importance of sustainable and inclusive growth to address and reduce health inequalities, ie taking action and making investment in the wider, social and economic determinants of health. They have said that whilst some of these things can happen at place, e.g. partnerships for job creation, some of these social and economic issues need to be tackled at scale. There will be a need to influence economic decisions nationally and regionally, including influencing government and the Treasury for the fair allocation of resources and 'poverty proofing' all decisions.
Health inequity
The long-standing problems of health inequalities and regional inequality have become ever clearer during 2020, and the pandemic's repercussions will exacerbate these at a time when resources are limited and unclear. The pandemic has starkly exposed how these existing inequalities – and the interconnections between them, such as race, gender or geography – are associated with an increased risk of becoming ill with a disease such as COVID-19.
Therefore, it is vital to act now, and drive forward work programmes that reduce inequalities, prevent poor health, and improve people's opportunities for better health. It is vital, too, that the structural inequalities in our society – for example, unemployment, overcrowded housing, and a lack of green space – are tackled, because it is changes at the root cause that will reduce health inequalities in the long term.
Good housing in particular is a major contributor to good health and care. Accessible and adaptable homes, including support for those with care needs, can keep people safe and independent in their own homes for longer, and prevent avoidable hospital and care home admissions.
Giving people the ability to also downsize into more appropriate housing, as well as be close to other local amenities such as shops and leisure services, can also foster a real sense of community and belonging which is beneficial to people's health and wellbeing.
At this crucial time, we must not misstep. Local government and the NHS must come together and work at scale wherever this is most effective, but always keep the focus on local places – where the direct work of health improvement and health protection take place.  
Lord Victor Adebowale is chair of the NHS Confederation. James Jamieson is chair of the Local Government Association. Follow them on Twitter @Voa1234 @JGJamieson
​
This blog first appeared in the Local Government Chronicle, April 2021.