Article
Module two: Understanding why what happens, happens
Why do we things the way we do? Exploring patient experience, quality improvement tools, difficult conversations and conflict.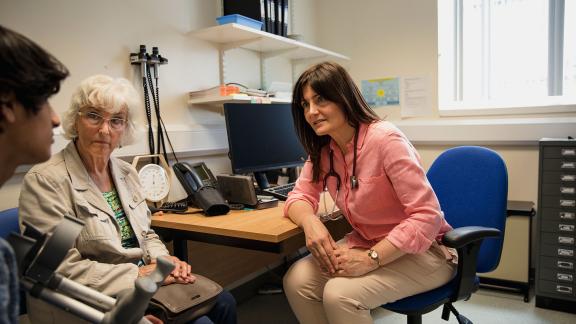 Reflections from Dr Rupa Joshi and Louise Wheeler on module two of the South East Primary Care Network (PCN) Leadership Development Programme. 
Never has it been more important to surface and address the assumptions we make within our current models of care and the way we practise. The reason is that our decisions about strategy and future directions are based on the way that we make sense of our current context and envision future opportunities.
In module two of the programme, primary care network (PCN) leaders from the south east region explored how events happen as systemic responses within our primary care system. The module helped us dive into why it's important to create our own change hypothesis and better understand the part that we personally play as PCN leaders within this context, particularly when it is challenging. We did this by exploring our own negotiation preferences and how we experience difficult conversations.
Understanding our patient experience
As primary care leaders, we know that we need to look at both our patient and team member experiences within the context and our shared history, in order to better design our services. We intuitively understand the importance of deep diving into scenarios to understand what we can learn, and reviewing the events, patterns and underlying structures as this can help to identify how we deliver high-quality care through engaged PCN colleagues. However, we aren't always practising this as business as usual.
The leadership programme supported us through a case-mapping exercise to see a patient's lifetime journey within primary care from both a high and granular level of detail. We were able to spot patterns, and provided an opportunity to question why what happens, happens. This helped us identify what we can do to change our leadership practice and processes to meet the needs of our patients, rather than be fixed in how things have always been done, or around our own needs as healthcare professionals.
Using QI tools to better understand a scenario
The Fuller stocktake reminds us to think from the patient's perspective, which can help to identify areas for improvement in access and care delivery.  In this module we explored the benefits of using PDSA (Plan, Do, Study, Act) as an approach and driver diagrams as a tool to structure our thinking on understanding why what happens, happens, in order to help us identify areas for change and the strategies that will achieve it. This module highlighted that not everyone is starting from the same point in terms of quality improvement (QI) methodologies.
Understanding how we affect what happens.
What happens in our work within PCN delivery and leadership is in part a product of how we engage with defining, shaping and executing our work. These all have relational elements to them, which will surface differing views that may result in conversations that people find difficult.
Difficult conversations and conflict can be challenging to engage with, however conflict can add value and challenge the norm/assumptions. So, we think that negotiation, collaboration and conflict management are key skills in primary care leadership. If we can understand our own conflict preferences, we can learn structures and strategies to resolve these difficult conversations.
Our participants had the following reflections:
"When the decisions you're making affect other people, they need to be confident that they are the right decisions and so they need to be on board with everything. I found the course useful with regards to improving my difficult conversations method. Having a structure and being incredibly well prepared is very important. And knowing what to concentrate on and what to leave alone." PCN leader and programme participant.
"I think it's really powerful [to understand your preferences] … especially in a team or practices where there are different personalities and understanding how everyone works within that team." PCN leader and programme participant.
"My TKI analysis showed that in conflict, I develop a competitive style. This came as a surprise to me as I had always pictured myself as a collaborative leader. I can now recognise this trait within myself when negotiating through difficult conversations. I have learned to recognise my first impulse, take a step back, try to find the common ground, think about how we can best work together. The framework for handling difficult conversations has given me a tool for tackling common PCN leadership challenges. I now focus on what I would like to accomplish, challenge my assumptions about the other person, and about the topic, notice my own emotions and those of the other person, and most importantly, put myself in their shoes, what is their perspective? Using this framework has helped me to no longer fear conflict." Dr Rupa Joshi.
Participants from the South East PCN Leadership Programme reflected on how their personal assumptions (and to some degree those that sit wider in our primary care system) in addition to their decision-making processes, affect what happens and how it happens. We hope that this reflection, which leads to exploring things that are often unsaid or under the surface, continues to challenge our leadership thinking to develop our collective understanding and help improve the care for our patients.
Dr Rupa Joshi is a GP and clinical director for Wokingham North Primary Care Network and deputy chair of Berkshire West Primary Care Alliance; clinical adviser for NHS England's Primary Care Transformation team; chair of the Workforce and Estates Design Group at NHS Confederation's Primary Care Network; and clinical adviser for learning and development for the South East PCN Development Programme.
Louise Wheeler is the primary care leadership development consultant at the NHS Confederation.