Article
How is the NHS performing this winter? 17 to 23 January in review
The latest data shows plateauing of virus in some regions alongside rising cases in children, high staff absence and pressure on patient flow.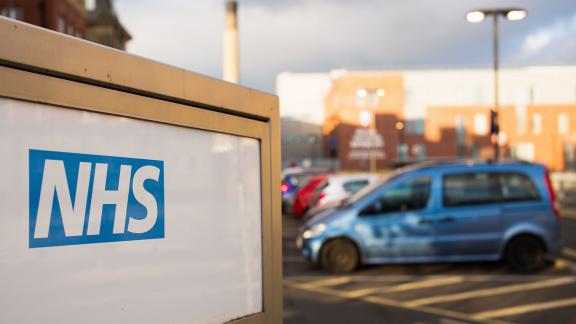 At a glance 
At a national level, the latest data indicates that we are starting to move past the peak of the latest COVID-19 wave. However, this is not true across the board and regional variation continues. Despite reductions in hospitalisations and patients in hospital in the national figures, the south east and south west have started to see small upturns in admissions and we are seeing cases rise in children. 
Capacity is being impacted significantly by staffing. 72,000 staff were absent on an average day week ending 23 January, with 42 per cent of those due to COVID-19 related reasons. This is down from the 77,000 (with 46 per cent off due to COVID-19) from last week, but still causing considerable staffing pressures. 
Bed occupancy remains steady, with general and acute occupancy remaining at 91.6 per cent and adult critical care falling slightly to 74.5 per cent. The number of patients medically fit to be discharged has not improved despite targets from the centre, with 12,819 patients who were medically fit unable to leave hospital on an average day last week. 
COVID-19 
COVID-19 metrics for England continue to improve week-on-week in hospitals. In England, the seven-day average is now at 1,590 admissions per day. A week earlier this was 1,839, which represents a 13.5 per cent decrease.  
 
This trend is not being seen across the board though, with significant regional variation in hospital admissions. In the south west, admissions on 24 January (169) were the highest they have been since 3 January, and the seven-day average week-on-week has seen a slight upturn from 127 to 132 admissions per day. The chart below shows that while in the north and Midlands, admissions are dropping quickly from their peak, in the south of the country admissions are plateauing or even slightly rising: 
Confirmed COVID-19 patients in hospital by region are down in all regions, with the England figure dropping below 14,000 on 26 January, for the first time since 2 January. The seven-day average is now 14,488 compared to 16,355 a week earlier, with the regional picture as follows:
NHS England's primary diagnosis supplement released today shows a continued fall in the number of patients in hospital where COVID-19 is the primary diagnosis. As of 25 January, 48 per cent of patients in hospital with confirmed COVID-19 were in hospital 'for' COVID-19. This was 52.1 per cent seven days earlier, and it averaged 74.4 per cent across October/November prior to Omicron. However, with infection prevention control and separate 'hot and cold' wards for patients with and without COVID-19, there are still capacity challenges. 
 
The latest ONS REACT study showed the positivity rate increasing in those aged two years to school year 6, and from years 7 to 11, but decreasing in all other age groups. Cases increasing in school age children could also have an effect on NHS staff absence.  
Absence 
Absence has continued to decline nationally, with 72,077 staff in acute trusts off on an average day week ending 23 January, compared to 77,217 the previous week. However, COVID-19 absences still make up a large proportion of absence, accounting for 42 per cent (down from 46 per cent last week), adding significant pressure on staffing and ability to provide care: 
The fall in absence (down 6.7 per cent) is lower than last week (12.8 per cent), although this is also affected by recent data collection issues due to two trusts not submitting data last week. If these trusts are adjusted out of the total this week, the fall is over 9 per cent. 
The decrease is most noticeable in the north west, where absences fell by 12.7 per cent in acute trusts, but more minor in others such as the south east where it fell 1.6 per cent.
Bed occupancy 
Bed occupancy in all general and acute beds remains steady, rising just 0.01 per cent (remaining at 91.6 per cent). The chart below shows the comparison with previous winters, with occupancy significantly higher than the most recent one when more beds were cleared prior to the severe second wave of COVID-19. However, this year is trending below the three previous winters: 
Adult general and acute bed occupancy broadly flat, falling very slightly from 93.2 per cent to 93 per cent. Comparatively paediatric general and acute bed occupancy rose to 70.5, having been at 67.2 per cent last week. This could be related to the increase in hospital admissions of children with COVID-19, which is concerning despite reports that admissions are short and symptomatic children are recovering quickly. 
 
Adult critical care was at 74.5 per cent bed occupancy, down from 76.2 per cent last week. The highest this has been this winter so far was 79.6 per cent occupancy, week ending 12 December. This is significantly lower than January 2021, when COVID-19 critical care pressures were higher (week ending 24 January 2021, this was 87.1 per cent, and that was with an average of 6,270 beds open compared to 4,105 this year). 
As per the dataset, caution should also be exercised in comparing bed occupancy rates, with challenges such as infection prevention control meaning beds are being deployed differently in hospitals. Capacity pressures are generally experienced at lower overall occupancy rates than would previously have been the case, and staffing pressures as described earlier in this article also contribute to challenges in this regard. 
Ambulance handovers 
The number of patients arriving by ambulance rose to 85,467 for week ending 23 January, the busiest week recorded in the winter SitReps thus far. There were 15,776 delays of over 30 minutes, representing 18.5 per cent of all arrivals, with 5,973 of those over 60 minutes or more (7 per cent). 
These metrics were both slightly worse than last week, where 17.9 per cent of arrivals were over 30 minutes and 6.7 per cent over an hour. This may be related to the extra demand pressure. The following chart shows a comparison of the raw numbers of handover delays over 60 minutes against previous years: 
Discharges 
On an average day week ending 23 January, 12,819 patients who were medically fit to be discharged were unable to leave hospital, up from 12,498. 
 
This is an average of 59.3 per cent of patients medically fit to be discharged who are not being on an average day, according to the data. These figures are similar to the previous week (59.4 per cent) and are it is concerning that despite clear prioritisation and focus on this issue, NHS leaders are unable to make progress towards targets set for this month. 
Focus on primary care
Data was also released today showing estimated amount of GP appointments in December was 29.1 million, with 3.9 million of those being COVID-19 vaccination appointments. With the festive period and Omicron challenges in mind, this is a drop from November's figure of 34.6 million, but 4.6 million higher than December 2020.
61.1 per cent of appointments were estimated to be face to face, lower than the previous two months but significantly higher than at the onset of the pandemic, where this fell below 47 per cent (April 2020). 
How is the NHS performing?
View our analysis of the latest NHS performance figures for a rounded view of how healthcare services are coping under immense pressure.