Article
How does the data going into this winter compare to previous winters?
The first winter sitrep shows pressures starting earlier and performance in a worse place than previous winters already.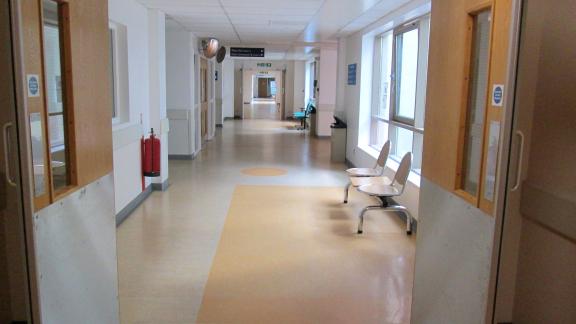 Key points
A number of pressures and performance challenges are at a worse, and earlier, starting point than previous winters, supporting the concerns of our members ahead of this period.

Ambulance handover delays were at their highest level coming into a winter on record, with 28.9 per cent of ambulances (nearly 23,000 across the week) delayed over half an hour and 12.7 per cent delayed over an hour.

Total general and acute bed occupancy was 94.3 per cent, much higher than the last two winters but comparable to pre-pandemic.

On an average day, more than 13,000 beds were taken up by patients who no longer needed to be in hospital, a significant increase on the initial winter data last year (10,510), while long stay patients and the number of beds occupied by patients with flu saw significant increases.
Handover delays
Data for this winter includes the number of hours delayed as well as the volume of delays for the first time. This showed an average of 3,070 hours lost per day. Recent analysis from the Association of Ambulance Chief Executives (AACE) showed lost capacity due to handover delays in November 2019 equated to 7 per cent of capacity, compared to 23 per cent of capacity in the most recent data.

Increased handover delays are a symptom of wider patient flow issues, something we have looked at previously. The difference in proportion of handover delays across England is shown in the chart below, with the starting point for delays over 30 minutes already higher than previous winters, with 28.9 per cent delayed over 30 minutes (and also 12.6 per cent delayed over an hour).
Bed occupancy
One of the reasons for ambulance handover delays (which we have explored previously here) is the lack of available beds for patients to be transferred into.
General and acute bed occupancy was 94.3 per cent across 14-20 November or 94.5 per cent when only type 1 trusts (major emergency departments that provide a consultant-led 24 hour service) are considered. This compares to 94.9 per cent in the first week of 2019/20.

Last winter, no weeks saw occupancy above 94 per cent, and as per the below chart, occupancy to start this winter is considerably higher than across winter 2020/21.

12 trusts reported a total general and acute bed occupancy of 98 per cent or above across the week.
As an aside to this, the number of general and acute beds open in this first data release is higher than the previous two winters, more comparable with 2019/20. 97,362 beds were open on an average day in trusts with major emergency departments, compared to fewer than 95,000 at the onset of winter last year, or even 89,000 in 2020/21. The number is much closer to pre-pandemic (96,675 open in week 49 of 2019). 
Discharging patients
One of the challenges driving high bed occupancy is the difficulty discharging patients.

Daily discharge sitreps are not available publicly prior to last year for easy comparison, but the below chart shows a higher starting point than last winter, with over 13,000 beds a day taken up by patients who no longer needed to be in hospital (up from 10,510 in the first week of the daily sitrep last year).
Long-stay patients
The weekly average for number of beds occupied by patients who have seven-day-plus stays in hospital was 47,060. When compared to the first weeks of available data for the previous two winters, this figure was 12 per cent higher than in 2021/22 (42,069) and 36 per cent higher than 2020/21 (34,728).
28,356 patients had been in hospital for over 14 days on an average day, 19 per cent higher than the first week we have data for in 2021/22, and 51 per cent higher than 2020/21.
The greatest increase meanwhile was observed for 21-day stays or so-called 'stranded patients'. There were 19,065 beds occupied by 21 day stays between 14 and 20 November. This figure was 15,137 in the first winter data available in the previous year (26 per cent increase) and 11,336 in the year before (68 per cent increase).

It's important to note that these patients aren't necessarily medically fit to be discharged and may need ongoing care. Yet increasing length of stays is a useful indicator of challenges with patient flow.
The average number of beds occupied by flu patients across 14-20 November was 373 of which 29 were critical care flu beds and 344 for general and acute beds. The average daily beds occupied by flu patients in the first week of the previous year (2021/22) was 34 (31 beds per day for general and acute and three beds for critical care flu patients), so this is ten times higher.

The numbers may still be relatively low especially when spread across trusts (69 trusts had at least one flu bed occupied across the week), but it is concerning to see levels increase. This dataset on bed occupancy by flu patients is only available for this year and 2021/22, and more data on the rise in flu cases is available in the UK Health Security Agency's surveillance reports.
Conclusion
The data shows operational pressures for our members starting earlier and in several cases from a more challenging point than in previous winters, despite leaders and staff working tirelessly to manage the additional burden of the winter months and tackle the elective backlog.
It is worth remembering this as the NHS faces both a challenging winter and large numbers of vacancies under the watchful eye of the national press ready to scrutinise the way that the service is planned and delivered. With an exhausted workforce, the possibility of a new wave of COVID-19 in January and a winter that seemed to start in the summer, politicians and commentators should be honest at the pressure staff are under.

Throughout the winter we will be looking at how these measures progress, as well as bringing in member feedback and more in-depth analysis for various specific questions and metrics.