Article
Spotlight on Professor Aruna Garcea
I am chair of the primary care network's advisory group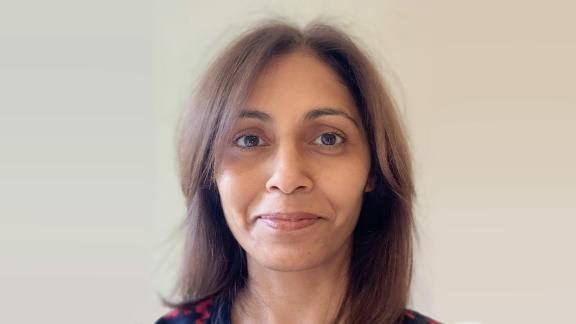 Tell us a bit about yourself and your PCN
 I graduated from Manchester University in 1996 and initially pursued a career in Obstetrics and Gynaecology before becoming a GP in 1991. My practice is Victoria Park Health Centre, serving the students of Leicester University and local residents. Before that I was a Partner in an inner-city practice in Liverpool so recognise the diversity of communities we serve as a profession. I have always been interested in the principle of subsidiarity, creating solutions to solve the problems we see in workforce, continuity of care and in delivering quality care closer to home that is right for our patients. I am a Clinical Director in our System Federation and understand the benefits of at scale organisations and the importance of infrastructure to be able to transform at scale. I have a passion for education, workforce and digital which underpin supporting the MDT model of Primary Care. 
Why did you become a PCN clinical director?
As a GP we know our patients and communities. I  think for some it's the natural progression for someone who joined the NHS to bring about positive change. Being a CD is an opportunity to support not only my patients but a wider team to make the best impact on population health and for our local communities. Our system needs to hear from clinical primary care leadership and I felt like I could contribute and be that voice for my patch. Ultimately opportunities for integrating a wider MDT team, lobbying for a bottom up strategy to advocate for my patients and communities, creating solutions with ARRS roles that served our patients and starting to really tackle equity and equality of healthcare drew me to being a CD
Why did you join the Confed primary care network and what benefit do you get from it?
I joined the NHS Confederation because I firmly believe that the organisation as a whole, and especially the primary care network, believes in the NHS and in primary care, and that we all want and strive for that right model of access and for sustainability in the NHS. I'm excited about the next couple of years at the Confederation and in primary care because I think we're finally in a place where there has been enough change, in society, in the NHS, in our stakeholders for us to fully carve out a space for the primary care voice. Now we can embrace opportunities and meet the national challenges as primary care experts who should be involved in developing solutions at neighbourhood level, at place, and nationally.
What are the top 3 things you are hearing from members?
Primary care is a vital source vital source of innovation and responsive services. Primary care has acted on so many important opportunities over the last few years, particularly with population health management and reconnecting with our communities, and we risk losing this ability to be flexible and to respond to local need if NHS structures become too focused on target and incentive led services.

For years the public perception of primary care has been under attack in the media, and it can be very difficult for providers to reach out beyond our local communities to combat this. Support from the NHS Confederation over the last two years has been appreciated but there is more to do and members want to be empowered to do it.

The future of primary care beyond 2024 is uncertain and our members want to be part of establishing the future of primary care within an integrated system. Being involved in setting the future direction of primary care would provide stability for the workforce and allow members to plan long term services which will benefit their patients.
Why is it important for Confed to have a network for primary care?
The NHS Confederation has an excellent reputation among system wide stakeholders as well as commissioners and secondary care. Primary care, along with the wider system, has experienced 3 years of upheaval and  needs the support of an organisation that can represent us on a national scale. Moreover, with the recent move to system working, primary care and ICSs are still discovering how to work together. Being able to work across networks within the NHS Confederation to tackle cross-cutting issues such as workforce and estates will present opportunities that primary care, and our Confederation partners, have previously lacked. Most recently our members have contributed to joint work between the mental health and primary care networks to improve the current recruitment issues surrounding primary care mental health practitioners. I hope that we'll continue to develop relationships across the networks which will in turn support our developing relationships and integration with the wider system.
How do you see the network supporting its members over the next 12 months?
As a network we recognise that we, like our new system, are embryonic and that a challenge over the next 12 months will be to solidify what we want to be within the organisation, for network partners, and for our members. Our network's three key roles are to support, connect and influence to help our members build the future of primary care. As part of that plan, we have our first face to face national primary care conference on 9th November, bringing together our members from primary care to hear from speakers like Amanda Doyle and Claire Fuller as well as providing time for networking, sharing and learning from each other. This event is about celebrating primary care and hopefully attendees will go away with examples of practical support and a bit of inspiration thrown in. We are also supporting the implementation of the Fuller recommendations, through our design groups and communities of practice. These groups will bring together members and external experts to share good practice and find innovative solutions as well as influencing national policy for patients, primary care staff and the wider healthcare system. Our members are already role modelling how primary care looks and what leadership looks in the context of this new NHS that is evolving and as a network we will continue to describe and demonstrate what at scale primary care can do.